From the director of PUNISHER #2 and the star of PUNISHER #3 comes a solid, entertaining period gangster movie. It's a biopic of Danny Greene, an Irish American union president, gang enforcer and dodger of car bombs in Cleveland, Ohio circa early '60s through late '70s. If it had been done as two separate movies maybe it would've got an arthouse release and some critical respect, but they did it as one so it was barely released by Anchor Bay and nobody ever heard of it.

It's not real original, but it's fast-paced and entertaining. Jonathan Hensleigh (that's who directed PUNISHER 2004) is definitely borrowing the cinematic language of GOODFELLAS. It's got narration (but by Val Kilmer as a cop, not by the titular Irishman you're supposed to kill), it covers a large group of characters through a long span of time in a series of short, quick scenes, and it has all kinds of mayhem casually delivered in montages with ironic tunes on the soundtrack to make it a little more brutal but also a little more digestible. It's a whole bunch of scumbags but they're charismatic, they're tough, sometimes they're funny, they trick you into enjoying watching them.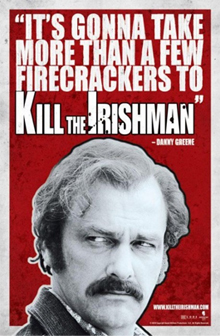 I'm in the exclusive club of people who really liked Hensleigh's PUNISHER movie, and I've also been a believer in Ray Stevenson since I saw his PUNISHER movie, so I was excited for this one. Happy to say it speaks well for both. Some of the reviewers on Rotten Tomatoes describe Stevenson as "charm-free" or "as much charisma as a potato," but I strongly disagree, I think his performance as a cold but intelligent lug is what makes the movie. Maybe those guys are just intimidated because for once it's a man's man playing a role like this. Instead of having to work out and toughen up to seem convincing they just had to give him bad hair. I think he's actually bigger and more menacing than the actual guy – how often do you have that problem in a movie?
Anyway it's a good character, not a good man but a funny one. He starts out well meaning. He's a longshoreman and the union boss treats his guys like shit. His friend collapses on the job from exhaustion and all they'll do is toss him in a trough of dirty ice water and tell everybody else to get back to work. When the same friend gets into trouble with some gambling debts Danny works out a deal with the mob that gets his friend out of debt and screws over the union at the same time. Next thing you know he's muscling his way into the guy's job.
But he's crooked as hell and doesn't seem to have any illusions about it. He just tries to cash in. This is the beginning of a long and winding career with various rackets. He gets busted, he becomes an informer, he still works as a mob enforcer, he starts trying to open up a restaurant. In the process he crosses alot of dangerous people, and they keep trying to shoot him or blow him up, which gets to be a pain in the ass.
At one point D'Onofrio observes "You must have the biggest nuts in Cleveland," and this does seem to be true. He's tough and he's fearless. He likes to give people countdowns. When he decides it's time for the previous union president to vacate he just waits in the guy's office, tells him "I'll give you three seconds to do it," slaps him, and steals his gun. This is not a sissy he's doing it to either, this is a bully who previously told him "I'll come to your house and drink all your beer" (and then something about fucking his wife.)
He's not afraid of anybody. When a huge biker party across the street is noise-polluting his barbecue he walks over, turns off their music and says "Party's over. You got five minutes to clear out." And then guns and fists get involved. But he's not just a thug, he's also well read and has alot of interests, including healthy eating. At that same barbecue he criticizes the menu: "No vegetables, no fruit, no nuts. Stuff's got too much cholesterol." (His buddies don't know what that is.)
Kilmer's role isn't that big, and it's kind of cool because he's a cop that knew him from the neighborhood, but he's not the guy that's always trying to bust him. He gives it a shot but isn't like the arch-nemesis or anything. Actually he kind of likes Danny, and at one point they coach softball together.
Along with Kilmer the cast includes Vincent D'Onofrio (as a squeaky voiced mob boss), Mike Starr, Christopher Walken, Paul Sorvino, Robert Davi, Tony Lo Bianco and Vinnie Jones. I'm sure Dennis Hopper would be in it if he was alive. I was thinking that was everybody who would be in a movie like this but then I realized there was no Michael Madsen. But otherwise it's all of 'em.
All of those guys are in about ten thousand movies a year and most of them are garbage, but here they're all used pretty well. For example Vinnie Jones is just a quiet, professional thug that helps Danny muscle all the garbage haulers into unionizing. He doesn't talk a whole bunch, just looks very intense and wears a hat. It's a good role for him.
Also it has Jeff Chase, this 6′ 7″ guy who was also in the remake of THE MECHANIC. Since this is a period piece he wears glasses that make him look like Super Drew Carey.
The men in this movie have a simple idea of the American dream. You got a wife, some kids, a car, a house, a business. Danny gets the wife (Linda Cardellini), the kids, the car (a green Cadillac) and, you know, various businesses. When he meets another guy that leads the trash haulers they admire each other, they compliment each other's vehicles and businesses, they show off their houses and their kids. That's what makes a man.
But it all gets taken away. His wife leaves him, takes the kids. His house gets blown up, so he has to live above a bar and work out of a trailer. His cars keep getting blown up. I mean, he can get other ones, but it's dangerous. 36 bombs exploded in Cleveland in the summer of '75. Some of them were his, but you know, the other ones could've got him.
Poor guy can't even hold on to a radio. One of his car radios starts freaking out, that's how he knows it's gonna blow. Then he's in the park working out, somebody shoots his portable radio. On one hand he's gotta be thankful, because the radios keep warning him of danger. On the other hand a man's gotta relax and listen to some tunes now and again, he doesn't want the radio to get destroyed every time.
Once you've lost your wife, kids, house, car and radio you just got your national pride, so he starts busting out the Irish flag. Alot of these mafia guys stick with guys from their own background, so they end up shit talking each other. Danny loves to throw a good ethnic joke at an Italian or a Pollock. In his union days a Scottish guy calls him a potato eater, so he makes a little speech about the history of potatoes and then says at least he doesn't "eat fat out of a sheep's asshole." In those days he wore a green suit and all the carpet and everything in his office was green.
Even after everything's gone to shit he tries to stick to his routine, put on his Adidas track suit, go to the park, do some jogging and pushups. More than once there are assassination attempts during his workout, but he keeps coming back. Think about that if you're having trouble getting motivated to go for a run or whatever. Danny Greene kept in shape even though it opened him up to snipers.
I do think at the end Hensleigh is a little too in love with the legend of Danny Greene. For the most part it's a generous but not worshipful portrayal of a criminal. But in the fateful minutes before he (SPOILER) gets blown up (in my opinion there is a factual error in the tagline "the man the mob couldn't kill") he has a group of little boys on bicyles recognizing him and talking to him like he's Gene Simmons or Evel Knievel. Then for no clear reason he passes on his Celtic Warrior crucifix necklace to one of the kids. That's going a little overboard in my opinion.
Then Kilmer's character narrates that "his murder directly led to the indictment of 27 mafia associates" and "the collapse of Cleveland organized crime." That's because they caught the guy who blew him up and this led to other people who led to other people and the whole Tyler Perry's House of Payne came crashing down. Seems to me like an interesting historical detail but not something you can give the guy credit for. He was dead. It's not like it was his plan to get blown up by a guy that would flip on another guy that would flip on another guy.
One of the extras is an hour long basic cable style special about the real Danny Greene. In the movie they have him see the guy who's about to blow him up and point at him, finger-gun style. Turns out this is because in real life they found one of his severed arms with the index finger pointing. And one of the cops (the Val Kilmer character I guess) said he was pointing at the guy who did it saying "I'm gonna get you all for this." And he did. Not on purpose though, is my guess. Like I said, he was dead at the time.
One weird note, I noticed on the credits that Tara Reid is an executive producer. What the hell? Turns out her brother Tommy is a producer who bought the rights to the book and directed that documentary on the extras, so he must've figured getting her involved would help too. You always want some of that AMERICAN PIE cast member clout on a movie like this.
I also noticed Richard Jewell's name on there, but it turns out it's an actor and not that security guard that found the bomb at the Olympics, saved a bunch of people's lives but then got blamed and humiliated by the media even though he was innocent. I forgot that guy died. Poor bastard.
Anyway I really dug this movie. If the trailer or poster made you think "Guy Ritchie," don't worry about it, it's not like that. If you like Ray Stevenson, and especially if you want to see him with a mustache, I recommend this picture. He has some different mustaches throughout. You will like it.