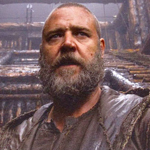 Here's one of those beloved I.P.s that the studios are always looking to repackage and the fans get real excited for. It's a high concept that's practically a movie trailer already, it's like LORD OF THE RINGS meets TITANIC meets DR. DOLITTLE. And just like with Batman or Superman there's alot of great interpretations from different eras for the filmatists to draw from. You got the Bible version, you got the Quran version, you got the FANTASIA 2000 version. Alot of people grew up on the Noah property. But like THE LONE RANGER last year maybe the whole premise is a little bit too campy for today's audiences. It might be a little too late for this to become a franchise.
Russell Crowe (NO WAY BACK, THE MAN WITH THE IRON FISTS) plays Noah, a survivalist living off the grid in the wastelands traveling with his wife (Jennifer Connelly from PHENOMENA) and kids, trying to avoid men and cities. I'm not sure if it's the future or the past, but they dress kinda like the people of Zion in THE MATRIX. There's a weird scaly dog like Riddick would be friends with. We see when he's attacked by barbarians that Noah does know how to kick ass, but he and his family live by a monk-like code, or maybe a hippie one. They don't carry weapons, they don't eat meat, they respect nature, the women are allowed to wear pants.

I mean Noah is pretty cool and enlightened in some ways, don't get me wrong, but also you gotta admit he's like a lot of cult leaders. He believes he gets messages from God and he pushes his terrified family into going along with this crazy plan to build a giant ark type boat to fit animals on because there's gonna be a worldwide all-life-destroying flood, he says. And it's kinda uncomfortable because he's real judgmental, thinks everybody else on the entire planet is sinners and has to die.
On the positive side he's not one of these survivalists whose focus is entirely on defending himself and his property. His plan is all about rebuilding, ensuring the survival of every type of animal (except, I'm assuming, the Riddick dog). A male and female from each, and luckily God is on the same page and compels the right animals to just show up at the ark. If Noah had to find 'em all himself they'd never finish this archiving project. I mean back then how were you gonna look up how to tell which one is a boy and which one is a girl, to name only one thing that would be hard.
(idea for Dreamworks computer animated movie: talking animals compete to see which two of each species are worthy of getting on the ark)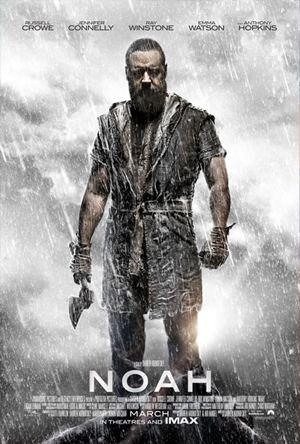 NOAH is directed by Darren Aronofsky, who I consider a great director because of THE WRESTLER and BLACK SWAN. He also has a Noah-like sense of crazy ambition. He failed to get his versions of ROBOCOP and THE WOLVERINE off the ground, but remember how long it took him to do THE FOUNTAIN? He almost was filming and then Brad Pitt dropped out and the whole thing came crashing down and he gave up and did it as a comic book and then started over and made it with Hugh Jackman. NOAH is another one he was trying to do for years and he made a comic book version and then the movie. So don't put it in the same category as comic book adaptations, it's like TIMECOP and COWBOYS AND ALIENS that the comic was done to help get a movie made.
I'm surprised they didn't split this into three movies like THE HOBBIT and the flood doesn't even happen until the third one. But Aranofsky does kinda do what Peter Jackson did there. Jackson used supplemental material from the appendices to RETURN OF THE KING, Aranofsky uses these characters called The Watchers who are mentioned in the Bible but more fleshed out in the Book of Enoch. They're fallen angels and in the movie they became covered in the earth, so they look like twenty foot tall rock monsters. They're cool animated characters and before you accuse them of being a rip-off of RETURN TO OZ or something keep in mind that ancient Mesopotamians would say the whole Noah's Ark story is a beat-for-beat rip-off of one of their beloved flood stories that they grew up on.
These Watcher guys are great though. I wonder if Aranofsky remembered that Jennifer Connelly was in LABYRINTH and thought that she'd feel more at home if there were weird monster dudes wandering around. One of them who seems very somber and resigned to misery like Teddy in A.I. becomes Noah's buddy. Because it's kind of like a post-apocalyptic movie, most of the people in the world are horrific savages led by a descendant of Cain with the ROAD WARRIOR-esque name Tubal-cain (Ray Winstone, BEOWULF). The Watchers help Noah to fend off the Tubalites and to build the Ark. So don't worry, if you thought it was fakey that he built that giant Ark it's got a logical explanation. Rock monsters helped.
In my opinion this is a story that works better as a book. When you see some of this stuff depicted literally you start thinking wait a minute, is this really supposed to be inspired by real events? They manage to be pretty ambiguous about how big the boat is exactly, and they don't get into the specifics of the operations at all. It's not an Ark procedural. They don't even address how to feed all the animals (the Bible does), or any concerns about them eating each other, or anything about shitting. They do have this incense that puts all the animals to sleep, so we don't have to hear them fuckin yappin the whole movie. And that may have been also to cover up some of the horrible, horrible smell. I mean can you imagine going inside an enclosed space where two of every species of animal have been shut in for a long period of time? Even if God made them not have to pee or shit just the fur would smell bad.
That would've been an interesting acting choice if they all constantly had horrified "what is that smell!?" face for the whole movie.
Emma Watson from HARRY POTTERs plays a new character, adopted by Noah as an injured child and seen as potential mate to his son. Which I guess is okay, it's like Paul Rudd was Alicia Silverstone's step brother in CLUELESS but they still fell in love at the end. This girl is wounded on her belly and thinks she's barren, so it's an issue. I mean, I feel that pressure too, it's not standard to be my age and not a parent. Do I want to have kids? Is it too late? Will I always regret it if I don't? Am I selfish that I didn't want to do it yet? What's wrong with me? She has it much worse because she's got a ticket on the U.S.S. Repopulate the Globe and she can't do the job. It's fucked up! She feels worthless, but Noah convinces her she's important to him. She's part of the family.
(just to be safe she should probly learn more about boating in my opinion)
But again, don't go thinking Noah's a sweetheart. He turns pretty David Koresh later on. He decides that God wants the human race to die, and when things turn out differently he thinks it's a blasphemy, not a blessing. This is one of this year's few movies where the hero holds a big serrated Rambo knife to a newborn baby's head. Kind of a weird movie.
It's also beautiful, and Aranofsky and cinematographer Matthew Libatique (who's done almost every Aranofsky movie, plus IRON MAN and INSIDE MAN) make sure it looks different from other Bible reboots. A highlight is a scene where Noah tells the story of Creation, and we watch it in a jittery digital simulation of time lapse photography. A little Book of Genesis easter egg for the fans, setting up the prequel.
I feel bad for the ladies in this movie. You can't pretend there is gender equality here. What Noah says goes. The wife always looks pained, but what's she gonna do? One night Noah goes into the city to get his sons some wives. You know, just go out and pick a couple up for the trip. The boys wait at home, excited. But Noah is so appalled by the wild orgy/barbecue he sees in town that he calls it off. When Ham gets lucky and actually meets a girl who seems to like him she quickly ends up stepping in a bear trap just as an army of barbarians is headed their way. Noah shows up just in time to try to save her… and instead he grabs Ham and runs. Just leaves her to get trampled. Sorry, son. We can't keep her.
I don't think the movie's POV is misogynistic, but I also don't think it's critical of it. It's just very matter of fact. Imagine how phony it would feel if it was the Old Testament and the women were treated fairly. That's the problem with being such purists and literalists about bygone eras. You think we're bad now, we were some savage motherfuckers back then! I don't like the idea that God signed off on every word and translation of that thing as the be-all end-all for all of time. Whether you're religious or not you gotta believe we can always learn things and get better and be nicer.
That brings me to the big question: what is this movie supposed to be about? I'm not sure, but I got some thoughts. There's definitely a parallel drawn between the Noah story and the contemporary debate whether we should a) try to be more careful about fucking the environment or b) go whole hog and be wasteful and encourage corporations to dump toxic spew all over animals and just shit all over ourselves until we're choking on chemical fumes, our skin is burnt to a crisp and we get whiplash going from random flash floods and tornadoes to DO THE RIGHT THING swelters every week and we're on TV saying you know what I'm no scientist but I did hear that there was one scientist somewhere, I don't know the guy's name but he said that he wasn't totally sure this was man made and he he was tired of being picked on by all of the other scientists throwing all of their "studies" and "measurements" and "proof" at him like a bunch of fucking bullies it's not fair.
Aranofsky establishes Noah as believing in "stewardship," feeling a responsibility to protect God's creation (Forrest Taft), and Tubal-cain as the poster boy for "dominion" (Michael Jennings). In a goofy plot contrivance Tubal-cain actually stows away on the Ark, pleads his case to Noah's impressionable son Ham (basically the same character as Blue Eyes in DAWN OF THE PLANET OF THE APES), and has a duel with Noah. It's worth it for the part where he's talking to Ham and he casually picks up a lizard and takes a bite out of it. Sorry, whatever species you were. Man has dominion over snacks.
Of course this theme being in the movie is upsetting to some people who are religious but don't believe in giving a hoot about not polluting. It's not really what was meant by the original story, merely an attempt to find application to the modern world, as if it were some sort of allegory. And it leaves out the part where after the flood God says okay Noah, it's totally cool to eat animals now. I recommend the steak.
I think it's a small minority, but there's a vocal group of religious people in the U.S. who don't want to believe in science and progress, they think it's in opposition of their faith. They want the Bible to be infallible and not subject to changes in ways of thinking. If the people saw it this way a couple thousand years ago then that's how God wants it. But personally I think that goes against the subtext of the Noah story. It says take this information and prepare for the future. Take all the species with you. Be sure to have future generations. Be fruitful and shit. Start a new and better world. True, this is harsh and judgmental of the people left behind, but doesn't it also suggest a belief in progress? The survivors get a clean slate to start a new world, doesn't that mean they try to keep making it better? Each progressive generation trying to stop making the mistakes of the last generation and build upon the successes?
That time-lapse type shot kinda looked like evolution, didn't it? Like maybe it's okay to believe in science without denying the poetic truth of a story. They don't necessarily have to be in opposition to each other if you don't look at your scripture as a documentary. I think if you take everything – Holy books, movies – on a literal basis first then you might be more shallow than you think you are. Stories are not science or math. The real substance is in the interpretation, not the facts. The imagery, not the words.
So stop being so uptight about Enoch page 23 or whatever. It never said they weren't rock monsters.
You know what could be a pretty good NOAH movie? They follow the lead of CAPOTE and biopics like that, where it just takes one telling chunk of their life and not the whole thing. But in this one instead of doing the ark story it takes place entirely afterwards, when he has a vineyard and he's drunk all the time. There is the whole scandal where he gets drunk and Ham sees him naked and that's why he curses him (seen briefly in Aranofsky's version). But this would mostly be a movie about him getting in long drunken conversations with people about what it was like on the ark and how he's 950 years old and shit. And they're like ha ha, great story old man.
Well, that's what my version would be. Or a martial arts version. I like that Aranofsky did the only-Aranofsky-would-try-to-pull-this-shit version. That's why we got guys like that.
This entry was posted on Wednesday, September 17th, 2014 at 9:34 am and is filed under
Fantasy/Swords
,
Reviews
. You can follow any responses to this entry through the
RSS 2.0
feed. You can skip to the end and leave a response. Pinging is currently not allowed.