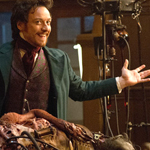 VICTOR FRANKENSTEIN is maybe the only retelling of Mary Shelley's Frankenstein story I've seen where the monster is not very important. Played by Spencer Wilding (Darth Vader from ROGUE ONE), he's just the mindless special effect that they fight at the climax. So it's kind of more about Dr. Frankenstein (James Mcavoy, WANTED), except the main character is Igor (Daniel Radcliffe, THE TAILOR OF PANAMA), who is not so much his assistant as his brilliant partner who has more sense than he does and backs out right before they make that monster.
It starts with Igor as a nameless, hunchbacked, clown-makeup-wearing freak in a circus. For some reason he doubles as the medic, and because he also passionately reads medical books in his spare time, he is a brilliant, ahead of his time medical genius. No big deal. This comes in handy when the acrobat he has a crush on (Jessica Brown Findlay, WINTER'S TALE) falls. Frankenstein, being in the audience, comes to help, but is sure there's nothing they can do for her – until the hunchback proves otherwise.
Impressed, Frankenstein comes back and frees the hunchback from his cage, and there is a hip Guy Ritchie style slow-mo wacky action scene where Victor does a little bit of parkour and a knifethrower accidentally kills another circus guy in the mayhem. Victor gives Igor his name, hides him out in his apartment and gets him to help with his experiments. Meanwhile, Scotland Yard is on their trail for supposedly murdering the knife victim.
Victor is in some ways generous, but also crazy. He grabs Igor and forcibly drains his hunchback (which he says is really an abscess) and puts a brace on him to make him stand upright. Cleaned up he is just a normal guy for the rest of the movie, doesn't even struggle much to figure out how to fit into a society he never even saw before. This is typical of screenwriter Max Landis (AMERICAN ULTRA) – "Did you know that the hunchbacked assistant Igor is not even a character from the book Frankenstein? It's true, he's not. Now, what if I were to tell you that in my version of Frankenstein, Igor is the main character? Only in my version of Igor his name isn't Igor, and he's not a hunchback, and he's not Frankenstein's assistant! What then, huh? What would you do? AM I BLOWING YOUR MIND I AM HOLLYWOOD'S MOST CHALLENGING NEW VISIONARY PLEASE LOOK AT ME I NEED YOU TO SEE ME I DEVOUR YOUR ATTENTION POSITIVE OR NEGATIVE IT IS MY FUEL." (direct quote)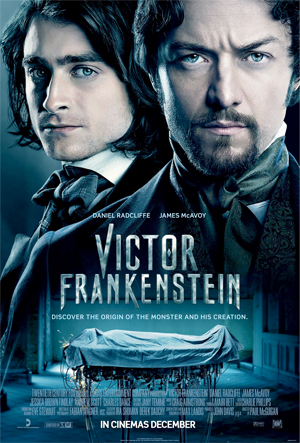 Victor tells Igor he'll give him assignments that will be part of a larger project, but he's not allowed to ask what the larger project is. And then he spends his days doing advanced mad science stuff to various body parts that when put together would make up 1 (one) man. But they are all separate so who could possibly imagine what sort of larger project they might be for? It's very mysterious.
The aspect that works best is the bad friendship between Victor and Igor. Victor shows him respect that no one else has, but any time Igor disagrees with him suddenly he'll belittle him, go from calling him a full partner to bossing him around like a servant. Igor is more sane and ethical, but there's a turning point where Victor's dad (Charles Dance, LAST ACTION HERO, PRIDE + PREJUDICE + ZOMBIES) shows up and chews him out for being a fuckup. Suddenly your realize that the great Dr. Frankenstein is just a college student whose dad thinks he's wasting his tuition money. Igor claims not to have heard what dad said, but now agrees to help with the Modern Prometheus experiment. (He comes up with the idea of giving it two hearts and four lungs inside his giant body). Later, after a falling out, he still rushes to the castle to help Victor, because "he's my friend."
Kinda sweet. My trouble is I have a hard time believing a guy who until very recently lived in a cage with a giant sac of pus on his back would or should feel sorry for a guy just because his dad thinks he should be more like his brother. (There does turn out to be more to it, but that wasn't needed to hook Igor.)
Like I, FRANKENSTEIN it plays with the idea of people remembering the monster as "Frankenstein," not the doctor. Or at least it raises the possibility that people will never remember him. It's not a bad idea, but this is all not-bad-ideas and not-good doing anything interesting with them. There is a piece of a clever idea in that Victor's emotional backstory involves being blamed for his brother freezing to death in the snow. I thought maybe this would pay off as new background to the ending of the book when he himself dies of hypothermia. But of course we never get that far, or really meet the monster. Landis, who once boasted of having written 75 screenplays (11 per year according to my math), doesn't seem like he has time to go back and read over them again. At the climax when Igor had to climb a rocky mountain to the castle I thought ah, he'll take off the backbrace and revert to his circus hunchback ways…
No, that was only the opening scene. That has no other relevance. But hey, circus acrobat Lorelei (jesus christ Max Landis you got that name from Gilmore Girls didn't you?) is definitely gonna be cool at the climax, she's spent most of the movie being a courtesan and beard to the gay villain (Freddie Fox, not the rapper, but some guy who was in THE THREE MUSKETEERS) but then she figuratively rolls up her sleeves because she's gonna help Igor get past some cops so obviously she's gonna do some acrobatics, right?
No, that was just the opening scene. That had no other relevance.
I mean, obviously no story needs to go where I expect it to go, but this just seems indefensibly lazy to me. A movie where an acrobat does cool acrobat shit is quite simply better than a movie where they say a character is an acrobat but then she just wears fancy dresses and is in love with the main dude. It almost seems like he writes these front to back and doesn't remember what he started with.
I counted two in-jokes that it almost seems impossible somebody actually thought were worthy of writing down and printing out and acting out and filming and editing into the movie and releasing in a forum where other humans would see them:
1. They make a big deal about the big lecture hall in the medical school being called "Hall H." Because that's some comic-con thing.
2. Somebody pronounces it Fronk-in-steen and he says no it's Frank-in-stine. Don't you see because it's the reverse of what he says in YOUNG FRANKENSTEIN don't you get it it's a famous joke oh my god I love YOUNG FRANKENSTEIN what a fun reference I don't know maybe a little too obscure maybe you gotta really know your shit like me that is kind of a deep cut there what a fun time for us serious movie buffs though
For all my complaints, this was most disappointing for not being all that crazy. Other than telling it through a point-of-view character and making the clear best character of the story (the monster) into a big muscular pile of nothing at all, it's not that radical of a reinvention. Needs more parkour.
There is a brief part with a cool undead monkey though.
Director Paul McGuigan is the guy that did LUCKY NUMBER SLEVIN and the pilot of Luke Cage.