Thanks to Takashi Miike's outstanding remake, this samurai classic has finally been released with subtitles for the Japanese impaired. Also, thanks to the remake, I knew to watch it.
If you saw the remake then you know the story: a guy commits sepukku in protest of the Shogun's brother, Lord Umigetsu. This forces the ruling class to discuss the uncomfortable fact that a total fuckin maniac is in line to inherit the throne. You can imagine how socially awkward this would be in any society, but this is one where they take ranking, protocol and manners very seriously. I mean, I just told you how he had to kill himself in protest. Not write an editorial.
So for the greater good a faction of the government devises a secret plan to assassinate him. This is like the secret black ops part of the empire, I guess. A respected samurai is put in charge of the mission, he recruits a team of killers (there's one guy whose wife doesn't want him to go – like Fackler in POLICE ACADEMY). They set out to kill the Lord. After some tracking they figure out a strategy for driving Umigetsu and his 52 guards into a specific trail, so they get there ahead of time and prepare the mother of all ambushes.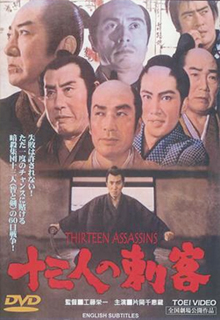 Of course the remake is more graphic. In the original Umigetsu is a rapist and killer, but the worst stuff is off screen. There's no limbless victim, no "total massacre." The new one has a much longer and bloodier final battle. But the excellent structure and story that I loved so much in the remake are pretty much straight out of this original. There's some great sword fighting, and more action than some of these old samurai movies, but it's really more about the planning and waiting. The cat getting ready to pounce. It's about strategy – predicting where the enemy will go, how he will react, interpreting what it means when things don't happen as planned, making the right move to not tip off the enemy.
Samurai are so cool because of their codes of honor. They have great fighting skills, they have swords, but they also care about ethics. So it's notable that killing the Lord is not the end of the movie. When he's cornered he turns into a coward, threatening with his family connections, screaming for his men to help, not trying to handle it himself. He's a fuckin baby. So that's not the climax. Then they gotta deal with Hanbei, the samurai bodyguard who failed in his duty to protect him. That's the guy the 13 fear and respect.
It's a nice looking black and white movie with good production value – lots of actors, complex fights, big detailed sets for the siege. Time passes and the weather changes. Sometimes it's foggy and atmospheric like a classic horror movie. Even though the remake one-upped it, it's impressive how elaborate their plan is. They wedge the enemy into narrow passages, maintain high ground for arrow and spear superiority, they even plan to dump a bunch of logs on their heads, Ewok-style.
A couple years later, director Eiichi Kudo did a movie called ELEVEN SAMURAI. I wonder if that one is good? Maybe a slightly pared down version of this one. Or maybe if you've seen this one that would just seems kind of half-assed. Or 11/13-assed, anyway.
This is a great movie, but I have to admit it made me want to watch the remake again. In Miike's version it was hard to keep track of all the characters, but he gave more characterization to alot of them than the original did. He took most of what was great about this and amplified it. It's a good argument for the validity of remakes, even of good movies. I'm glad both of these exist.