No joke, I never saw SAVING PRIVATE RYAN before. I've never been big on war movies and I think back when it was a recent movie I was real cynical and suspicious of any type of flagwaving. I thought movies like this were just brainwashing kids to join up in case they needed to blow up Iraq again.
But that's stupid. This one's about "the good war" and still makes it look like something to avoid at all costs. The famous Omaha Beach invasion sequence near the beginning is a total bloodbath, soldiers pouring off the boats into waves of machine gun bullets. They might as well just be jumping from a diving board directly into a giant fan, it seems like.
Just like everybody always said, this is an extremely well made movie. But I also shoulda known it was important for me to watch as one of the key originators of our current low point in action filmatism. Much like JAWS accidentally unleashed decades of expensive summer movies this great sequence convinced a thousand lesser directors that if the camera isn't steady the action is automatically more thrilling. Spielberg and director of photography Janusz Kaminski (COOL AS ICE [seriously, look it up]) shot the battle like a combat photographer, putting our point of view on shaky ground right in the thick of it. Bullets and shrapnel whiz by our ears, things explode all around us, at least once blood gets on the lens, acknowledging that we are watching this through a camera.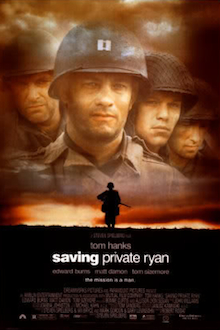 But of course this is Steven Spielberg, he's a professional. He has pride. He's not gonna just whip the thing around at random and pretend he was filming something good. Even while intentionally creating chaos he's secretly being careful, maintaining the audience's sense of geography. We feel like we need to stay on our toes to know what's going on, but we do know what's going on. The soldiers repeatedly use and discuss the meaning of the word "fubar," so it's only right that the style be called fubar style. But when Spielberg uses it it's not beyond all recognition. It's only when other people use it.
It's also telling that even after the huge popularity of this scene Spielberg didn't keep using the handheld style. For example WAR HORSE has big battle scenes (SPOILER) and they use the more traditionally Spielbergian smooth crane shots. He obviously considered it to be the right way to shoot this particular movie, not every action scene made for now on. I think there was a bit of a misunderstanding there, I hope it gets cleared up.
As great as the scene is I have to think I missed out on some of its power by seeing it all these years later after many imitators and hearing all about it. At the time it was considered so shocking they sent out warnings to the theaters, and there were reports of veterans not being able to handle it because they'd never seen their experience depicted as accurately (or as horrifyingly?) on screen. There are guts spilling and way too many people dying and shit, but I guess I'm desensitized.
What I really like about this sequence is the look on the face of Tom Hanks as everything goes south. It could've been some grizzled Tom Berenger type, and it would've made alot of sense, but putting Hanks in the role changes it. He's not a traditional movie warrior, he has vulnerability. It makes sense when he says he's a school teacher back at home. He's a professional, he's good at his job, he stays quiet until something needs to be said, and they all respect him for it. But also when he gets on that beach and sees human bodies exploding all around him – his men, that he led there – he looks horrified. He's Tom Hanks, not Rambo.
Man, this cast is a real who-was-about-to-be-who of late '90s Hollywood. I knew Vin Diesel was gonna be in there in his first not-directed-by-himself role – didn't know what a big part it was, though. Matt Damon fresh off of GOOD WILL HUNTING. Paul Giamatti the year after he blew up in PRIVATE PARTS (he mainly did movies with "Private" in the title). Giovanni Ribisi before, uh, THE OTHER SISTER. Tom Sizemore before DTV and sex tapes. Did you know the wrong Private Ryan they find first is that guy Nathan Fillion that the internet loves? And I noticed Max Martini from REDBELT. And of course Jeremy Davies from Justified, Barry Pepper from THREE BURIALS OF MELQUIADES ESTRADA, Ed Burns, Adam Goldberg, Dennis Farina, Leland Orser (the guy who freaks out in ALIEN RESURRECTION), Harve Presnell, Bryan Cranston… even Ted Danson? Shit man, everybody's in this movie. Unless they're a woman, then they're pretty much for sure not in it. Sorry ladies.
They put together a good group of characters and put them in an interesting situation. First we see the worst nightmare of combat, a total massacre. Then we find out how back home this poor woman has lost all but one of her sons. We see concern about this old lady somehow make its way through the bureaucracy to the top and become a mission: go find this Private Ryan dude and get him the fuck out of there in one piece for the sake of his poor mother. I mean they signed up for it and everything but we don't want that on our consciences.
It's a nice idea: war is hell, save this guy's ass, this family has sacrificed enough, cut them a small break. But when the idea is actually put into motion it brings up alot of questions. What about these guys on the mission, what if a bunch of them die trying to save one guy? What about their mothers? And of course when they actually find him what do you think he's gonna do, is he gonna want to go home? No, he's there to fight. If his brothers have all died for the cause he has all the more reason to stubbornly keep going. So nobody's exactly happy with this situation. There is some complaining, some arguing, some learning, some intense sniper attacks reminiscent of FULL METAL JACKET.
To me Davies has the most tragic character. He's the one that hasn't been burned by war yet. He holds onto his pre-war values. He has a sense of honor. Instead of killing an enemy soldier he lets him go, with the idea that his threat has been neutralized and it's better to save a human life, and what if the tables were turned, what would he want to happen to himself. But then that's the guy that ends up shooting Hanks. So this kid's whole code is crushed. The lesson he learns is the same one that Diesel learned too late: don't do "the decent thing" (in his case trying to carry a little girl to safety). So at the end this guy's a total mess, his decency proven unsuitable for the world. He's the one I want to see in the graveyard at the end, because what the hell happened to that poor guy?
You know, I I used to always confuse Jeremy Davies with Henry Thomas. It would've been kinda cool to see Elliott show up in other Spielberg pictures. Maybe Thomas turned it down so they decided to hire a lookalike and he turned out to be good. I don't know that to be true but maybe I'll go ahead and submit it to IMDB trivia.
Another missed opportunity for a Spielberg self-homage is when they talk about the same plane li'l Christian Bale was so excited about in EMPIRE OF THE SUN. "They're Tankbusters, sir. P-51s." Would it have killed 'im to say "Cadillac of the Sky"?
I know some people think the wraparound scenes of elderly Private Ryan visiting the cemetery are corny, but it seemed to me like they make the movie's point. Without those scenes it's another story of things that happened a long time ago, removed from our lives. With them it connects "the war" to our everyday lives back home, the grey faded film stock to a sunny afternoon. It shows us how everybody that survives a war is a person with a life and a family.
SAVING PRIVATE RYAN is all about the horrible math of war: Miller tells himself that every man that dies under his command is being traded for more lives saved. And they worry that the Germans they don't kill could go on to kill other Americans. Ryan is left his whole life worrying about whether he lived a life that justified that equation. And that also asks those of us who aren't veterans to live lives that justify all those sacrifices. Shit, I gotta get going.