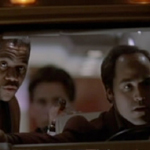 I'm interested in this idea of The Place White People Can't Go. According to pop culture and middle class conventional wisdom there are large swaths of every major city that are like the wild west or a post-apocalyptic dystopia. The second a woman steps off the wrong subway or a man's car breaks down on the wrong block, homeless men in ragged coats turn their heads from the flaming oil barrels where they warm their hands, and seedy criminals step out of the shadows of the garbage-strewn, rat-infested alleys to attempt a gang rape or mugging before this shaky-handed outsider gets a chance to unfold his or her map.
Admittedly many of these swarmers are white too, so maybe it's really The Place Suburbanites Can't Go. But it seems like a specifically white paranoia, perpetrated on white movie characters. It's perpetuated in movies I like, such as the DEATH WISH series, as well as many an '80s comedy. More recently it made an appearance in TRAINING DAY when walking through the barrio nearly got Ethan Hawke's "shit pushed in."
This is not entirely made up. Of course there are high crime areas (in Seattle it's called "my bus stop") and desperate, troubled people everywhere, and we've all heard stories, some of which are true. But I really think the whole thing is blown out of proportion in a way that appeals to our worst instincts and makes problems worse. In most cases I believe a white man can go anywhere and get a funny look at worst. If you mind your own business most people will leave you alone. Going into "a bad neighborhood" is not really like being a piece of meat in a tiger pit. You'll probly be okay.
It's bad because this paranoia serves to keep people apart, prevent understanding between cultures and classes, encourage suspicion and profiling of people who are different, and feed into the fantasies of these delusional crazies who have created The Places Black People Can't Go. In their minds, the black teenagers they see in their neighborhoods must be invading criminals. It would almost be funny how scared the white people were of too many good looking middle class kids at the pool if we didn't know somebody could've gotten killed over it.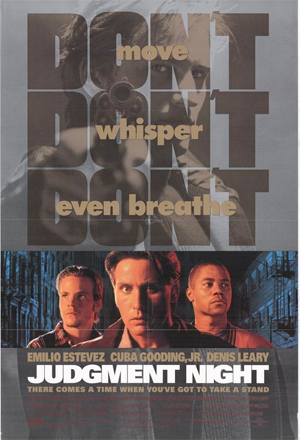 Well, JUDGMENT NIGHT isn't exactly about that. I always thought it was. It's mainly known for its soundtrack's gimmick of teaming rappers with rock bands. But it turns out other than "Fallin'" by Teenage Fanclub and De La Soul and "Another Body Murdered" by Faith No More and Boo-Yaa Tribe being used on the credits, all the songs earn the subtitle "[rap music – indistinct]", and it also turns out these teamups don't represent any type of healing of a racial divide. In fact the clash in the movie is completely class-based. Four friends take a fancy RV for a Guy's Night Out to a boxing match, take a traffic shortcut through the slums and end up under siege for witnessing a gang execution. The villains are organized crime types, not street gangs, but their leader Fallon (Denis Leary) does unleash his blue collar resentment on these rich boys as they hide in condemned buildings and rail yards and he stalks around yelling threatening cat and mouse banter at them.
(By the way, Fallon's henchmen include '90s indie crime film mainstay Peter Greene [LAWS OF GRAVITY, PULP FICTION, THE USUAL SUSPECTS, UNDER SIEGE 2: DARK TERRITORY] and Erik Schrody, aka Everlast in his acting followup to WHO'S THE MAN?
In some ways the movie seems aware of the class issues it's bringing up. It knows that asshole behavior gets them into this mess. Frank (Emilio Estevez, MISSION: IMPOSSIBLE) seems to be the audience identifier, the reasonable guy trying to calm his stupid friends down. Best friend Mike (Cuba Gooding Jr. from SHADOWBOXER) isn't too bad, but he's a bit of a show off, and beats up a guy over a traffic dispute before the shit goes down. Frank's little brother John (a baby-faced pre-BLADE Stephen Dorff) is a hothead who starts the fight. But Ray (Jeremy Piven, BODY CHEMISTRY II: VOICE OF A STRANGER) is the dick who smarmily pushes them all into situations they obviously don't want to be in. He's sort of the O-Dog or Bishop of this crew, but he explodes into douchiness instead of violence. He's a fake business man asshole who lied his way into borrowing the RV from a dealership, who thinks he can wheel and deal his way out of any problem, and also that that makes him awesome. Despite his ego he's the biggest coward of the bunch (afraid to climb across a ladder, among other things) and the one who brought a gun and pulls it on the wrong people.
In one section of the movie they sneak into a housing project and try to get someone to let them use a phone to call the police. But they do a terrible job of communicating their situation and keep running toward people, seeming like potential home invaders. They keep asking to be let into apartments to use the phone and don't think to just ask them to call the police themselves. (Ultimately the bad guys cut the phone lines and the police won't come anyway.) So I blame these people less than the neighbors in HALLOWEEN who turn the lights off when Laurie knocks on the door.
One couple does shelter them briefly, lesbian parents it seems like, which is very progressive for 1995. They're sympathetic characters, caught between being Good Samaritans and protective parents. The latter wins out thanks to dumb ass Ray and his gun.
Other than them, the incidental characters are not treated with much dignity. There's the homeless guys they run into while hiding, who greedily roll them for their wallets and jewelry in exchange for not ratting them out. One guy is crazy and almost gives them away by yelling about "I'm a college graduate!" and how he almost had a basketball career and stuff. Mike is really slow in figuring out that the guy wants his letterman type jacket. In many movies we would later learn that the homeless guy is telling the truth, he's a tragic story of potential gone unrealized, who will use his smarts to save them. Not tonight. Not Judgment Night. He just wears Mike's jacket and immediately gets mistaken for him and shot to death. The boys keep running and never take a second to feel bad about it.
Same goes for the security guards they get the attention of by breaking into what I guess is supposed to be a swap meet but looks like a big department store. They don't respect them as humans enough to tell them what's going on, they just laugh and antagonize them into calling the police. Then the guards, who probly would've liked to go to the boxing match themselves if they could afford it and get the night off, get killed by the gangsters. No one cares.
Frank has been established as a sensitive husband who "hasn't left the house" for 3 months since his wife gave birth. His unlikable wife (Christine Harnos, DAZED AND CONFUSED, HELLRAISER: BLOODLINE) tries to guilt him about this one rare outing with the fellas, and they in turn give him shit about being a marriage pussy. At the beginning the boys are clearly wrong, but at the end the movie decides that he has to Man Up and start yelling and killing people. It's dumb. But it does mean there's a chase and breaking-things fight in a department store, similar to director Stephen Hopkins' first movie DANGEROUS GAME. (This was his fourth film, after A NIGHTMARE ON ELM STREET 5: THE DREAM CHILD and PREDATOR 2.)
In the end (SPOILER) most of the boys get to go home, one on a stretcher, but all of them laughing. Ray gets punished, but at least he doesn't have to pay for the RV he trashed. The others get to go home and have their bank cards cancelled and replaced while the families of the security guards find out if there's enough life insurance money to keep from getting evicted.