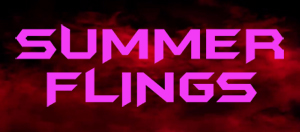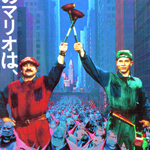 "Are you tellin us that you're gonna arrest a guy for bein a plumber? Get outta here!"
May 28, 1993
Okay, look. I'm not claiming to know a better way to make a live action movie based on a video game about an Italian plumber eating mushrooms, punching bricks and murdering hundreds and hundreds of turtles but also collecting coins while trying to rescue a princess. And seeing how directors Rocky Morton and Annabel Jankel reimagine the world of the famous Nintendo game as a dystopic Manhattan in an alternate dimension where people evolved out of dinosaurs is the closest thing to fun this movie has to offer.
But still. What the hell? It's a question that must be asked.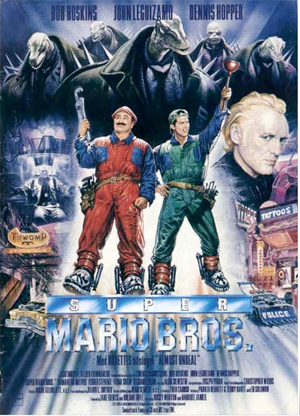 Bob Hoskins (UNLEASHED) recycles his Eddie Valiant accent to play Mario Mario, a Brooklyn plumber struggling to make ends meet with the help of his brother/apprentice/adopted son(?) Luigi Mario (John Leguizamo, JOHN WICK). The market is dominated by a rival plumbing company called Scapelli, who are also for some reason the evil developers trying to force university archaeologist Daisy (Samantha Mathis, THE PUNISHER) off of a promising dig. When the Marios try to help Daisy the three of them jump into a magic portal to the other dimension, where the openly evil, lizard-tongued, weird-haired President Koopa (Dennis Hopper in his role between RED ROCK WEST and TRUE ROMANCE!) wants the sliver of meteorite that Daisy wears around her neck because he can use it to conquer the mammal dimension, where she was spirited away in an egg when she was born because she is the princess.
Production designer David L. Snyder was the art director of BLADE RUNNER, and cinematographer Dean Semler (who replaced Peter Levy [PREDATOR 2, RICOCHET]) shot THE ROAD WARRIOR and BEYOND THUNDERDOME , but here they came up with one of these sort-of-impressive-but-chaotic-and-ugly soundstage world-building messes indicative of an out-of-control production.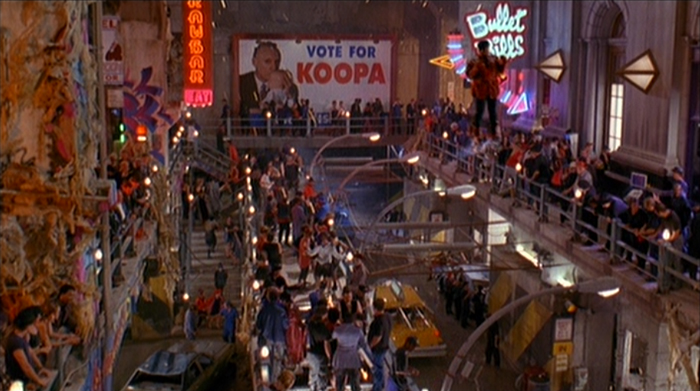 The set (built in a cement factory in North Carolina) depicts one cluttered block of an alternate New York ("Dinohattan") full of Big Brother-esque Koopa billboards and weird, sort of punk fashions. Cops wear spiked shoulder pads, possibly as a vague allusion to the spiked turtle shells of the game. A few people have dinosaur-inspired makeup kinda like background extras in Star Trek or NIGHTBREED. One lady pushes a large egg in a stroller. Tiny puppet dinosaurs hang around like vermin, fighting over green slime.
Perhaps due to a lack of fossil fuels, the cars are all electric, powered by sparking bumper car style runners. The police cars have bulldozer shovels on the front. Many areas are draped in webs of fungus, which we hear are what remains of the original King, Daisy's father, after Koopa had his way with him. Sometimes the fungus tries to help by giving Luigi tiny versions of things from the game: a bomb with windup legs, a bullet with a face.
Hopefully some day they'll remake this movie and it will still be like this except it will star parkour guys and they'll be jumping and climbing all over the place. Hoskins was not particularly known for his high leaps, so they work jumping into the movie by having the brothers eventually get hold of some big ass motorized spring boot things they put on that make them jump high. So they use that for a little bit.
They are Mario Bros., we get that, but are they really Super Mario Bros.? I would argue that because they are regular sized in the movie and never turn giant, they are not Super Mario Bros. We all know that a basic element of the game is Mario eating a mushroom that turns him giant and then he can smash bricks when he jumps up and punches them. Here he never eats a mushroom or turns giant or punches bricks, but there is one part where he falls down and accidentally bounces off a sheet of fungus like it's a trampoline.
There is a princess, but not named Peach or Toadstool. There are no bricks, castles, flagpoles, dungeons. There are fireballs, shot out of government issue police flamethrowers. And certain design elements maybe represent venus fly traps?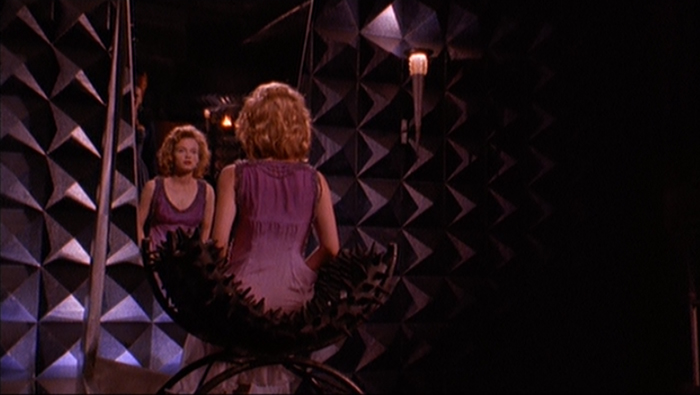 Koopa has a machine that he sits people in and with the twist of a dial can cause them to evolve or devolve (usually the latter), and he uses it to turn people into his army of "Goombas," which in the game are mushrooms with feet and eyes, but here they are dumb giant people with wide shoulders and tiny animatronic turtle-ish heads. He does this to Toad, who in the game is a Mario associate who looks like a mushroom, but here is a harmonica playing busker with a spiral shaved into his hair and played by "Elvis is Everywhere" singer Mojo Nixon, who told an interviewer for the Super Mario Brothers Movie Archive websight that he knew the casting director and she said, "Look, they want Tom Waits—but I told them I could get you for half-price."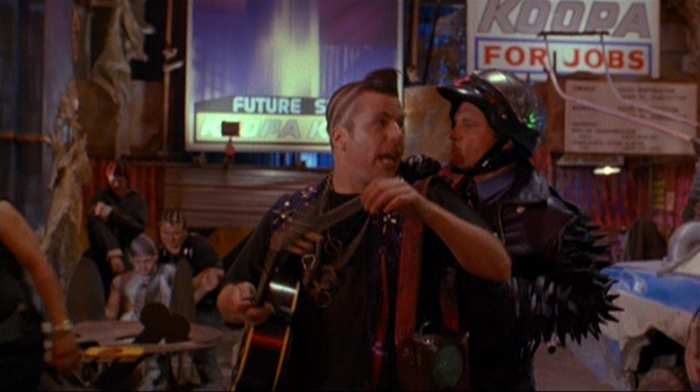 Also there are these scary guys who hose off the prisoners in Koopa's giant jail: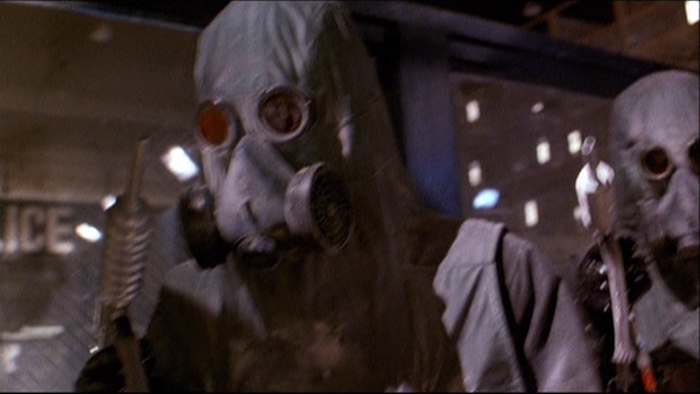 and I don't know but I thought maybe they represented these guys?

It would've been pretty easy to get more things from the game in there. I wondered why the portal between dimensions wasn't a big green pipe. There is a part where they go through a giant pipe, but it's all frozen and they're on a mattress sliding through like Olympic bobsledding. So I'm skeptical as to whether they thought they were referencing the pipes in the game, or if they just knew that GOONIES waterslide scene = fun adventure. Nobody knows.
So what were Jankel and Morton – who reportedly didn't even want Mario and Luigi to wear their trademark red and green pants – thinking? Research verifies that it was not weird carelessness, but an intentional choice to create a "real" story representing events that the game itself could've been loosely based on. In an interview with Nintendo Life, Morton explained that an earlier script written by Tom S. Parker and Jim Jennewein (RICHIE RICH) for director Greg Beeman (LICENSE TO DRIVE, MOM AND DAD SAVE THE WORLD) "was like more of a direct lift from the game. And I thought well, we all know the game, wouldn't it be interesting to create a game that was kind of darker and was the 'true' story. And, you know, in history, myths get distorted — this would be the same thing, the origin of the myth, and then it got reinterpreted by the Japanese — like, you see, at the end the two executives from Nintendo come at the end to to talk to Mario and Luigi, and they tell the story of their adventure verbally and then [Nintendo] kind of writes it down and gets it all wrong, and that's why the game is different from the film."
In other words, What if the first movie based on a video game – wasn't based on a video game?
It sounds good, and I mean, I get it, but who the fuck wouldn't want to make a movie where Bob Hoskins eats a leaf and it makes him grow a raccoon tail that he wiggles around and it makes him fly? This is one of the biggest missed opportunities in cinema history.
While the artistical lack of fidelity to source material is the aspect that seems to puzzle people the most, it's not at all the problem.
"The reaction from the studios was that the script that was written was too dark and too adult," Morton said, "and it should be rewritten — or dewritten, as I called it — to a lower level, adding stupid gags and making it more childlike, which is what happened. It got rewritten about two or three weeks before principal production, so by the time the script came in we were ready to shoot."
This is one reason why, according to many interviews with cast and crew, the directors seemed to be in over their heads (or were "fuckin' idiots" according to Hoskins).
"The worst thing I ever did? Super Mario Brothers. It was a fuckin' nightmare. The whole experience was a nightmare. It had a husband-and-wife team directing, whose arrogance had been mistaken for talent. After so many weeks their own agent told them to get off the set! Fuckin' nightmare. Fuckin' idiots."
Maybe if the directing duo had been allowed to stay true to their vision, or had known how to keep things more under control, or were better filmatists, their idea might've worked. I mean, I don't know how an "adult" version of Koopa's plan here would be a good story, but for sure the broad so-called humor is a constant stumbling block to enjoyment.
There is one kind of funny joke. It happens at the beginning, when Daisy and Luigi are in the cave, and the Scapellis sabotage the sump pump, causing a plumbing emergency.
"Thank God you're here!" says Daisy. "I mean–"
"What do you mean?"
"I mean, you're a plumber, right?"
"Oh yeah! I know exactly what to do!"
(Cut to him across town asking Mario for help.)
Most of the movie feels more like this: the Marios are bickering about something while the score by Alan Silvestri (FORREST GUMP) keeps waving its arms in our faces saying Hey, do you know this is whimsical? Hey, this is whimsical, right? Uh, excuse me, hey, I'm trying to – this is whimsical, okay? This is whimsical right here. We're all having so much fun.
And then they fall off of something or swing on a thing or are in a thing that's going really fast and they  go "AAAAAAAAAAHHHHHHHHHH!!!"
Iggy (Fisher Stevens, UNDISPUTED) and Spike (Richard Edson, DO THE RIGHT THING), Koopa's henchmen cousins, employ a "funny" acting style reminiscent of Bulk and Skull in MIGHTY MORPHIN POWER RANGERS. Dressed like doormen at an Italian-American dance club, they do the world's most obvious bumbling-and-bickering-and-whacking-each-other routine before "evolving" into "smart" people who speak clearly and use show-offy vocabulary. I read that they convinced the directors during filming to do that instead of turn them into Goombas, and that they also improvised a rap (mercifully cut from the movie).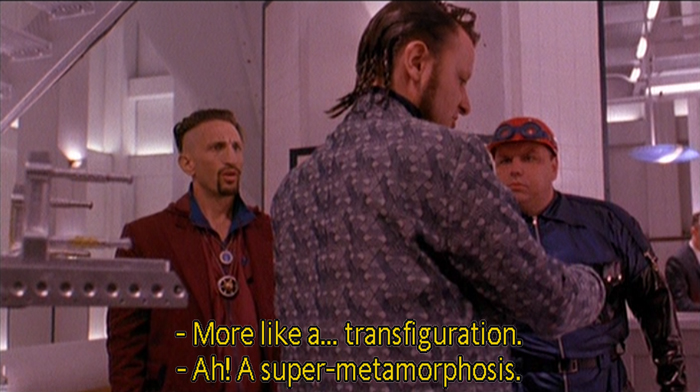 Hoskins and Leguizamo (who, according to Leguizamo's memoir, took to downing shots of scotch together between scenes) fair better, but not enough better. Mario is the macho, abrasive New Yorker stereotype, leaving Luigi to be the point of sympathy for the audience. But he's such a little boy in his courting of Daisy (he gets nervous and talks gibberish to her, ha ha) that it's hard to respect him.
I'm kind of more interested in Mario's relationship with Bertha (Francesca P. Roberts, HARD TO KILL), literal and figurative bouncer of the Boom Boom Bar who mugs him of the meteorite fragment so he has to get it back through seduction. I don't really understand why she helps him after he leads her on like that, but she seems like a good friend to have. She loans them those jumping boots, for example.
In the club, and on the end credits, George Clinton sings a cover of "Walk the Dinosaur." It got me thinking – what's with Clinton and movie bombs? He did a song with Thomas Dolby that's on the end of HOWARD THE DUCK. And he did a new version of "Flash Light" for MUPPETS FROM SPACE which did not make back its budget. He also has a song in Alex Winter's FREAKED, which isn't in the same category, but I think it was supposed to be a bigger movie than it was, because I remember they had toys at Suncoast Motion Picture Company. On the other hand he had a cameo in HOUSE PARTY, and that was a huge hit. And GOOD BURGER probly did okay. The lesson is, give him a cameo.
Anyway, "It was a night like this, 40 million years ago" is a great opening lyric. And Roxette, DiVinyls, Megadeth and Marky Mark are also on the soundtrack.
A weird thing I totally forgot about this movie is that at the end the fungus de-devolves into the Fungus King for a brief scene, and it's Lance Henriksen! This was done in post-production, and Semler wasn't available, so what the hell, they called in Laszlo Kovacs (EASY RIDER) to shoot it. According to Not Bad For a Human, while Henriksen was sitting in the throne he was checking out a woman on set, then realized she was the one who painted his motorcycle in STONE COLD. He asked her to dinner and later married her.
* * *

It was Roland Joffe, Academy Award nominated director of THE KILLING FIELDS and THE MISSION, who convinced Nintendo to license the movie rights to their most popular game. A video game had never been made into a movie, but this one was such a pop culture phenomenon that it seemed like a no-brainer. Joffe and his company initially tried to get Danny DeVito to star and direct. They offered Koopa to Arnold Schwarzenegger. Then they had Tom Hanks signed to play Mario, but decided Hoskins was more bankable. Whoops!
(I mean, he's probly better for the part though.)
Morton and Jankel were mainly known for directing commercials and music videos. They founded Cucumber Studios in the '70s, an animation company whose credits include:
"Accidents Will Happen" by Elvis Costello
and "Genius of Love" by Tom Tom Club
Their most notable credit was as the co-creators (with writer George Stone) of Max Headroom. They directed the British TV movie Max Headroom: 20 Minutes Into the Future as well as his subsequent music video/talk show, but had nothing to do with the American TV series which, unlike me and many others, they don't seem to have liked. "I believe that it wasn't the timing of the show that led to it's demise, but its fluffiness," Jankel told Den of Geek , "reworked for a US audience, whereby Max was homogenized into something less provocative and thus less worth watching."
Though their one theatrical feature (D.O.A. starring Dennis Quaid) had flopped, I can see why Joffe thought they were a good fit. Their work was edgy and creative while existing at the intersection between commercialism, art and technological experimentation. They must've talked a good game and they had a weird idea of how to do this and he decided to let them go for it. Sort of.
Morton and Jankel spearheaded the "darker," less video game based vision of SUPER MARIO BROS., but the movie's strangeness was also the product of bringing in a bunch of different writers to try a bunch of different approaches. According to Morton, everyone signed on because of a script by Dick Clement & Ian La Frenais (THE COMMITMENTS, ACROSS THE UNIVERSE, THE BANK JOB).
(By the way, one of their drafts included a weird guest appearance: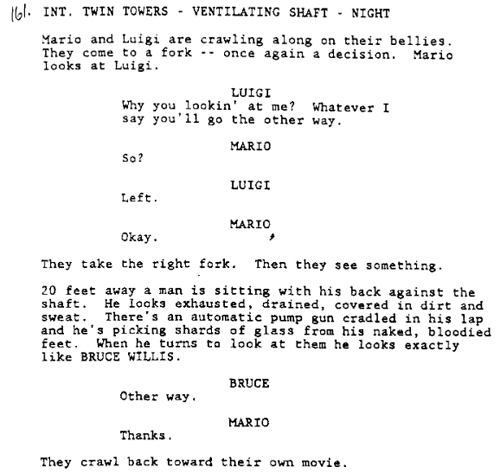 If they ever did offer that cameo to Bruce I guess he chose the one in LOADED WEAPON 1 instead.)
But then (in the tradition of COOL WORLD) the producers surprised everybody with last minute rewrites. The finished movie credits Parker Bennett & Terry Runte (MYSTERY DATE) and Ed Solomon (BILL & TED'S EXCELLENT ADVENTURE, MEN IN BLACK). Not to cast aspersions, but the first two also have a credit for "additional story and dialogue" on THE THIEF AND THE COBBLER, which most likely means they helped with the unconscionable redubbing that soiled director Richard Williams' decades-in-the-making passion project when producers fired him, ruined his movie and sold it to Miramax to shit out under the title ARABIAN KNIGHT.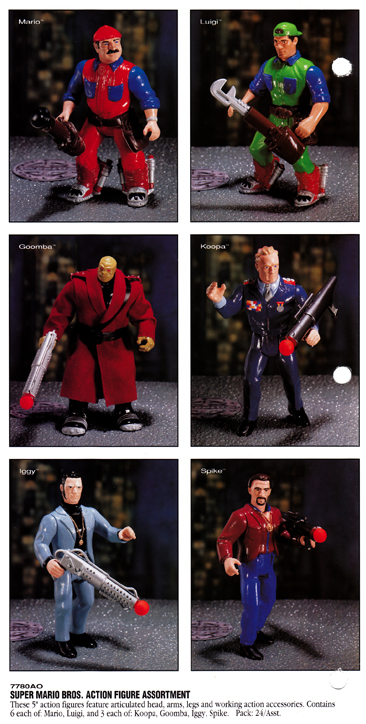 It was Solomon (with uncredited Ryan Rowe [TAPEHEADS, CHARLIE'S ANGELS]) who was brought in to add more gags and make it more family friendly shortly before filming. The directors weren't permitted to work with them, so what they wrote didn't always match the sets and props they'd created, causing chaos.
Having gone over schedule, the directors ended up not having time to film a planned climactic battle on the Brooklyn Bridge. A second unit shot extra action scenes without them, and they had to fight to even be allowed into the editing room with Mark Goldblatt (TERMINATOR 2). Everyone seems to have been frustrated with everyone else.
This is yet another one released by Disney, but unlike DICK TRACY or THE ROCKETEER, it didn't deserve a better reception than it got. I would say the toys were a little less ugly, though. A little. They made action figures of most of the main male characters, plus a police car and a playset of the de-evolution chamber thing. There was no Princess to save, though, and no Yoshi, the animatronic dinosaur pet added late in production.
But I mean, it's good that Richard Edson has an action figure. He didn't get one for DO THE RIGHT THING.
JURASSIC PARK came out two weeks after SUPER MARIO BROS., but let's not pretend it was dino competition that wiped it out. It had already opened against CLIFFHANGER and MADE IN AMERICA, and they both clobbered it in its opening weekend. It also came in below DAVE, which was in its third week of release.
SUPER MARIO BROS., it cannot be denied, is a fuckin mess. I cannot in good conscience claim that it's a good movie, or even that I like it. But I understand why certain Nintendo kids have nostalgia for it. It's a weird fuckin specimen. It's… something. Better to be… something than nothing.
sources:
Super Mario Bros. The Movie Archive
These guys have multiple drafts of the script and director notes (I got those excerpts and the toy picture from them), and they also did long, thorough interviews with everyone from Mojo Nixon to editor Mark Goldblatt and various extras and crew members. An absolutely incredible resource if you're interested in this movie.
Mario's Film Folly: The True Story Behind Hollywood's Biggest Gaming Blunder by Ben Reeves
Interview: Rocky Morton On The Chaos Of Directing The Super Mario Bros. Movie by Jowi Meli
This entry was posted on Tuesday, June 6th, 2017 at 11:00 am and is filed under
Reviews
,
Science Fiction and Space Shit
,
Videogame
. You can follow any responses to this entry through the
RSS 2.0
feed. You can skip to the end and leave a response. Pinging is currently not allowed.