The cover for the upcoming American DVD of ANIMAL KINGDOM says "Australia's answer to GOODFELLAS." As if the U.S. released GOODFELLAS and said, "What say ye, Australia?" And Australia comes back, "Australia has no response to GOODFELLAS at this time."
Twenty years pass, not a word. Suddenly, out of the blue, America's phone rings.
"Thank you for calling America, how can I help you?"
"We have Australia on the line. Please hold."
"Okay."
"Hello?"
"Yes. This is America. To whom am I speaking, please?"
"Australia calling. We have prepared an answer re: GOODFELLAS. It's called ANIMAL KINGDOM."

That's actually one of those unfair quotes, because really it's just saying there are superficial similarities between the two movies, it's not actually saying they're at all equal in quality. But no matter what it actually says everybody responds the same way: "This guy says it's as good as GOODFELLAS." And no movie can live up to that kind of comparison, except arguably GOODFELLAS.
But I know what the guy meant. It's about criminals, it has a bunch of first person narration at the beginning, he goes into witness protection at the end, he eats noodles. Very similar. But it's a smaller, more modest story, much simpler. But very good.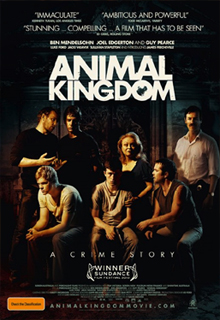 The lead is J. Cody (James Frecheville), a teenager, kinda looks like the Australian Lucas Black, but with less emotion allowed to escape from his heart to his face. When his mom dies of a heroin o.d. he calmly calls his grandma (Jacki Weaver) asking what to do. Next thing you know he's in Melbourne living with her and a house full of uncles that his mom deliberately kept him away from most of his life. See, they're all criminals, and they're constantly being followed around by the armed robbery squad, but don't worry, those pricks won't do anything. They just want the other uncle who's hiding out somewhere else. They think.
J. tries to stay a good kid. He probly enjoys hanging out with these macho dudes, being one of them. They have a protective feeling toward him, and a fatherly obligation. One of them lectures him when he doesn't wash his hands in the restroom. But he doesn't seem seduced by their lifestyle. He's pushed into pointing a gun at a dude in a traffic confrontation, and whatever feeling of power the experience gives him he does a good job of hiding it. I'm not sure how much he enjoyed it. I think he sort of liked it and sort of knew it was the beginning of some trouble. I gotta admit I enjoyed it though.
But of course J. gets pulled into things he wants no part of. The coolest uncle, the one that wants out of the life, of course is the one the vigilante cops decide to come down on MAGNUM FORCE style. So J gets stuck spending more time with the worst uncle (Ben Mendelsohn), has to take part in some crimes, gets his girlfriend into some bad situations, then gets arrested and questioned by the police, including Guy Pearce (now with mustache).
One thing that makes this different from other crime movies: a distinct lack of crime. It focuses on the family life and not any of the processes of their business. In fact, I'm not sure if it even specifically says what their main business is. I know there's some drug selling but that seems to just be a side project.
One scene I really like is where his girlfriend (Laura Wheelright) brings him to stay at her house because his uncle just got murdered by the cops and he needs to hide out. At first the mom says absolutely not, she doesn't want the boyfriend sleeping over, but the dad feels sympathetic toward J. when he hears (part of) the story. They seem very real, trying to be open-minded, understanding parents, but their daughter really doesn't fully understand what she's getting into here, so neither do these poor parents. Later, when J's presence there endangers their family it just seems like a huge violation. You see this real normal suburban family, they never did nothing wrong, they're just trying to be nice to this kid because they like him and they get royally fucked over. And he's real sorry about it but they don't even get an apology or an explanation from him. They just look at him in disbelief as the shit goes down.
There are lots of interesting characters here, I'll point out two. Guy Pearce is the cop trying to get J. to testify against his family. You expect this type of character to be a liar, trying to trick him, or a blustery hothead type of guy making threatening speeches about how much trouble the kid is gonna be in if he doesn't cooperate or whatever. No, this guy actually seems really nice and caring, and polite. It's weird.
But the grandma is my favorite character. She seems like kind of a phony, with a phony smile, but J. says at the beginning that he thinks she just wanted to be with her boys, wherever they were. You get the idea she'd be there with them if they working as garbage men or as animators on HAPPY FEET 2 or anything. She just loves her boys unconditionally, and her husband is dead, and she likes hugs, so she's there in the house taking care of them even though they're a bunch of thugs. (SPOILER ALERT: RED/SEVERE – SEVERE RISK OF ME GIVING SHIT AWAY AND MAKING YOU REGRET READING THIS REVIEW IF YOU HAVEN'T SEEN THE MOVIE YET) But right about the exact moment that I was thinking she was a nice lady she turned around and started flying in the other direction. Like a boomerang.
(note to Australians: please don't take that as condescending, my friends. I know it's a lame Australian reference, almost as obvious as kangaroos or CROCODILE DUNDEE. And I remember what happened to those kids in WOLF CREEK after one of them started joking about CROCODILE DUNDEE. But you gotta understand, boomerangs are fucking awesome. You throw them and it hits a guy in the face and then it comes right back to you. That is fucking great. Also that part in MAD MAX 2 where it cuts the guy's fingers off. Boomerangs fascinate us. They're Australia's answer to nunchakas or ninja stars. Take pride in your boomerangs. Aussie Aussie Aussie! Oi oi oi!)
First time movie actor Frecheville is really good as this stonefaced, enigmatic kid. In fact, everybody's really good in this. One guy I thought was particularly charismatic was Joel Edgerton, who plays Barry. I was kind of thinking this guy is really cool, he could be another big Australian export like Sam Worthington or Eric Bana.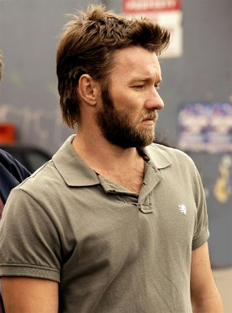 See, that's the guy there, the cool uncle. And he looked familiar, I was trying to figure out what I'd seen him in before. Turns out he was in SMOKIN' ACES, I apparently saw him in that. And he was the voice of the bad guy in GUARDIANS OF GAHOOLE. He's in some upcoming movies, like the prequel to THE THING, and this possibly crazy movie called WARRIOR where Nick Nolte trains Tom Hardy to be an MMA fighter.
But also…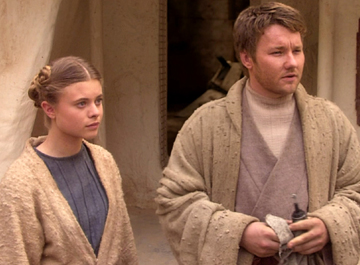 Oh shit! This guy was Luke Skywalker's uncle, prequel edition. That's gotta be where I recognized him from. Oh well. He's grown up now. He's been through alot. He made the owl movie and everything.
ANIMAL KINGDOM is not gonna replace your copy of GOODFELLAS, but I think the two can co-exist peacefully, even if ANIMAL KINGDOM is just a little baby being carried around in GOODFELLAS's marsupial pouch. But it's a really top-to-bottom well made movie by rookie writer/director David Michôd. Good job, Australia.