HOOK, man. What went wrong? Let's try to figure it out.
One thing I noticed about HOOK: it's not called PAN. The title HOOK implies a new perspective on the PETER PAN tale, like we're gonna see it from the pirate's perspective, or even like it's gonna be a Captain Hook biopic. Maybe we would learn about his struggles growing up, how he wrote his first hits, rose to the top of the charts, substance abuse, falling in love, the thing with the crocodile, etc.
Instead HOOK is just a sequel to PETER PAN where years later an asshole corporate lawyer guy (Robin Williams) finds out he forgot he was Peter Pan and has to go to Never Neverland to save his kids from Captain Hook (Dustin Hoffman). It's all about a balanced approach to "growing up," not losing the joy and imagination of a kid but also being a responsible father and husband because he's a fucking adult.
These messages are a little relatable and alot hackneyed because of these type of studio family movies that could star Williams or Jim Carrey or Tim Allen or Adam Sandler. And they're themes that specifically have to do with Pan's character, not Hook's. There's no new insight into Hook, his only semi-new trait is that he wants to have fun having a "war" with Pan more than he actually wants to kill him or avenge him for cutting off his hand. So he's disappointed that Pan can't fight anymore and he allows him time to re-train. And it doesn't seem like it's focusing much on him or his legend, other than a short part after the kids have been kidnapped when they find a long scrape across the walls, like he came in and Freddy Kruegered the place.
I mean that's fine, it doesn't have to be about Hook, but I bring that up because I think it shows what part of what went wrong: it must've been developed to death. Spielberg didn't originally set out to make a movie about Peter Pan as a grown up, he just wanted to make some kind of Peter Pan movie. First it was a straight adaptation. Some reports claim he considered a musical version with Michael Jackson (obviously I wish that happened), but Spielberg told Entertainment Weekly that when he explained the plot of HOOK to him "Michael understood at that point it wasn't the same Peter Pan he wanted to make." (i.e. a good one).
For a while Spielberg wasn't gonna direct and the script was rewritten by other people, then he came back to it. I don't think anybody ever had a clear idea how or why to tell this story, but they went through with it anyway. I mean, they'd been loading the gun for a long time, might as well close their eyes, take a couple spins and then pull the trigger. What could go wrong?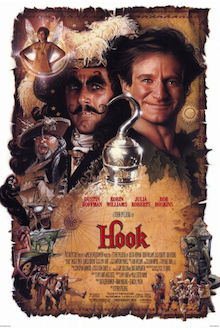 HOOK isn't the worst idea, it's just not a strong or focused one, and doesn't seem to be carefully thought out. Grownup Peter Pan isn't a relatable screwup like Bill Murray or maybe Nic Cage would've played. He's not likable at all. He neglects his family in the most obvious cliches possible: taking a business call during his daughter's play (even more of a dick move in 1991 because of the effort required to haul around the giant phone), missing his son's baseball game (also harder in 1991 because there was no app for missing the game). Most shitty movies just choose one of those two old saws, this one requires both. At least they could've changed it to a different sport! A tennis match or something. A solar car race. And then of course the family goes on a vacation and he's all aggravated because of the big corporate acquisition conference call. Man, there's alot of movies about the big corporate acquisition conference call the guy is trying to get. I guess that was a big part of people's lives in the '80s and '90s. It was in the movies because we all can relate, buying out companies and all that.
There are other details to show how much grown-up Peter Pan has lost the magic of imagination and child wonder delight or what have you: when he first confronts Hook about the abduction of his children he threatens to sue him. Then when he won't budget he acts like he's going for the big guns and he pulls out his check book. These are both really funny ideas, like they'd be funny if Chris Elliot did them in CABIN BOY, but in this movie I'm not sure it's suppose to be jokes, or if they are they're not delivered in a funny way. There's also a protective-parent side to his not being any fun anymore: he worries about his kids getting hurt, doesn't like them playing near windows. Also he's afraid of flying on planes, even though he used to fly using the power of imagination, pixie dust and tights.
But there's one part where he's at work where he's having fun, to show he still has a little bit of Peter Pan in him. It's an incredibly lame type of fun, but him and another guy have a quick draw contest using their early '90s cell phones. He seems way too proud of himself and his co-workers seem even more way too impressed by him, but they're obviously having fun. So be sure to forget this at the end of the movie when he apparently quits his job and they act like it was totally evil. I don't know, maybe he'll still keep in touch with all those people, and maybe they'll loan him money so he can continue the international travel with his family.
These early lawyer scenes are scored with jazz that, fittingly, has a little bit of a cheesy modern fusion white-people-listen-to-it-in-the-dentist's-office type of feel to it. I mean not too bad, it's a little bit Peanuts but cut with a little bit of Kenny G. They probly should've gone full-on smooth jazz to really capture Peter's sensibilities.
I don't think he's as relatable as they mean him to be, and when he turns back into a Pan it's not a whole lot more appealing. It's full grown Robin Williams with a bunch of kids dancing around giggling, howling and having food fights. The John Williams music is convinced this is the greatest and most magical thing I've ever seen, but I have my doubts.
Within the story Pan is not only likable, he's irresistable to women. His wife obviously adores whatever she sees behind his asshole exterior. Grandma Wendy (Maggie Smith – shown briefly as Gwyneth Paltrow in flashbacks)) clearly maintains a childhood crush on him, and almost kisses him at one point. As soon as he gets to Neverland he falls in the ocean and three lusty mermaids make out with him. Later, Tinkerbell actually turns herself human-sized to profess her love for him. I don't get it, man.
Hoffman is almost unrecognizable as Hook, and I want to say he's good in the role, but alot of it is these scenes where he's just doing some shtick with Smee (Bob Hoskins). For example he holds a gun to his head and says he won't let Smee stop him from committing suicide, repeating it over and over again until Smee finally takes the hint and stops him from committing suicide. You can tell it seemed real funny to them when they filmed it, but it doesn't translate for me. The only part that made me laugh is the part after a pirate is shot for trying to steal second and Hook mutters something about baseball being a violent sport.
If I had to choose a best scene maybe that would be it? Hook stages a baseball game for Pan's son (Charlie Korsmo from DICK TRACY, by the way), just so he can attend it. Take that, dad who missed the baseball game! The irony is that Pan goes to the game to try to steal Hook's sword and he ends up stopping to watch the game and be proud of his son. The son doesn't even know he's there, so it's not a show, it's for himself. But I don't know, even the best parts are better ideas than executions.
The power vacuum left by Peter's absence did not lead to a military coup or anything, he just got replaced by a dude named Rufio as the leader of the Lost Boys. Rufio is played by Dante Basco who was MJW's manager in the great BLOOD AND BONE and was the main character in a goofy movie ride called FUNK BLAST that they used to have at the Experience Music Project in Seattle. That's what I know him from. I'm not sure how Rufio came to power – he doesn't seem to have Pan's sense of fun or humor, he's just an asshole who's good at doing flips. It is possible that his status is based purely on his hairdo, which is kind of like a rockabilly pompadour but with three red mohawks bursting out of it. Pan should've had to outdo that hairdo in order to regain the throne. He could have a Big Daddy Kane on one half, down-to-his-ass pink crimped on the other, plus a couple braids with Stevie Wonder beads and "#55 BRIAN BOSWORTH" shaved into the back. Then it would be clear why the Lost Boys made him their leader. We'd all get it.
I guess it's widely agreed that Julia Roberts (who was only 24 at the time, but a huge star because PRETTY WOMAN came out the year before)  is terrible in this. She plays Tinkerbell, the fairy who can talk in this version and I'm pretty sure wants to do Peter. (Don't worry, since she uses that magic to turn human sized she has it worked out anatomically if necessary.) Roberts was nominated for a Razzie for worst supporting actress, but lost to Sean Young in A KISS BEFORE DYING. Anyway I didn't think she was so awful, in fact I thought she was kind of good at times, but there is a surprising disconnect between her and the other actors. Most movies do a better job of making it seem like the live actor is really looking at and talking to the special effect.
It's kinda funny seeing these movies that were just a few years before the digital revolution. They would look so incredibly different if they made them now. I like when they actually build big sets and stuff, instead of creating it all in a computer. But this doesn't hold up as a good looking movie, for the most part. The one thing that really looks nice on the blu-ray is the occasional matte paintings showing the island from a distance. Those look real pretty.
I think part of my problem with this movie in comparison to other Spielberg is that it's not grounded in a recognizable reality. E.T. is this fantastical fairy tale about a pet alien, but the kid actors and their dialogue are so naturalistic ("I don't like his feet!") and there's a texture to the house and the town. It feels like a real place. In HOOK everything is fuckin fake. There's the big Universal Studios Stunt Show style set for Never Neverland, where everybody wears crazy clothes and does flips and a fat kid named Thud Butt (seriously) folds himself into a ball to roll over bad guys. But the "real world" part at the beginning isn't any more true to life. It's made completely out of cliches, there's no authenticity at all. Fake people flying off to a wooden set to ride skateboards and splatter paint on each other.
That probly doesn't matter as much if you're a kid, and I know there are people who grew up with this and still love it. Maybe not as much as THE GOONIES, but similar. I could be wrong but it seems to me like you really had to be imprinted to it at an early age, like those baby geese to Anna Paquin in that one movie. Otherwise you're not gonna want to follow it around. You're not gonna want to migrate with it.
You know what's kinda weird, this movie has multiple connections to HALLOWEEN. The screen story is credited to Nick Castle, the original Michael Myers. The cinematographer is Dean Cundey, director of photography for HALLOWEEN (and HALLOWEEN II, and HALLOWEEN III). Arthur Malet, who plays the senile ex-Lost Boy Tootles, was the graveyard keeper in HALLOWEEN. Remember that part?
Graveyard Keeper: Yeah, you know every town has something like this happen… I remember over in Russellville, old Charlie Bowles, about fifteen years ago… One night, he finished dinner, and he excused himself from the table. He went out to the garage, and got himself a hacksaw. Then he went back into the house, kissed his wife and his two children goodbye, and then he proceeded to…
Dr. Sam Loomis: Where are we?
Graveyard Keeper: Eh? Oh, it's, uh, right over here…
(One of the other screenwriters, Malia Scotch Marmo, only has a handful of other credits, and one of them was as a production assistant on SLEEPAWAY CAMP. For whatever that's worth.)
So, yeah, I blame the thorn cult. That's probly what went wrong.
This entry was posted on Thursday, January 19th, 2012 at 12:22 am and is filed under
Fantasy/Swords
,
Reviews
. You can follow any responses to this entry through the
RSS 2.0
feed. You can skip to the end and leave a response. Pinging is currently not allowed.