"You know what? I've never actually seen a Terrence Malick movie," I admitted, embarrassed.
"WHAT?!" my film buff buddy blurted out. "And you see every crappy movie that comes out!"
"That's not true!" I defended. "I haven't seen Pirates of the Caribbean 4 yet."

He said he was kidding, but his disgust was clearly genuine. And I mean, he's kind of right. It is true that I have seen all of the FAST AND THE FURIOUSes more than once. I've seen all the STEP UPs, FRIDAY THE 13THs, NIGHTMAREs ON ELM STREET, TRANSPORTERs, UNDISPUTEDs, BESTs OF THE BEST, SUBSTITUTEs, WALKING TALLs, the Chucky pictures, most of the Brian Trenchard-Smiths, most of the Isaac Florentines. And yet I never got off my ass and saw BADLANDS. Which would be fine if I didn't like that kind of thing, but I bet I probly would. I've been meaning to see those movies, and there's only a handful of them, I could watch them all in a day if I wanted to. But I always get more excited about some other movie I find with a guy on a motorcycle on the cover. I got no excuse.
In my defense though, I haven't seen the last two SAW movies.
I'll see all the Malicks, I promise. But I wanted to lay all my cards on the table here just so you know this review is not coming from one of the three places that I imagine most of the TREE OF LIFE reviews must be coming from:
1. Passionate worshipfulness – Terrence Malick is my god
2. Socially prescribed respectfulness – I have read that Terrence Malick is my god
3. Scornful anti-elitist elitism – I don't like it but they like it and it makes me angry I bet they don't really like it fuck you emperor's new clothes. If I don't 'get' it NOBODY will 'get' it!

Mine is different, mine is more just lazy ignorance.
THE TREE OF LIFE is the story of– well, "story" might be overselling it. It's the movie of a guy briefly played by Sean Penn remembering events from his childhood, mostly surrounding the death of his brother and his relationship with his father (Brad Pitt). Also it depicts outer space, the beginning of life on earth (cells dividing, something bubbling up out of the tar, dinosaurs hanging out in a quiet Redwood forest), stuff like that. It's pretty different from OCEAN'S 13 and THE MEXICAN in my opinion. Not sure if you saw the sign in the lobby.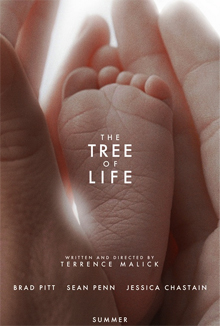 Most of the movie is normal stuff though, the childhood in Texas, a family photo album come to life. The cinematographer is that guy Emmanuel Lubezki, who did CHILDREN OF MEN. I gotta mention him because it seems like he's a huge part of what makes this movie work. The imagery is beautiful and vivid (this guy's memories are clearer than my eyesight, I think) and without generally doing POV shots they still manage to capture the feeling of being the kid there – lots of closeups, lots of child's-eye-level shots looking up at adults, at trees, at clouds, even at random things like curtains blowing in the wind, things that look fascinating to a toddler.
I've never seen a movie that so distinctly captures the feeling of childhood. And it starts with babies. You see this little lump interacting with his baby brother, as if for the first time – how the fuck did they get that on film? That had to be real. Those weren't puppets. These scenes are quick, simple, unclear. Little fragments of memories. Playing with mom, laughing, staring at things. As the kids get older the scenes get longer and more involved, mimicking their growing understanding of the world around them (or the specificness of the memories we retain from that age). But they still don't understand everything. There's a scene where the kids watch some guys getting arrested. We never see or hear what that was about, just as a kid wouldn't know or have it explained at the time, and as an adult they might have confused flashes of memories about it with no context, just things they saw that scared and confused them.
At first dad seems mythic, a handsome guy with a tie and a big wedding ring, coming home and being welcomed by the kids. As the movie goes on we, along with the boys, begin to see his flaws. He starts to seem kind of abusive. He has old fashioned rules – they get in trouble for not calling him sir, for saying "yeah" instead of "yes," or calling him "dad" instead of "father." He's a real asshole but the movie is too true to become just a story about an asshole dad and shitty husband and how the family overcomes him. Yeah, he's that but he's more than that, he's a complicated figure. He kisses his sons, he plays music with them, he has regrets, he overreacts about closing the screen door too loud. He's a human. A dad. Er, a father I mean. Sorry sir.
The kids are so natural and real it's incredible. They don't have snappy dialogue, they don't pose. They mumble and look at their feet and get distracted by things. They hop around and flop their bodies in weird ways and randomly hit each other and just play around like kids do, off in their own world. As they get older there's a part all about a boy's need to destroy things. A pack of these little guys run around together banging sticks against walls, throwing rocks through windows, using firecrackers and toy rockets to terrorize the local wildlife. I swear, it's like a nature documentary about the habits of the human boy. (Everything but burning bugs with magnifying glasses. Why do they give those things to kids? What do they think they'll do with them? Am I right fellas?)
When the brothers fight a little bit, I mean it's not like GUMMO but it seems like they could really get hurt at any time. I thought shit, how was he allowed to film this?
On the other side of things there's the outer space portion of this movie, the beautiful, hypnotic movements of clouds and stars and nebulas and molecules and what have you. They look somehow different from what you see in other movies today. Nothing against computers, which were definitely at least used on the dinosaurs and which can do some beautiful things, but this stuff looked too good to be computers. I wondered if some of it was real. I don't know but I read that they got Douglas Trumbull of 2001 fame to do non-computer effects and also the guys who worked on THE FOUNTAIN who film chemical reactions and pouring milk through funnels and shit like that to create amazing imagery. Good job fellas.
All that space shit, personally I think it might be going too far, it seems kind of ridiculous and unnecessary to me. And also I loved it. It's a movie that reaches real fuckin far and if it only grabs some of the grapes then, well, that's still some grapes. It's maybe more messy, but the extreme emotional power of this thing probly edges out DRIVE to make it the best movie I've seen this year. So get your legal team ready, TREE OF LIFE.
I'm sure there are many things to discuss, many different interpretations of symbolism and subtext and what it's all saying about life, love, family, religion, memory, aging, death, loss, whatever. Alot of the whispered narration seems to be talking directly to God – or is it to Mom? Just the topic of why Malick connects this intimate, subjective depiction of growing up to the epic, 2001-esque God's-eye-view of time and the universe I'm sure has and will continue to inspire many conversations ranging from deep and insightful to idiotic nonsense. It obviously lends itself to all kinds of readings and analysis. But my reaction to the movie wasn't at all intellectual. It was purely emotional and personal. The details didn't match my childhood or my present, but the feelings were so universal and so lucid it just hit me in the gut like a sockful of quarters.
It reminded me what it felt like to be young, what the world looked like. It seriously made me remember weird things from my childhood that I had forgotten for decades. And it just snuck up on me in a way a movie never really has before. Let's keep this on the down low, but to be frankly honest the fuckin thing made me cry like a bitch. Not even anything specific either, it was a sad part of the movie but it wasn't just that, it was an overwhelming backlog of emotions just pouring out. And at the end it gets a little VALHALLA RISING and I honestly couldn't tell you what literally is going on there. But that didn't push me away, it pulled me into an even more primal state of vulnerable bitchitude. The boy is chasing the young version of his brother, he's an adult embracing the young version of his father (who he's now probly older than)… I'm thinking about how you can never return to things you once had, when things seemed so simple. I'm thinking about getting old and about comparing myself to my father and about the people we have in our lives that are no longer there, the stages of life that end and never come back… it's potent shit.
Apparently there was a whole debate about this movie and whether critics are jerks for recommending a movie even though it's "boring." Well, count me as one THE FAST AND THE FURIOUS fan who didn't think this was boring at all. Early in the movie I was ready for it to be kind of a chore to get through. In the final stretch I was looking at the time hoping it was almost over, but that was because it was too intense and I needed to escape.
I doubt many or any of you had or will have that intense of a reaction to the thing. I can't even entirely explain it. Part of it obviously is personal, where I was at psychologically at that moment in my life when I watched it, what parts of my life it made me think about, all that. But I don't think any ordinary mild-mannered movie could knock something loose like that. It took some grade-A uncut filmatism.
In my opinion this one is way better than JURASSIC PARK III. Just my 2 cents.