STAND BY ME is Stephen King's latest chiller, a spooky tale of kids going on a long walk singing TV show themes. Okay, I guess it's more of a coming of age drama type deal, and it came out in 1986, and I don't generally use the term "chiller." This opening paragraph could use some work actually.
It's hard to review a movie like this that everybody has seen and knows backwards and forwards, but I watched it on the new 25th Anniversary Oh Jesus We're Old Edition blu-ray. It holds up, it's a good movie, and I thought it was worth some words and sentences and shit.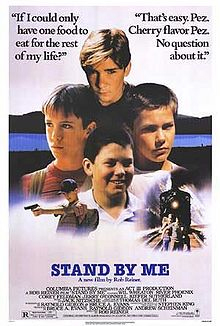 It is of course the story of four foul mouthed pre-teen boys in circa 1959 Castle Rock, Oregon walking many miles along the train tracks to find the dead body of a kid that went missing from their area. There's a tiny bit of plot, because they heard about the body's location from some cruel older kids who might try to get there first. So there are villains, led by a convincingly asshole-ish Kiefer Sutherland sporting the classic neighborhood bully name "Ace." But mostly it's just this simple, slice-of-life type story about the friendship of these kids. Since it's told from the perspective of one of them grown up it also deals with the hangups they have from the way their dads treat them, whether they can overcome that to have a good life, and how those friendships affect that.
It's a really well made movie, tastefully put together, funny, sad, very good performances by these kid actors. There aren't too many kid movies from that era where all of the leads went on to be well known. Most child actors disappear. I guess none of them turned into Christian Bale or anything, but you have Wil Wheaton who was on Star Trek for years (and who I recently enjoyed in MR. STITCH), Corey Feldman who was in a ton of movies (being in a FRIDAY THE 13TH makes you respectable in my book), River Phoenix who got to be Indiana Jones and was starting to be really acclaimed for a bit there, and Jerry O'Connell is still quite a successful actor to this day, and got his dick bit off in PIRANHA 3D. In the STAND BY ME extras Rob Reiner mentions about 250 times that "the little fat kid grew up to marry Rebecca Romijn."
All of the kids are really good in this movie, with beanpole Wheaton effortlessly taking the lead. But man, O'Connell steals the movie. I guess he doesn't have to dig into the angst like the other guys do. His character is kind of like Betty White on Golden Girls, just clueless and relentlessly positive. The look of puppy dog excitement on his face as he listens to Gordie's "Lard Ass" story is my favorite part of the movie.
What really struck me watching this now is how great and surprising it is that it could get made like that, then released, and that it caught on big. I think it's pretty much a kid's movie, but rated R for cursing and corpse. The plot is so simple, they don't add a bunch of complications. It has a soundtrack of all corny oldies, not hip in any way, but people enjoyed it so much that Ben E. King's original "Stand By Me" became a #1 hit again. (The new commentary reveals that somebody approached Michael Jackson about doing a cover of the song, but director Rob Reiner wisely wanted to keep it pure and vintage.)
I guess part of it was nostalgia. '50s and '60s nostalgia had already been mined, but not quite in this context. No hot rods or poodle skirts, it's young kids and a pretty naturalistic portrayal. Their talk about these songs, cherry Pez and Annette Funicello's boobs on the Mickey Mouse Club sort of served the same purpose as the CLERKS talking about STAR WARS years later. I always thought that TV show Wonder Years was inspired by this movie, with its narration and everything. But there's no dead body and the kid with glasses isn't as angry.
Anyway, it's an impressively pure and non-formulaic movie that it's hard to imagine getting made in the modern age. Especially considering the kids' casual use of cigarettes and stolen guns. The good kid pulls a gun on somebody, and the message of the movie isn't even "don't pull a gun on somebody"!
In THE GOONIES I think they were trying to find a treasure to save their houses from getting foreclosed. In this one they're trying to find a corpse to understand their own mortality. They know that Ray Brower was just a kid like them. Shit, they almost get run over by a train just like he did. In the futuristic year of 1986 adult Gordie (Richard Dreyfus) sits alone in his car thinking about it, because Chris has just died. Gordie thinks back to when Chris stood up for him, encouraged him to learn with the "pussies" in college and become a writer. Chris knew Gordie had a chance to get an education, but he thought he himself couldn't escape a shitty life. It sounds like did, though. Somehow he became a lawyer. But he still got stabbed to death trying to break up a fight.
Gordie tries to understand Chris's death by remembering the time he tried to understand his brother's death through Ray Brower's death. (And this all gets an extra layer of gloom by the audience's knowledge that in real life River Phoenix died even younger.)
Why did Gordie's brother die instead of him? Why Ray Brower? Why Chris? Well, nobody fuckin knows. But now he's a grown man, he has two kids, he needs to make them feel loved so they don't have to sneak off and find a dead body in order to find themselves.
How does he feel about his dad now? Did they ever get over that shit? Does he feel protective of his asshole dad the way Teddy did, trotting out the old man's war record to balance out the horror of the same man frying his ear on the oven burner?
The raw emotions of these kids really ring true to me. It reminds me what it felt like to be that age. They don't seem so much like movie kids. They're smart, but not too smart. They get into trouble but they're not obnoxious like a bunch of Goonies. You don't feel like you're babysitting them.
Hey man, it's kind of like they're going on a merantau. Going on a journey to discover themselves. I doubt Stephen King went to deeply into the symbolism of the story, but there's something kinda mythic about it. These kids out in the middle of nature where there are almost no people, only predators like leeches, Chopper and the speeding train. They're protected only by their loyalty to each other, and their shared knowledge of pop culture and childish sayings. Well, and a gun. But that's not gonna save them from the train, or from self doubt.
The story it's based on is called "The Body," of course, not "Stand By Me." They came up with the name late in the game, and the song only plays during the end credits, but somehow it fits pretty good. Like in the song, these kids really support each other, they stand by each other both literally and figuratively. ("Lit and fig" would be a hip way to shorten that, let's start saying it that way for now on. They stand by each other lit and fig.) To be honest they actually are afraid when the night has come and the land is dark, etc. I don't believe they shed a tear, so that part is accurate.
Hmm. There never is a point in the story where the sky that they look upon stumbles and falls and the mountains crumble to the sea. That would be kinda crazy. That sounds more like "The Stand" or something. Another difference is that in the song Ben E. King is probly talking to a girl, because he calls her "darlin'" a whole bunch of times. These kids don't call each other "darlin'", but there's a surprising amount of hugging.
I guess now that I think about it this is not a very faithful adaptation of the song. The Ben E. King geeks were probly pissed.
But fuck 'em. Sorry, Beniacs. I like this movie. And it least it was closer to the source material than LEAN ON ME was.