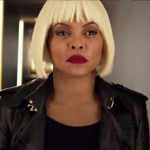 Mary (Taraji P. Henson, SMOKIN' ACES, THE KARATE KID, Felicity episodes 7 and 14) is some kind of hitwoman for a Boston crime family, though you'd think she was a high class international assassin judging by her well-maintained secret fold-out arsenal and array of flashy blonde disguise wigs. One day after killing a bookie she sees his young son in the next room playing video games with headphones on. She should kill him – not in my opinion, but in her profession's – instead she leaves him be.
A year later the kid, Danny (Jahi Di'Allo Winston, "Young Ralph Tresvant," THE NEW EDITION STORY), has been through some foster homes and run away and become a hardened drug runner for an abusive Russian scumbag called Uncle (Xander Berkeley, L.A. TAKEDOWN, CANDYMAN). Without mentioning "Hey, I'm the one that murdered your dad" or even "I am a dangerous criminal," Mary rescues Danny, brings him to her apartment and goes to tell off Uncle – who she ends up killing. And that's a big mistake because her boss Benny (Danny Glover, PREDATOR 2) sends the whole crew to find and kill whoever took out Uncle.
At first Mary and Danny have a tense relationship. He calls her "lady" and gets mad at her and sneaks into her guns and shit. But they develop a mother-and-son or auntie-and-son bond and it's real sweet and also dangerous because eventually Benny or his son Tom (Billy Brown, STARSHIP TROOPERS 2: HERO OF THE FEDERATION), who is also Mary's co-hitman and jealous ex-boyfriend, are gonna figure out this kid used to stay with Uncle or this is the kid of that bookie that she's supposed to have killed.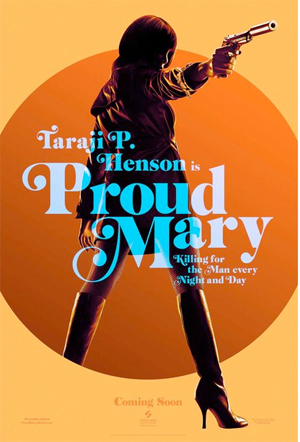 The poster and the opening credits have a fun '70s/blaxploitation vibe to them. Colorful graphics over wah wahs – though those come from the Temptations' "Papa Was a Rolling Stone," not some new funk soundtrack. The needle drops are mostly pretty obvious, but Tina Turner's take on the namesake song backs the most effective action sequence, and I like the use of Me'Shell Ndegeocello's version of "Don't Let Me Be Misundstood." Unfortunately most of the film is scored with the over-excited violins of the generic modern action movie.
You also gotta be ready for some of those cliche plot conveniences like Neal McDonough (STREET FIGHTER: THE LEGEND OF CHUN LI) as the guy who's easy to assassinate because "he jogs at 3 pm every day. Like clockwork." The script is credited to John Stuart Newman (Days of Our Lives, Get Shorty tv series) & Christian Swegal and Steve Antin (INSIDE MONKEY ZETTERLAND, BURLESQUE, also an actor who was in THE LAST AMERICAN VIRGIN, GOONIES, PENITENTIARY III and SURVIVAL QUEST).
Though I think it works as is, there's no doubt that it would be a better movie if it had a couple really great action setpieces. If they were somehow on the level of ATOMIC BLONDE's this could even be beloved. The opening kill seems especially abbreviated. It should get you pumped up and then flip on you to show this poor kid is now orphaned by our need for cool violence.
That said, the action is more exciting to me than much of director Babak Najafi's last movie, LONDON HAS FALLEN, though others will disagree. The second unit director/stunt coordinator is Robert Alonzo, same guy who did BRAVEN.
Mary fires her silenced pistols with calm, controlled precision. I didn't notice a huge amount of variation in her weaponry, which I don't mind, but it's weird considering how many times they show off her collection.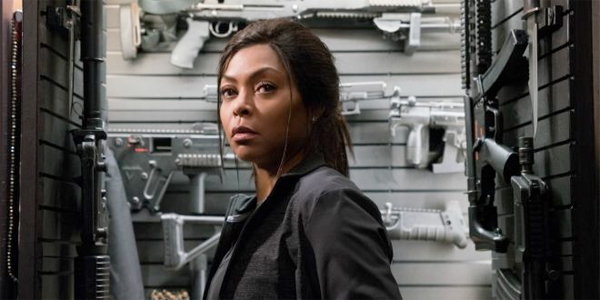 Another weird thing about Mary: her face constantly gives away what she's thinking. For example in a scene where the boss tells everyone to find out who killed Uncle and kill them, there are several close-ups of her wincing and shutting her eyes and basically projecting to anyone with a brain that this right here right in front of you is the person who fucking did it. Luckily nobody must've been looking at her because they don't catch on until way later.
This movie generated a sudden burst of excitement shortly before a pretty small release and poor reviews. I think it suffered from the trailer's success at luring people with the appealing hook "Taraji's gonna be running around with guns and kicking everybody's ass." There's a little bit of that, but it's more of a relationship/crime drama, and I enjoyed it on those terms. One of the secrets is the casting of Winston as Danny. He's a really natural young actor and has a good chemistry with Henson. She's trying so hard to give him a better life than hers, but keeps falling into the trap of treating him like she was treated, bringing him deeper into the criminal world she wants out of, risking making him another Benny protoge. I was pretty invested in whether she'd be able to prove herself to him.
Glover also adds alot as the crime boss who rarely slips out of the family man/loving father figure persona he prefers. It's partly real and all the more menacing for it – we know he won't take her betrayal well.
But mostly you're gonna like this as a Taraji P. Henson appreciation piece. It truly is a vehicle for her – she was signed on before they had a director. I first knew her from HUSTLE & FLOW and SMOKIN' ACES, then she was Oscar-nominated for THE CURIOUS CASE OF BENJAMIN BUTTON and snubbed for HIDDEN FIGURES, but she really came alive as Cookie Lyons on Empire, a loud, abrasive and sometimes hilarious character who is lovable and despicable in similarly sized parts. I doubt any role is as fun for her as that, but it must've been cool combining the drama with a little bit of butt kicking.