I went and saw a revival movie at the local cinema, it's called STAR WARS EPISODE I: DARTH MAUL (formerly The Phantom Menace) 3D. I'm not sure if you guys are familar with that movie from the dvd and blu-ray, but check it out, you'd probly like it. Anyway they have it re-released in theaters in 3D.
The reason I bring it up is because I think this is more proof of the wrong-headedness of modern 3D. Not because it's 3D, as is the conventional wisdom, but because it's not 3D enough. This is a special case because obviously it's not a movie shot in 3D, it's one of these postconversions that I decided to stop seeing, but (like TITANIC) it's one that they spent more time and money on and it was done by technicians who seem to give a shit, so I was hoping it would be done well.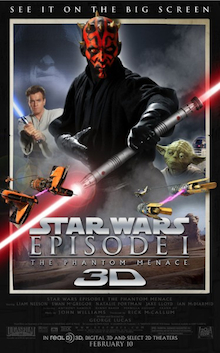 The results are mixed. There are some parts that look cool. There's a great shot of the big city planet and some 3D lens flares (fuck you, I like lens flares). It seems like the podrace section, not just the race itself but the people in the audience and everything, looks more 3D than the rest of the movie. I don't know if they spent more time on it, had a different person doing it, or just had a better attitude at that point in the production, but it's clearly the best looking part, the most layered.
It's not like HARRY POTTER PART 7 PART 2 or (from what I've heard) CLASH OF THE TITANS – it doesn't have things that look distractingly wrong or blurry or muddy. It doesn't detract from the viewing experience. But alot of the time it just doesn't look very 3D. It looks like the same movie from before.
We might be able to blame this on the limitations of the postconversion technology, but then again I've seen the trailer for TITANIC 3D and at least those shots they used in the trailer had way more depth than this does. Apparently it's possible. So my concern is that they might've done this on purpose. Not being very 3D was a deliberate artistic choice.
While the internet celebrates its 15th year of being seriously angry that in the first Star Wars he changed a shot of a puff of smoke to a brief, awkward gun fight, George Lucas is also out there saying stuff about 3D. In a press release for this one he says, ""I don't like things coming out into the audience. I like everything to be behind the proscenium." His attitude is apparently shared by many critics who frequently praise 3D movies for not having things protruding towards the audience. What they're saying is that the industry has spent many years and many hundreds of millions of dollars developing technologies and completely overhauling the entire movie theater industry so that they could bring back the 3D idea that has been done since the '60s, but it would be in poor taste to use it very much. You can use it in one direction, I guess, but please not in both. That would be too gimmicky.
I can't remember where I saw it now, but the first review I read of PHANTOM MENACE 3D praised it for its "subtle 3D." So that was a warning.
See, these filmatists who are pushing 3D as the next step in the evolution of cinema like to compare it to the invention of sound or at least of Dolby Stereo or something like that. I'll go with stereo. Have you ever heard of a movie being praised for its subtle use of stereo? Do you ever hear people complaining that a stereo movie sounded too much like things were coming out of either the right or left, and should've been more like mono? No. That would be stupid.
When they first introduced sound, did they try not to use it much? Just save it for one or two lines of dialogue, because using it throughout the movie would be too in-your-face? I don't think they did that.
What about color? When color was introduced to movies did they worry that they shouldn't overdo it? It would be too much of a gimmick if the colors were vivid? No, they went hog wild with that shit and everybody loved it. In fact people still talk fondly about those bright Technicolor movies. It's only in recent years that filmatists started using digital technology to suck the color out and make it almost black and white.
I guess I'm a broken record on this, but PHANTOM MENACE 3D is a reminder that if you're gonna use 3D, you should use 3D. Be a man about it. This goes quadruple in this rare case where you're converting an old classic (Phantom Menace is considered a classic, right? I know it gets mentioned constantly I don't really pay attention I assume it's because everybody loves it) from flat to 3D. You can't tell me that 3D is the reason I should come see this if then when I come see it you tell me you know what man, I didn't think you wanted it to be very 3D, I was worried you would get upset so I played it down.
I think I might've heard something that Lucas does not listen to you when you write on the internet that he should do things now more like he did them a long time ago. Or maybe that was someone else, not sure. But I think an ideal example of 3D done right is in the Disneyland attraction CAPTAIN EO, which was produced by Lucas, directed by his mentor Francis Ford Coppola and co-starring his cousin Hooter and college roommate Major Domo. If I remember right that used the full spectrum of 3D and it was great. Of course it gives the depth into the screen and everything but every once in a while it has a show-offy reach "through the proscenium," like the part where the character Fuzzball seems to fly out into the audience.
Why is that bad? Why would it be bad in PHANTOM MENACE? In a 3D movie where things often explode toward the camera, why would you not every once in a while want to have a piece of shrapnel or a laser beam shoot out of the screen? As Chewbacca would say, that is highly illogical.
But I had fun going to the movie. It seemed that the half-full theater was made up of people with the same attitude as me: groaning and laughing at it, but also enjoying it. When one of the alien guys had a line that was more of a stereotypical Asian accent than I remembered and I heard a guy behind me chuckle a little it made me start laughing and then seemed to spread across the crowd. A few Jar Jar scenes in I heard a quiet, sincere sounding sigh that set me off laughing too. And there was various scoffing and snickering throughout, disrespectful but not too obnoxious. Then the same people seemed genuinely excited for R2-D2's brush-your-shoulder-off type strut after rescuing the ship, or the near-fatal pod-crash of "an especially dangerous Dug called Sebulba," or Obi-Wan's (SPOILER) cutting (SPOILER) in half (SPOILER) of Darth (SPOILER) Ma(SPOILER)u(SPOILER)l.
It's kind of like ROADHOUSE or something. I'm not saying it's as good as ROADHOUSE because obviously that would be ridiculous, that would never happen. But I have kind of a similar type of appreciation for these movies' combination of headscratching wrongness and genuine quality, and the blurry lines between the two. I mean I'm sorry for what PHANTOM MENACE did to you and everything but I still enjoy watching it every once in a while and that is my right as an American.
two things I never noticed before:
1) Terence "The Limey" Stamp is in this movie a little bit, and I remember reading how he would never do it again because he was so offended that Lucas had him by himself in front of a green screen when he was supposed to be having a conversation with Natalie Portman. What I didn't notice before was that his first line in that scene is "It's an honor to finally meet you in person."
2) At the end of the movie, when Chancellor Phantom Menace lands on Naboo for the funeral/parade, there is some random black guy filling in for Samuel L. Jackson in the background. The Jedi Council people are in the crowd behind the Chancellor but there's a different bald guy wearing Sam's robes and everything. Of course when I looked it up I found out that the Star Wars Trekkies are aware of this and there are pictures online, but it's much more hilariously obvious on the big screen. I find it kind of charming that in a movie so full of digital effects and green screens (and a puppet changed to animation in this version) they didn't bother to fix a visible mistake like that. (Or maybe it wasn't a mistake, maybe Mace Windu has decoys like Queen Amidala or Uday Hussein.) Good for you, body double, you got on screen.
I did notice the cameo by Senator E.T., but not Sofia Coppola this time around. I've never been sure which one was Keira Knightley, but I guess she's the queen whenever it's not Ms. Portman. So I guess I saw her. I don't know, not to be racist but they all look the same to me.
Anyway, that's all I got. I might regret bringing it up, but do your worst, fellas.
This entry was posted on Saturday, February 11th, 2012 at 4:01 am and is filed under
Blog Post (short for weblog)
. You can follow any responses to this entry through the
RSS 2.0
feed. You can skip to the end and leave a response. Pinging is currently not allowed.