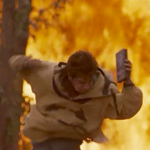 THE BIG HIT is a 1998 action-comedy with enough good qualities that I have a soft spot for it. Alot of the humor is too broad for me, but that's okay. I saw it when it was in theaters, and returning to it 20 years later it's interesting as a time capsule, a Polaroid of a specific moment in movie and pop culture history. It was a time when:
-New Kid On the Block brother, laughing stock rapper and underwear model Mark Wahlberg was suddenly a cool actor after having starred in BOOGIE NIGHTS the year before. This was his first movie released post-Dirk Diggler, but it had been shelved since 1996. At the time, most people still derisively called him Marky Mark. It's so early in his career that he has a song on the end credits ("Don't Sleep").
-Hong Kong cinema had invaded Hollywood. John Woo had already done HARD TARGET, BROKEN ARROW and the Once a Thief tv show, Ringo Lam had done MAXIMUM RISK, Tsui Hark had done DOUBLE TEAM. Chow Yun Fat had starred in THE REPLACEMENT KILLERS, and Jet Li would soon be the villain in LETHAL WEAPON 4. So here we have Kirk Wong (director of CRIME STORY starring Jackie Chan) bringing a little bit of Hong Kong flair to the action in THE BIG HIT. Wahlberg practices on a kung fu dummy, and in his hidden weapons cache we see enough bladed weapons to stock a Shaw Brothers movie (plus a three-section-staff ala 8 DIAGRAM POLE FIGHTER).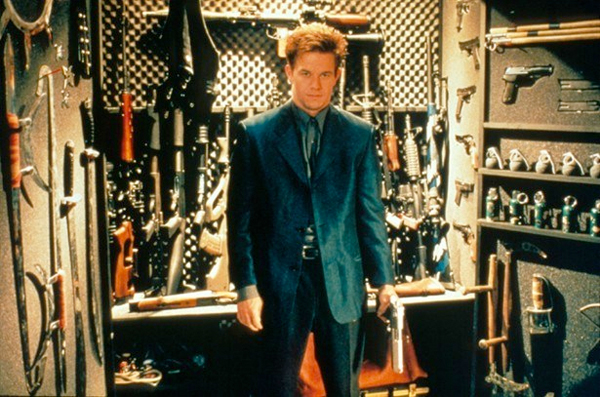 John Woo and Terence Change are producers (along with Wesley Snipes). Wang Chun-Kang (THE BRIDE WITH WHITE HAIR) and Benny "The Jet" Urquidez (henchman in WHEELS ON MEALS and DRAGONS FOREVER) are fight coordinators, Lau Chi-Ho (THE KILLER, THE SWORDSMAN) is one of the stunt coordinators.
-The success of PULP FICTION had started a flood of movies about the funny and fun side of being a hitman. They wore ties and talked about trivial things (often movies and TV shows) and killed indiscriminately. It was a whole thing.
-Popular music was absolute garbage and could destroy any movie that it touched
Okay, the last one is an overstatement. My apologies to those who grew up with this soundtrack. But for most eras there is pop music I used to think was shit that has some kind of nostalgia factor to it. Fun Lovin' Criminals and whatever pop punk ska band it is in this movie (possibly Save Ferris or The Mighty Dub Katz) seem to perform styles of music that I will never be able to consider dated in an endearing way. What white people did to ska is the strongest argument I know against cultural appropriation. Shame.
Anyway, the score by Graeme Revell hits a little too hard on the "you see, this is funny" vibe for my tastes, but I like it better than some of those songs. (In fairness, O.D.B. shows up on the closing credits and there's a scene where a character is watching a Funkdoobiest video.)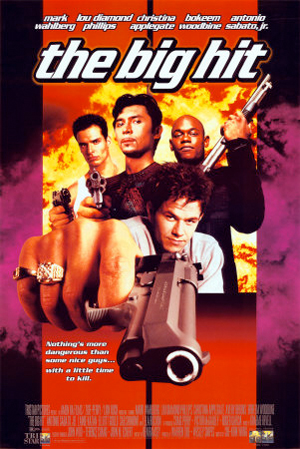 But this is a great cast. Wahlberg (MC Hammer's "2 Legit 2 Quit" video, PLANET OF THE APES) plays Melvin Smiley, high-achieving professional killer and co-dependent people-pleaser who works for Paris (Avery Brooks, 15 MINUTES) along with fellow killers Cisco (Lou Diamond Phillips, Michael Jackson's "Liberian Girl" video), Crunch (Bokeem Woodbine, TLC's "Waterfalls" video, PANTHER, THE ROCK, Blade: The Series, BLACK DYNAMITE, RIDDICK, SPIDER-MAN: HOMECOMING) and Vince (Antonio Sabato Jr., Janet Jackson's "Love Will Never Do [Without You]" video, HIGH VOLTAGE). They treat it like a normal working class job, complete with locker room and locker room talk.
Phillips almost steals the movie as the obnoxious and treacherous showboat who orchestrates a kidnapping and then tries to pin it on Melvin when it doesn't go over well with the boss. There's a pretty funny scene where he has to lead the other men to interrogate his own idiotic accomplice (Robin Dunne, CRUEL INTENTIONS 2), gets him to blame Melvin in front of them without giving him up, and then pretends to be near tears at the betrayal. I've never seen him so loud and physical and energetic, and it really works for him. I'm surprised it didn't get him more roles like this.
But Woodbine is also very funny with his fearless dedication to the dumb joke that he just discovered masturbation and thinks about it 24-7. He continues to function as a character moving the plot along but in every scene he's using increasingly elaborate hand exercisers, browsing his porn collection, arguing with a store clerk about his preferred lotion, etc.
Disguised as a limo driver, Melvin abducts Catholic college girl Keiko (China Chow, FRANKENFISH), daughter of a business man (Sab Shimono, BLIND DATE, THE SHADOW, WATERWORLD, SOUTHLAND TALES) who can't pay the ransom because he blew all his money directing and starring in a flop movie called TASTE THE GOLDEN SPRAY. (I blame the title.) Keiko has no such quirky character details, but Chow's charisma and intelligent presence give her a sense of reality that the other characters lack, despite her fast-acting Stockholm Syndrome that has her immediately interested in Melvin's life and offering armchair psychological advice while tied up on the couch.
Melvin has to keep her at the house, hiding her from his fiancee Pam (Christina Applegate, Jessica Simpson's "A Public Affair" video, JAWS OF SATAN, ALVIN AND THE CHIPMUNKS: THE SQUEAKQUEL), who he's already keeping in the dark about his other girlfriend Chantel (Lela Rochon, THE METEOR MAN, KNOCK OFF, BROOKLYN'S FINEST, SUPREMACY). He actually wants to break it off with Chantel, but he's afraid of making her not like him, completely unaware that she's already scheming against him and spending her time laying in bed with her Tarzan-looking other boyfriend (David Usher, THE EXOTIC TIME MACHINE II: FORBIDDEN ENCOUNTERS) watching the KING KONG LIVES video that Melvin has out two weeks late from Big Top Video and can't find.
By the way, I know values change over time, but shame on this movie's anti-video store propaganda with nasally voiced nerd Danny Smith (THE THREE STOOGES) constantly calling to harass Melvin about his late video. And he's just standing in the middle of the store doing it, it's not like he's going through a list of the different people with late movies. He just has it in for Melvin. An unfair portrayal. We took those places for granted.
But also hooray for this movie setting the action climax in a video store decorated largely with Troma posters (and THE BEAST, the 1988 Kevin Reynolds movie about mujahideen fighting a Soviet tank crew!?).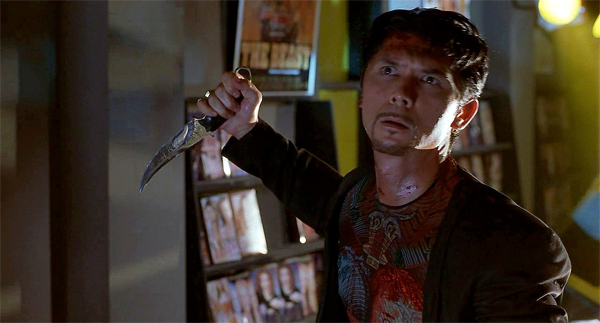 And I did think it was funny that the late KING KONG LIVES kept coming up throughout the movie. After a big action scene Melvin walks over to Chantel and her boyfriend and it seems like he's going to shoot them, but he just wants to shame them for not planning to return the video. For some reason they have it in the car with them and he insists on taking it and returning it before fleeing town.
There's a subplot about Melvin trying to win over Pam's parents (Elliott Gould and Lainie Kazan), who disapprove of him because he's not Jewish. Unfortunately his attempt to prepare them a traditional Jewish meal leads to sensual dual chicken-basting with his abductee. The GHOST pottery scene, but with meat and kidnapping.
This broad portrayal of Jewish living is likely offensive, but it all builds to a great joke: Gould drunkenly haranguing his wife's judgment of Melvin and venerating him for his multi-cultural group of friends, unaware that they're all pointing guns at each other under the table, moments away from a bloodbath.
A cartoonishly low respect for the sanctity of human life is established in the opening frames, when Vince hands Melvin a garbage bag full of the remains of some guy to put in the trunk of his car and stash until later. He tries hiding it in the shower, where he makes out with Chantel. She apparently sees the dead guy's head and thinks he's cute, asks who he is. Doesn't really get grossed out until she accidentally steps in him. This isn't treated as her being particularly ghoulish, it's just the way shit works in this world. So it's not inconsistent at the end when Keiko turns love interest even though at the beginning Melvin shot her sometime-boyfriend right in front of her. He was annoying and getting handsy but in the real world execution on the spot would be a little extreme for that.
It's a comedy first and then a crime movie and then an action movie, but there are bits of action that stand out compared to other American movies of the time, mostly during the assassination/shootout at the beginning (not the titleistical big hit – the penultimate hit, I guess). There are two specific gags I love:
1. Melvin sets off bombs and jumps out a tall window with a bungee cord, but he mistimes it, causing himself to bounce back up into the flames as they spurt out the window. Unfortunately the effects look pretty terrible on Blu-Ray. But it's a funny idea.
2. Instead of sliding down a banister Chow Yun Fat style, Melvin rolls down with one end of his body on the banister, the other on a handrail in the middle of the stairs, like a log rolling down a hill.
Some scenes are somewhat hampered by dated visual gimmicks like a night-vision thing. But I appreciate its willingness to send people flying across the room on wires when they get shot, or to have people strangle each other on the hood of a car dangling off the edge of a cliff. This is back when more of us agreed that realism was not a high priority in action.
There are many things that don't work in this movie, but there's one thing I think absolutely does: the joke of Melvin's sincere sweetness. He's always apologizing in the middle of shootouts, checking on the welfare of women in the hot tub of a guy they kill, etc. And he does it with the gentlest voice. This is his first comedic performance, and it's a good one.
THE BIG HIT was also the first movie written by Ben Ramsey, who would go on to write/direct LOVE AND A BULLET (one of the first DTV action movies I enjoyed) and write the very unpopular (but I didn't think it was that bad) DRAGONBALL: EVOLUTION. More importantly he directed the best Michael Jai White vehicle so far, BLOOD AND BONE. This week, because it's the sort of thing I do, I will be revisiting a couple of these.
This entry was posted on Monday, March 19th, 2018 at 11:32 am and is filed under
Action
,
Comedy/Laffs
,
Reviews
. You can follow any responses to this entry through the
RSS 2.0
feed. You can skip to the end and leave a response. Pinging is currently not allowed.