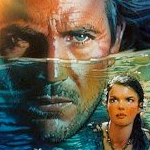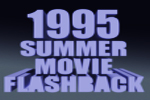 Oh, WATERWORLD, how I've been meaning to rewatch you. Maybe I should've done it before FURY ROAD, though.
Let's get the "flop" shit out of the way first. This is still most famous as a big expensive movie that pretty much just broke even. I don't care. That's none of my business. I'm old fashioned.
I always thought it was treated unfairly at the time. It was in the news for going over budget and the popularity pendulum was swinging back on Kevin Costner after a bunch of Oscars and hit movies. It became everybody's target and they were excited for how terrible it was supposedly gonna be. (This article from The Independent at the time examines the reasons for the backlash against Costner.)
Here, let me check if it was nominated for Razzies. Yep, Dennis Hopper won worst supporting actor and it was nominated for worst picture, actor and director. (SHOWGIRLS was the big winner that year.) So that speaks well of the movie if those assholes were against it.
We've been looking at the other movies of that summer, so we can see in context that it's somewhere in the upper range of quality for what was in theaters at the time. It's for sure less embarrassing than BATMAN FOREVER or MIGHTY MORPHIN POWER RANGERS: THE MOVIE, more impressive than CONGO, arguably better than JOHNNY MNEMONIC or JUDGE DREDD. It didn't deserve all the hate that it got.
Unfortunately that's not to say it's some misunderstood gem either.
It's a cool and unique idea: post-apocalyptic marauders at sea. A boat-based civilization. Even if we didn't know about the set that sunk in a hurricane or the cost overruns that made it the most expensive movie ever made at that time, we could assume just by looking at it that it was a huge pain in the ass to do. It's almost entirely filmed on water, there are all different boats and a huge Barter Town-esque atoll set and people jumping and swinging from one to another.
Just as a production you can't help but be impressed. There are all these contraptions with giant gears, pulleys, kites, boats that fold out into bigger boats, hidden sails that pop out, all kinds of nets and harpoons and grappling hooks and shit. There are jet skis, a plane (piloted by Jack Black), a patchwork hot air balloon, a ton of stunts and fiery explosions, and other than a very special-effectsy sequence in the underwater ruins of a city (another unusual variation on the post-apocalyptic conventions) it's all pretty much that beloved movie nerd buzz-adjective of 2015: "practical." 'Cause this is the year before after FORREST GUMP and the beginnings of invisible special effects. In those days if you wanted a movie with a bunch of boats and jet skis moving around in formation I'm pretty sure you actually had to do it.
(I guess we'll see if technology is finally ready for water movies, because they're doing an Aqua-Man movie now.)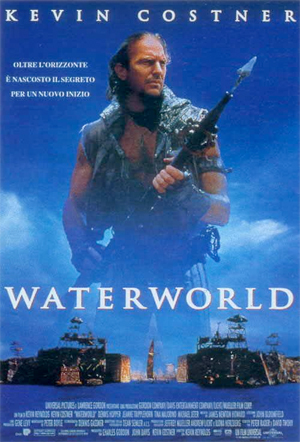 Kevin Costner plays a guy we only ever hear called "The Mariner," because, a little girl later claims, "He doesn't have a name, so Death can't find him." He's a scavenger, scouring the seas in a trimaran, growing a small potted lime tree, using a pulley-based diving apparatus to go down and search for junk he can use. We first see him peeing into a machine and then drinking and gargling the water that comes out. That's some alchemy right there. Or one hell of a Britta filter.
He's basically Wet Max. We see how ruthless he is in his first encounter with another boatman. When he thinks he helped him out he tries to be honorable. But when he finds out the motherfucker stole his limes… bitch, it's curtains. Never steal a mariner's limes, I always say.
There's alot of gruff anti-hero stuff here. He ends up taking a woman named Helen (Jeanne Tripplehorn, BASIC INSTINCT) and the aforementioned little girl Enola (Tina Majorino, NAPOLEON DYNAMITE) on the boat after they help him escape execution by anti-mutant racists (he's a gillman, by the way, long story). He shows up at this atoll, which is basically like the gas plant in ROAD WARRIOR, but he gets in by offering them a jug of dirt, instead of an injured member of their community. Dirt is very valuable, and a guy tastes it to authenticate it, like cocaine.
Anyway, once they escape he does ungentlemanly things like suggesting throwing the little girl overboard, and Helen is scared enough that she disrobes as an offering to him. A bad person would take her up on it (SCHOOL DAZE), a true gentleman would tell her she didn't need to do that and apologize, The Mariner just looks at her body and says "You got nothin I need." Dis. Next thing you know he's hitting her on the head with an oar, and he actually does throw Enola over the side when she gets on his nerves too much.
That would be an interesting popcorn movie if that was the last we heard of the girl, but she gets back on and he doesn't stop her. And of course it's a PERFECT WORLD type deal where the hardened asshole reluctantly becomes protector of the child. The first sign that he's warming up to her is when they're eating a giant sea monster he hunted, and he offers her the eyeball. Then he lets her use one of his crayons, encouraging her creativity. "I'm not givin it to her," he emphasizes, though. It's just a loaner crayon.
It's not the most fleshed out transition, but it's cute when he's rescuing her at the end, the villain thinks it's for the map tattooed on her back (long story) but the Mariner publicly admits it's because "She's my friend."
The bad guys are called "Smokers." At first I thought that referred to the exhaust of their jet skis, but then I noticed that they do actually smoke cigarettes. The Deacon (Dennis Hopper, TEXAS CHAINSAW MASSACRE 2) must've found a truckload somewhere and that's probly why he's their "dictator for life." There's a scene that pre-sages FURY ROAD where The Deacon stands above a sea of his followers and dumps a few cigarettes for them to scramble for. It's a very Immortan move because it's a decadent luxury and an addictive one. Of course the Smokers want to work for him. What else would they do? Be Quitters?
The guys who get to rampage around get to have some fun in life, at least. There's an old guy who lives inside an oil tank, I'm not sure what his job is. But when The Mariner throws a flare in there to light the whole thing up he doesn't scream, he says "Oh, thank God."
I think the bad guys could use more personality, but there are some enjoyably weird moments. When The Deacon loses an eye in battle his lackeys make him a very unconvincing fake eye to put over it, a crafty thing with lots of flair around it. He asks how it looks and they all kiss his ass. "I like it!" You can hear one guy in the crowd say, "Nice eye."
Also I gotta praise the part where some of the Smokers string up dead bodies marionette style to wave at the good guys and lure them to a little trading post. (Apparently that was the set that sank, not the giant one.)
Weirdly, the final battle takes place on the wreckage of the Exxon-Valdez, and they admire a big portrait of Joseph Hazelwood. For you youths the Exxon-Valdez was an oil tanker that ran aground and dumped 11 million gallons of oil into the Prince William Sound in 1989, the second largest oil spill in U.S. history. Hazelwood was the ship's captain, who was accused of causing the accident by being drunk on vodka, but he was acquitted of this charge. So, a toast to Joseph Hazelwood. He was not too drunk. He was just really bad at his job anyway.
It's all too non-specific to come across as a heavy-handed environmental message, but I think that was the idea. Waterworld is caused by the polar ice caps melting, according to the opening narration. And the bad guys are paying homage to one of history's greatest water-ruiners. The idea is that these Smokers are wasteful brutes who can never be trusted to give a hoot and not pollute Dryland, the legendary last piece of land that they're searching for and that may or may not exist, I'm not gonna say either way, and I'm sure they would do a movie where they search for a mythical land and never find it and then it's just the end. Like a ZODIAC type movie. That absolutely may be what this could be about, potentially.
This has got to be the most MAD MAX inspired major studio production ever. They even went ahead and got ROAD WARRIOR/THUNDERDOME cinematographer Dean Semler to shoot it. Of course there are a ton of ROAD WARRIOR ripoffs, but all of them are cheaper than the original's low budget, except for this one, which was at the time the most expensive movie ever made. But like so many before it it approximates much of what's fun about MAD MAX movies (weird vehicles, scavenging, spaghetti western morality, strange factions and post-civilization ways of living) while missing one of the most important ingredients: fast, sleek storytelling. This one is long and meandering. MAD MAX movies move along at a pace that mimics their supercharged vehicles. WATERWORLD is about sail boats.
There's a clear goal: find Dryland. But it's never as clear how they're trying to do it or what progress they've made. For historical purposes I watched the theatrical cut, but there's an extended version that's half an hour longer. I know about a slightly different ending, but I don't know where the other added parts would go.
There's plenty of cool stuff that happens, and one of Costner's stunt doubles is the legendary surfer Laird Hamilton, so he knows how to move. And there's a bungee jump/jet ski collision that causes a fiery explosion. But the big setpieces seem less like thrilling sequences than a bunch of loudness with James Newton Howard themes telling you how excited to be. And I like Costner, but I think he's more suited for the vulnerable side of the character than for the heightened super-warrior they make him into at the end. He Rambos onto the Valdez and takes on like 100 guys by himself, ziplines in, blows up a bunch of shit, scares everybody. It would help if he'd been established more like this from the beginning, because it seems like Nola is full of shit when she's captured and colorfully telling her captors how much trouble they're in for. "He's not a freak and he can take you any time. He's killed dozens of people, and he doesn't have any mercy or anything. He even kills little girls."
I always thought the ending should've been that they finally find Dryland, and it's just like a little square of gravel parking lot, and they're like, "It's beautiful!" and kissing the ground and shit. But instead it's a lush island, Jurassic Park, aka Hawaii. And I have learned from reading that in the extended cut you see a plaque that verifies this is actually Mount Everest. Reynolds left the movie before preproduction was finished, and he couldn't believe they cut that part out. Anyway, as it is, The Mariner is leaving and Helen and Nola go up on a cliff to watch him and it's just like the end of POCAHONTAS earlier in the summer.
The script is credited to Peter Rader (writer of a 1995 version of ESCAPE TO WITCH MOUNTAIN, director of HIRED TO KILL starring Brian Thompson) and David Twohy (who at that time had written CRITTERS 2, WARLOCK, GRAND TOUR: DISASTER IN TIME and TERMINAL VELOCITY, but got in with the big boys by having a story credit on THE FUGITIVE). Joss Whedon, a hot property after script-doctoring SPEED the year before, did the same for WATERWORLD, and talks about it as a miserable experience being on set for seven weeks just to follow dictation from Costner. And he makes a good point that it's a movie about a gillman but the climax is him fighting on a big boat, not in water. They wanted him to improve it, but so much of it was set in stone.
In an interview with the AV Club Whedon says he "wrote a few puns, and a few scenes that I can't even sit through because they came out so bad." But he'd say the same about ALIEN RESURRECTION, and I like that movie. If I had to guess which parts he wrote I'd have to go with the Nola quote above and the part where, after The Deacon has been making grandiose speeches about his prophetic dreams of things to come, and now everything's on fire and people are swinging around on ropes and shit and it's total mayhem, she pointedly asks, "Was this your big vision?"
The director, Kevin Reynolds, had been a constant Costner collaborator, or CCC they call it in the business. Reynolds' first movie FANDANGO (1985) was also one of Costner's first starring roles. They became close enough that Reynolds advised Costner with his directing on DANCES WITH WOLVES (1990) and "directed some of the buffalo hunt," according to Reynolds. He also directed Costner in ROBIN HOOD: PRINCE OF THIEVES (1991), and was produced by him on RAPA NUI (1994). But they had some friction over ROBIN HOOD and then had a major falling out on WATERWORLD. Reynolds told Entertainment Weekly in 1995, "In the future Costner should only appear in pictures he directs himself. That way he can always be working with his favorite actor and his favorite director."
In other words, he thought Costner was all wet. And this was before they even knew the movie wasn't gonna make enough of a splash. So their friendship couldn't stay afloat. etc.
post-script:
But the feud eventually dried up. Many years later they recorded a commentary track for ROBIN HOOD, and they finally worked together again when Reynolds directed three episodes of Hatfields & McCoys. But then they fell out again over a disagreement of whether the Hatfields were the good guys or the McCoys were the good guys. Disregard last sentence I made that up.
Luckily for Reynolds the perceived failure of WATERWORLD didn't kill his career. He returned two years later with the small, but well-reviewed ONE EIGHT SEVEN, and has since done THE COUNT OF MONTE CRISTO (2002) and TRISTAN + ISOLDE (2006), and has a Jesus movie called RISEN due next year. Cliff Curtis (LIVE FREE OR DIE HARD) plays Jesus. I guess none of these have been all that successful, but hey, they are major movie releases, and he's still making them.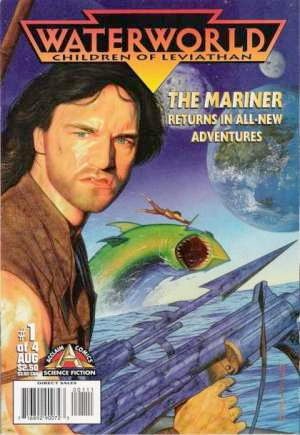 Like most aspiring blockbusters of the era, they tried to make WATERWORLD into the new STAR WARS or some shit. There were video games (Super Nintendo, Game Boy, Virtual Boy, PC). There was a board game. There was a pinball machine. There was a young adult novelization by Max Alan Collins (writer of THE EXPERT starring Jeff Speakman, but also the comic book that ROAD TO PERDITION was based on). The cover of that one calls this "the motion picture event of the year." There was an official tie-in making of book. I doubt it goes into, uh, some of the stuff.
Of course there was also a line of action figures, so you could have your Bola Attack Mariner, or your Hydro Stinger Mariner, or your Power Bow Mariner hang out with your Amy the Gorilla from CONGO on the Trimaran, which boasts a 21 inch mast and "converts to fast attack combat ship!" Or if you can't afford that you could just have your WATERWORLD Dennis Hopper fight your SUPER MARIO BROTHERS Dennis Hopper.
For those desperate to return to Waterworld and see more adventures of the beloved character of The Mariner, there was a four issue comic book follow-up called Waterworld: Children of Leviathan, in which The Mariner is portrayed as just some long-haired Liam-Neeson's-stunt-double looking guy, because they weren't allowed to use Costner's likeness. Or you could go to Universal Studios Hollywood, Japan or Singapore for the 20-minute Waterworld: A Live Sea War Spectacular stunt show and find out what happened when Helen went back to the Atoll to tell them about Dryland. It's been running longer than the fuckin LIONG KING musical, and it was the winner of a 1996 Thea Award, so eat a dick, Razzies.
Co-writer Peter Rader went on to direct episodes of Dog Whisperer with Cesar Millan. He got a story credit on THE LAST LEGION starring Colin Firth and Ben Kingsley.
David Twohy has gone on to improve our lives in many ways: as writer-only on G.I. JANE, as writer-director on THE ARRIVAL, PITCH BLACK, CHRONICLES OF RIDDICK, RIDDICK and A PERFECT GETAWAY.
What was then infamously the most expensive movie of all time is now (when not adjusted for inflation) cheaper than a ton of also-ran blockbusters that I would assume were, like, medium range budgets for those types of movies. Just a few that were more expensive than WATERWORLD: MALEFICENT, 47 RONIN, PACIFIC RIM, JACK THE GIANT SLAYER, GREEN LANTERN, BATTLESHIP, MEN IN BLACK 3. Even adjusted for inflation, WATERWORLD is only the 9th most expensive of all time, seated just below JOHN CARTER. And script doctor Joss Whedon himself actually wrote and directed one of the movies that was more expensive adjusted for inflation, two not adjusted. Maybe The Mariner changed the world after all.
This entry was posted on Monday, July 27th, 2015 at 9:31 am and is filed under
Reviews
,
Science Fiction and Space Shit
. You can follow any responses to this entry through the
RSS 2.0
feed. You can skip to the end and leave a response. Pinging is currently not allowed.