No man, I don't got a problem. I just watch Michael Bay movies recreationally. I don't gotta watch them when I wake up or nothin. It's just every once in a while. I only watched PEARL HARBOR 'cause I was doing all the summer of 2001 movies. And TRANSFORMERS 3 because I thought it would be funny. Then people said I should watch this one. It's not a big deal, man. That's not that many. You don't know what you're talking about.
Yeah, THE ROCK is Michael Bay's best movie, but MONEY TALKS is Brett Ratner's, and nobody gave him a Criterion Edition. But watching THE ROCK again I think I get it now, it's an enjoyable enough overblown Bruckheimer & Simpson version of the '90s prestige action movies like AIR FORCE ONE, THE FUGITIVE and IN THE LINE OF FIRE. It's one of those movies, like UNDER SIEGE or EXECUTIVE DECISION, where they have the Pentagon brass standing around debating and overseeing the mission. They got this guy John Spencer that I remember was on The West Wing, so I kept expecting Martin Sheen to be the president. As long as it's slickly made I'm kind of a sucker for this kind of movie, it's not at all my favorite type of action but it's a type that's usually gonna be enjoyable.
And then you gotta figure in that it's an early example of Nic Cage smuggling a little of his roach-munching weirdness into a big mainstream movie. And even more importantly it has a really good performance by and character for Ed Harris, a terrorist villain who's entirely different from the ones in the other DIE HARD sequels and wannabes. So this is worthwhile.
Pretty much all of Bay's worst sins – sloppy action, terrible jokes rudely interrupting scenes that are apparently supposed to be dramatic, gay stereotypes – are already evident, but he (and action movies in general) have gotten so much worse in the 15 years since that all that doesn't seem quite as bad as it used to. Yeah, it's embarrassing when he cuts to a shitty joke about a cartoonish gay hairdresser in the middle of his dramatic escape sequence, but it seems restrained next to the machine gun barrage of quips and mugging he sprays all over pretty much every scene in BAD BOYS 2 or the TRANSFORMERSes.
Harris plays Brigadier General Francis X. Hummel. Like Tommy Lee Jones in UNDER SIEGE or Eric Bogosian in UNDER SIEGE 2: DARK TERRITORY he's a disillusioned military asset; unlike those guys he's not a maniac or an asshole, and the government didn't force his hand by screwing him or trying to kill him. He's an honorable man outraged by a betrayal of the soldiers under his command. He's tried to handle it other ways, even testifying to Congress (like Seagal at the end of ABOVE THE LAW). He probly wrote some letters, went on some cable news shows, sent out some mass emails to his friends and family saying to write their senators. But now "to protest a grave injustice" he's taken some elite marines, stolen some chemical weapons and set up shop at Alcatraz with 80 tourists as hostages. (What happens to the hostages, by the way? Did they ever show them again in the movie? Was there a whole other movie going on about them trying to escape? Even at the end Cage tells the brass that they're all okay, but I don't think he actually lays eyes on a single one of them. Kinda weird.)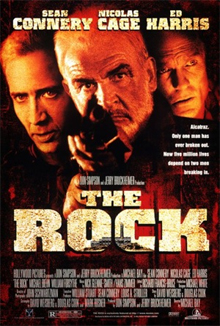 Cage plays FBI chemical weapons expert Stanley Goodspeed, pushed into going on the Alcatraz rescue mission with the Navy SEALs because of his expertise (just like Kurt Russell in EXECUTIVE DECISION or Ripley in ALIENS). Sean Connery plays John Patrick Mason, an S.A.S. agent who's been unjustly imprisoned for 30 years by the U.S. government because he knows too much about Roswell and the Kennedy assassination. (Hilarious visual storytelling: in his cell he has two books, "The Complete Works of Shakespeare" and The Art of War.) They offer him a pardon because they need his knowledge of the maze of tunnels, vents and mine carts (?) beneath Alcatraz, 'cause he's a master of escape and got out of there once and there are no maps or blueprints of that part but also it has not changed at all in three decades and also he totally remembers it, don't worry.
Cage does get to go mega a couple times, and got to make his character goofy. It's obvious that he made up the part where he gets a Beatles record in the mail and says he didn't want it on CD because "First of all it's because I'm a Beatlemaniac, and second these sound better." I thought it was that cliche for establishing that he's an old school guy (like Will Smith's Chuck Taylors in I, ROBOT), but Cage explains on the commentary that it was partly because he had been concerned in real life about vinyl sounding better than CDs. So he got that in there just like Seagal gets his environmental messages in his movies.
I like when Cage is flying in with the SEALs and he's so nervous he's wiggling his legs like he needs to piss real bad.
Another part where Cage comes uncaged is when he almost gets burned alive by chemicals at work (a nice way of demonstrating the deadly effects of the weapons they're trying to stop) so he goes home early to have a glass of wine and play guitar naked. In GQ's recent "An Oral History of Transformers Director Michael Bay," Bay brought up that scene:
"One day I showed up on set and Cage came out for a scene in his apartment dressed in a purple Speedo. And I'm like, 'Oh, I get it. Okay. You don't want to wear the wardrobe because you want to show your muscles. OK, let's just get it all out in the beginning of the movie."
Bay tells the same story on the commentary track, as an example of what an insightful director he is and how good he is at dealing with these dumb, self-involved actors. So it was revealing to see the movie again and realize that he's wrong. No, dude, you don't get it. He's not doing that to show off his muscles, he's doing it because it's funny. I know it's not about a straight dude being mistaken for gay or a black person yelling hysterically, but I contend that it is funny and does not seem to show very much muscle anyway.
I have to admit I'm not a fan of older Sean Connery. He was a good James Bond but even in his INDIANA JONES I don't find him as charming as everybody else seems to. Of course DRAGONHEART and THE LEAGUE OF THE EXTRAORDINARY GENTLEMEN didn't do much for me either. I forget, was he any good in ENTRAPMENT? I guess I don't remember much about that movie. I mean there's one or two scenes I can remember off the top of my head. Actually, just one.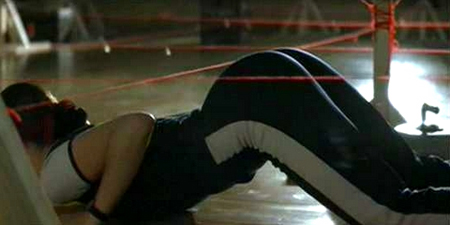 I'm not sure why it stuck in my head, just a random part. It's funny the things that stick with you, isn't it? No rhyme or reason to it, really.
So I guess I feel about Connery the way he did about THE MATRIX and LORD OF THE RINGS: I don't get it. I mean it's a pretty good character, he has an interesting background, does a couple cool tricks. I like when he gets cleaned up like a James Bond. (Sorry CJ, the long hair looks terrible on him.) And actually I dug the part where you realize he escaped from custody not to try to get away but to see his daughter for a minute. And I like the nice thing that Goodspeed does to help him save face in front of her. See, you can see that Bay has changed over the years, because back then he actually put one genuine moment of emotion in a movie. He probly cringes every time he thinks about it. But other than that part I don't see alot of chemistry between this pair. And the guy's a chemist, he should know how this works.
I remember seeing THE ROCK years ago, before I really started to analyze movies. All my buddies thought it was awesome, I didn't get that into it, I wasn't sure why. When I saw ARMAGEDDON that was the first time I became aware of fast editing and how disorienting it is when done badly, and I wondered if maybe that was my problem with THE ROCK. So it was interesting to go back and see the movie again to find out.
The most memorable action scene is the car chase when Connery escapes to meet his daughter. Sure enough the editing is fast, but I think the real problem is a lack of fluidity. In some shots you can see where the cars are located and which direction they're going, but the next shot won't show them or will have them obscured or not flow smoothly. There's just not a clear continuity. And it keeps cutting to wobbly seaskick closeups of the actors inside the cars.
The chase is pure Bay: they "wrecked half the city," a yellow Ferrari chases a Humvee, the Hummer even plows through a VW Beatle with a peace sign on the side. Yeah, fuck you, hippies. You're probly the reason that army guy had to steal those missiles somehow, I bet.
There are some weird little details, almost FREEBIE AND THE BEAN style, like a shot of three guys in wheelchairs crossing the street, and somebody wearing a really fake old lady Halloween costume almost getting run over. But because the chase is already so sloppy I think these details confuse things as much as they add flavor. They're shot just as messily as the rest of the chase and as if of equal importance. I do like the part where one of the cars plows down a row of parking meters, causing splashes of quarters to fly through the air. That's a cool image.
Maybe the other biggest action scene is when they're under Alcatraz and they have a shootout on a big set with rolling mine carts and little things that hang off like an amusement park ride or a video game. It reminded me of the Goonies or something. Not my kind of thing. So even though this has some of the things I look for in an action movie, good action is unfortunately not one of them.
When John Spencer's character knows he has to deal with this terrorism he calls in the experts, the best people he knows of to get the job done. So there's the SEALs and the chemist and the guy that knows Alcatraz and a backup team from the Air Force and even still they run into alot of problems. Bruckheimer and Simpson (this was their last movie together; Simpson died during post-production) take a similar approach. They don't want an artist telling a story, they want a team of experts putting together a package. So they have this script by David Weisberg, Douglas Cook and Mark Rosner that nobody's satisfied with, they let Cage rewrite his part, let Connery bring in his writers Dick Clement and Ian La Frenais, get Jonathan Hensleigh to do an uncredited rewrite, and also Aaron Sorkin, and also Quentin Tarantino.
Unlike in CRIMSON TIDE it's hard to tell which parts Tarantino wrote. I guess people assume it's the adrenaline shot to the heart and the Mexican standoff, but those seem too generic and obvious. If that's all he did then he was really cashing in there.
With Sorkin I think I can guess. The speech Ed Harris makes to his soldiers and the one the president makes before authorizing bombing the island are vintage heartswelling West Wing type shit. He probly wrote that they'd be walking down hallways while saying them, but Bay doesn't read stage directions unless it's "the camera spins dizzily around them as they say this."
The cast of supporting actors is a hell of a compilation too. They got David Morse (16 BLOCKS), William Forsythe (OUT FOR JUSTICE), Michael Biehn (ALIENS), John C. McGinley (ON DEADLY GROUND), Tony Todd (CANDYMAN), Bokeem Woodbine (BLADE: THE SERIES), Marshall Teague (SPECIAL FORCES), Tom Towles (HENRY: PORTRAIT OF A SERIAL KILLER), Jim Caviezel (HIGHWAYMEN), Xander Berkeley (T2), Raymond Cruz (THE SUBSTITUTE), John Enos III (MISSIONARY MAN) and Philip Baker Hall (HARD EIGHT). And probly one or two other guys.
A big part of the studio action movie feel is the big ass score by Nick Glennie-Smith (FIRE DOWN BELOW) and Hans Zimmer. Sometimes I wish they would chill out for a minute and let a movie happen, but for the most part I gotta respect this score. It's one of those action movie scores that makes you feel like you're supposed to stand up and put your hat over your heart. It has a theme song that's catchy and emotional in a way that it seems like nobody makes anymore. Almost like a bigger, more orchestral version of the BETTER TOMORROW theme. I had it going through my head all day after watching this.
The best part of the movie, the part most worthy of that theme song, is not either of the heroes – it's the villain, Ed Harris's character Hummel. So let's look at him a little closer.
He's a very original villain. The movie starts out with him, as if he's the hero. He gets the same kind of just-how-badass-is-he? explanation as Casey Ryback: "Three tours in Vietnam, Panama, Grenada, Desert Storm, three purple hearts, two silver stars and the Congressional medal of– Jesus. This man is a hero."
He's a real ball buster who shouts "identify yourself!" to people and buries his wife with a tombstone that says "HIS WIFE" at the top. But his sense of honor is the real deal. DIE HARD introduced the fake terrorist, the villains who pretend to be for a cause but are actually in it for money. This continued in DIE HARD WITH A VENGEANCE, LIVE FREE OR DIE HARD and UNDER SIEGE. The bad guys aren't really "terrorists" so much as ransomers. Hummel actually is a terrorist, he's using terror to achieve a political goal. He's demanding ransom but he really intends to give it to the families of deceased soldiers, fulfilling the government's broken promise to them.
There are precedents for this type of villain. Gary Oldman in AIR FORCE ONE, for example, is more wicked than Hummel, but is genuinely doing it for a cause he believes in, not for money. What's truly unique about Hummel (SPOILER) is that he turns out to be bluffing! In most action movies a villain might seem to have some sense of honor, but when the chips are down they'd show their true colors which would turn out to be evil and/or cowardly colors. Not Hummel. He goes as far as he can go without killing people and when it doesn't work he is prepared to fold his cards. It's only because he has some asshole mercenaries under his wing (I'm looking at you, Candyman) that the threat turns real. So that makes him a really interesting character. Another thing you can't expect anymore these days.
After so many years of big and pretty but sloppy and poorly planned action movies I'm able to sort of appreciate this movie better, even though it is the actual specific movie that I think started the modern movement of big and pretty but sloppy and poorly planned action movies. Didn't Alanis Morrissette sing some song about that? Unfortunately it's a buddy action movie where I can't appreciate the action or one out of two buddies. So I can't agree with its canonization as a '90s action classic. But with layered Ed Harris, funny Nic Cage and a thick macho tone I can appreciate it as some bullshit that frequently transcends its shittiness. I kinda like it now. I probly won't even wait the ten years or whatever to watch it a third time.