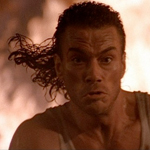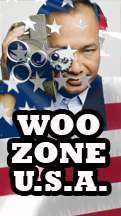 There was a time, I must admit, when I didn't properly appreciate HARD TARGET. I had already been intoxicated by the unadulterated John Woo of THE KILLER, BULLET IN THE HEAD and HARD BOILED (in that order, I believe) so when I watched his 1993 Hollywood debut I could only see the compromises. American Woo was less violent, less stylish, less emotional and built around the stiff toughness of Van Damme instead of the smooth charisma of Chow Yun Fat.
But with the passage of time comes wisdom and context. From the perspective of today we can see that HARD TARGET stepped deeper into the Woo Zone than any of his subsequent American films save for FACE/OFF. More importantly, it's clearly a masterpiece among Van Damme vehicles, themselves an enjoyable body of work that can benefit from some Woo. A pessimist sees HARD TARGET as Woo watered down with Van Damme. But I'm an optimist now so I know it's a refreshing glass of Van Damme spiked with a shot of Woo tequila.
Van Damme plays Chance Boudreaux, itinerant New Orleans merchant marine of spec ops past and Cajun descent. Like Roddy Piper's John Nada in THEY LIVE or a ronin in a samurai movie, Chance is a human weapon walking around trying to get work, a sheathed sword who represents the poor. We meet him trying to scrounge up enough pocket change for a cup of "tolerable" diner coffee.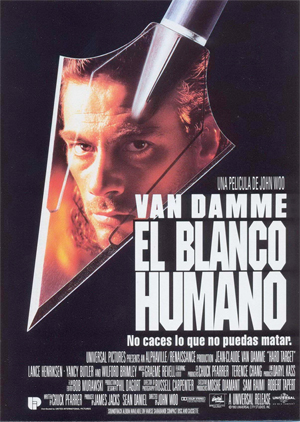 The script was rewritten for New Orleans just to (sort of) explain Van Damme's accent, but it seems organic because it's a novel setting. We learn that the villains – who last worked out of Bosnia-Herzogovina – have chosen it as their playing field because of its misery, much like Predators choose to hunt in hot climates and war zones. New Orleans doesn't seem Bosnia-bad, but it's an eery ghost town. The police are on strike and the people are struggling to find jobs, even lining up for a shitty "direct advertising" gig passing out phone sex flyers. When Natasha Binder (Yancy Butler, DROP ZONE) comes into the diner flashing large bills Chance knows what's gonna happen. He walks to the exit in slow motion, pauses to adjust the open door with his foot, causing a loud creak like in a spaghetti western, and uses the reflection in the window to get a look at the guys who are getting a look at her. When they try to rob her outside he beats them up. Mostly in slow motion.
That's the secret to this being one of the best Van Damme vehicles. He'd done several of his classics already (BLOODSPORT, KICKBOXER, LIONHEART), but this is the first one directed by an artist dedicated to using all the brushes he has to paint a glorious portrait of The Muscles From Brussels. Introducing him with a cool camera move into his black trench-coated back, dissolve edits between closeups of his eyes, his earring, his, mouth, all accompanied by bluesy acoustic slide guitar, he's like a Cajun Superman. Sometimes he walks in or out of a scene like THE RIGHT STUFF, the wind blowing his greasy mullet and coat. Woo slathers Chance and his world with style, and yes, at times there are doves fluttering past him, or in one case giving him a message. (Woo says that dove represents "The Holy Spirit.")
When he interrupts that robbery he pulls open his coat like a cowboy revealing his weapon, but there's no gun, no holster even. Just the leg he's about to kick them with.
In his blue work shirt, getting shit done, Chance Boudreaux is a soaring tribute to the greatness of The Working Man. He does not let abject poverty, or his lack of a driver's license, define his self worth. His initial motivation for helping Natasha (through a two-day freelance missing persons gig that he initially turned down) is to raise exactly $217 to pay his overdue union dues so he can take an able seaman gig.
The missing person is Natasha's dad, a special forces veteran she'd been out of touch with. They discover that he'd been homeless, and then that he's dead. Following the trail gets Chance mixed up with a dangerous criminal organization led by cruel Emil Fouchon (the great Lance Henriksen) and his psychotic right hand man Pik Van Cleef (Arnold Vosloo, Darkman himself in DARKMAN 2 and 3). They run a service providing rich assholes with the opportunity to literally hunt homeless veterans. They choose the prey based on skills and lack of family connections. With this one they screwed up.
Remember I told you how they offered BLADE to Denzel Washington, and even though he's a great actor I don't think it would've been as good? Here's a movie that Woo wanted to give to Kurt Russell, but he was booked up (I guess that would maybe be with UNLAWFUL ENTRY, CAPTAIN RON, TOMBSTONE?). Universal had already wanted to use the script as a vehicle for Van Damme, who flew to Hong Kong to meet with Woo, the top choice of producer Jim Jacks. Woo added more action, knowing Van Damme could handle it. Russell would've technically given a better acting performance, I imagine, but it would've been a Chance Boudreaux who doesn't jump up and kick a guy in the face while he's driving at him on a motorcycle, and what would be the point of that? Peppering the gun fights with all those kicks is a major component of what makes the movie so fun.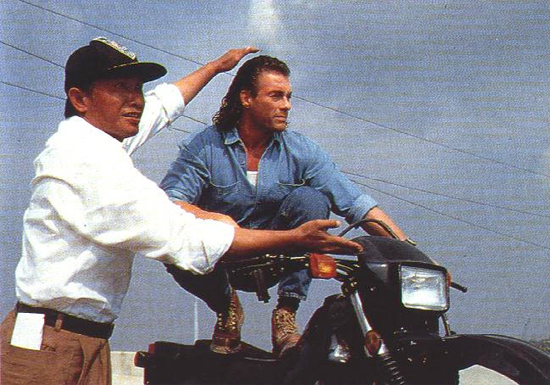 If you compare this action to HARD BOILED, like I used to, it can't compete. The MPAA and the regular Hollywood shooting schedule saw to that. Woo only had 65 days of shooting for HARD TARGET; for HARD BOILED he had 123 days, with 40 for the hospital scenes alone. But comparing it to other Van Damme films or similar it really excels. The stand out scene is the absolutely crazy motorcycle vs. car duel. Chance's motorcycle is leaking gas through a bullet hole, so he plays chicken with his pursuers' vehicle while standing up on top of the bike, firing two guns. Then he crashes, rolls over the car onto the street, turns and shoots at the car as it runs over the bike and then explodes. There are also many fiery explosions caused by Chance's uncle Douvee (Wilford Brimley, REMO WILLIAMS: THE ADVENTURE BEGINS, EWOKS: THE BATTLE FOR ENDOR) when a team of mercenaries chase Chance and Natasha to his isolated homestead. Poor guy has to pull the self destruct on his moonshining rig. That couldn't have been an easy decision.
In fact this movie is so serious about fire that Henriksen does a major fire stunt himself. It's very noticeable that he suddenly has his hair doused in fire proof gel, but it's worth it to see his face while he's running around in flames instead of the usual face-obscured stunt double approach.
Woo wanted Fouchon to be a little more developed than he ended up in the released movie, but even there he has a great Woo-villain touch: a scene where he plays piano, intercut with a montage of hunting humans. (The workprint version also had stock footage of big game hunting, from what I remember of seeing the bootleg years ago.) He might as well be that asshole teacher in WHIPLASH, though, because despite his musical talent he has no soul. When one of his rich clients feels bad and wants to let his prey live, Fouchon does not hesitate to kill the client. There's also a brutal scene where he has Pik terrorize one of their employees by snipping off his ear lobe with shears. They make these guys so threatening you forget they can't kickbox.
Screenwriter Chuck Pfarrer (who also plays Natasha's dad in the opening) is a fomer Navy SEAL who wrote NAVY SEALS, DARKMAN and BARB WIRE and now does military non-fiction books like SEAL Target Geronimo: The Inside Story of the Mission to Kill Osama bin Laden. I gotta give him credit for his genre chops on this one. It's the classic MOST DANGEROUS GAME premise mixed with the mystery-loner-hired-to-help-a-lady and includes very good versions of the badass drifter, the heartless villain, the sadistic henchman, the eccentric family member and more. It does a good job of establishing this environment of New Orleans despair and hopelessness. Just about the only gainfully employed characters are a waitress and the nice cop (Kasi Lemmons, CANDYMAN) who is supposed to work a desk job but everyone else is on strike. When she's (SPOILER) shot dead and left in the middle of the street it's sad enough without remembering that this was her birthday.
These bad days for the working class play well against the villainous plot where rich people kill the poor for a thrill. According to the book Not Bad For a Human by Lance Henriksen and Joseph Maddrey, it was Henriksen's idea to have the prey wear money belts that they (supposedly) are allowed to keep if they make it over the river alive. It's supposed to show that Fouchon is serious about playing the game, he genuinely wants the challenge of the hunt. I think it makes it even crueler though because he's forcing these people to bet their lives against what's not necessarily a life changing amount of money. I mean, $10,000 is a whole lot to them or to me, but it's not gonna buy them a house or last 'em much more than a year or so if they still can't find work. I guess they could use it to get the fuck out of New Orleans.
"I need to tone down a lot of the violence. Well, everything has to be toned down," Woo told Vibe at the time. The New York Times reported that "The first preview of 'Hard Target,' in May, was a disaster. The audience of young males laughed at some of the devices — freeze frames, dissolves, slow motion, choreographed violence — that are the director's stylistic trademarks." Woo says, "I wanted to use visuals to tell the story, instead of dialogue, and they didn't get the picture." He, of course, was right. But after MISSION: IMPOSSIBLE 2 he must've given up on Americans ever agreeing with him.
Woo had to submit the movie to the MPAA in six different cuts before he got the R-rating. But those weren't the only editing struggles. Van Damme tried to make his own cut that featured more of himself and less of Henriksen. The New York Times says he "was more or less blocked by the producers," but that the studio brought in Bud Smith (SORCERER, DARKMAN) to replace original editor Bob Murawski (ARMY OF DARKNESS, THE HURT LOCKER) and "rough up" "Mr. Woo's elegant pace."  Producer Terence Chang was willing to go on record that "John's original cut was so much better, but for the test screening they recruited Van Damme fans, and they said, 'We don't like this. There's too little karate stuff.'"
The poor quality bootleg of the workprint is about 20 minutes longer than the theatrical release. This time around I watched it from the thankfully-region-free British blu-ray, which at least has an extra 2 minutes of violence. But I think in any of these compromised forms it still managed to make it through the grinder with some personality intact. It's a heightened brew of violence and style with both the surface and the texture of a good crazy action movie. Credit to Pfarrer or whoever came up with absurd ideas like Chance punching out a rattlesnake, biting its rattle off and leaving it as a sentient boobytrap. And it's worth mentioning that this is one of the few movies where Wilford Brimley with a bow and arrow rides a horse in slow motion away from an explosion. That's usually how I try to sell it to people.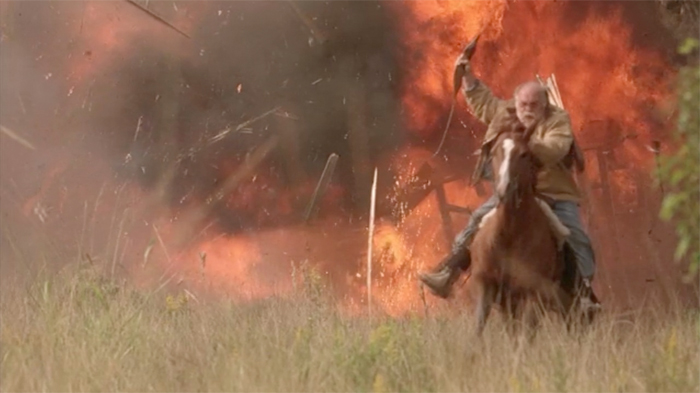 They didn't really make movies like HARD TARGET back then, and they definitely don't now. It's a real treasure.
This entry was posted on Tuesday, April 26th, 2016 at 11:04 am and is filed under
Action
,
Martial Arts
,
Reviews
. You can follow any responses to this entry through the
RSS 2.0
feed. You can skip to the end and leave a response. Pinging is currently not allowed.