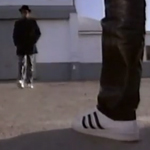 TOUGHER THAN LEATHER is a unique specimen – a time capsule movie vehicle for a musical act at their height, but a legit act with street credibility that they did not lose by being in a movie. This is not the Fat Boys or Meth and Red making a comedy. It's Run DMC in a gritty action movie made independently by the same people they made their records with. Maybe a good comparison would be Isaac Hayes in TRUCK TURNER or Jimmy Cliff in THE HARDER THEY COME, except they weren't playing themselves.

Run, DMC and Jam Master Jay play Run DMC and Jam Master Jay, a rap crew from Hollis, Queens. We know they're successful because they perform for big crowds, but they never get mobbed, recognized or interviewed, and don't seem to be rich. They don't talk about where they are in their career, but the songs we see them perform are all from Tougher Than Leather, the one after their commercial breakthrough Raising Hell. Tougher Than Leather is my favorite by them 'cause it's got the same vocal energy but with more complex sampling (dropped manually with needle drops by JMJ in the movie) and less rock guitar.
The movie opens like THE BLUES BROTHERS, with DMC getting out of the joint after a 6 month stint for "what [he] did to that guy." Director Rick Rubin is very conscious of the iconography of Run DMC, so he does the opening from DMC's POV as he leaves his cell, walks down the hall, gets his personal items returned… all the way until the desk clerk hands him his hat. Then finally we see him as he puts it on his head. It's like Rambo strapping on his weapons or Batman pulling up his cowl. (Later we'll see a traitor cower in the shadow of the trio's hats, and a sex scene symbolized by Jam Master Jay's hand dropping a pair of Adidas outside of the bathroom.)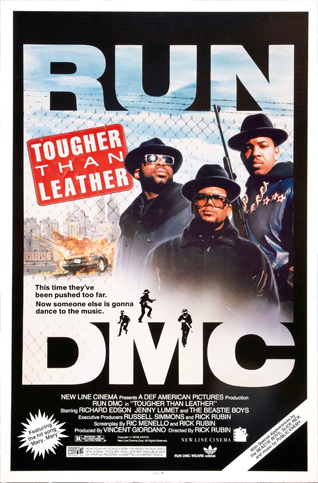 I always thought of DMC as a big lovable nerd, but the movie successfully portrays him as a quiet badass. I wouldn't say they're thugs, but they know how to scrap, and are willing to kill when it comes down to it (using guns DMC's grandpa had left over from WWII). Their tour is sponsored by a mobster's son (Rubin) to launder money. Their old friend and roadie Runnie Ray gets murdered and smeared after witnessing a crime, the three have to get revenge and clear Ray's name. (Don't worry, I know people who spotted him alive at Run DMC shows years later. He's safe.) It's very simple, pretty much a blaxploitation movie made a decade late.
Filmatistically it's kind of a mix tape (get it, somewhat anachronistic metaphor). The opening reunion of Run, DMC and Jam Master Jay has long, dramatic wide shots with no dialogue and wind blowing, plus extreme closeups, definitely Leone-inspired. But most of it's more like a raw, low budget New York indie film (which is what it is). They even got Richard Edson in there for a Jim Jarmusch-Spike Lee connection. Run DMC are on tour playing different medium sized venues, and even in the footage that's probly not from real shows the energy is authentic. You can see how great they were.
The Beastie Boys play the comic relief, they're these out of control white boys. They pretty much play the part that Animal played in The Muppets. I always wonder what would've happened if they'd gone through with their movie where they stay over night in a haunted house or something. According to this it fell through because of their falling out with Rick Rubin. Would've maybe made a good double feature DVD with DISORDERLIES.
Slick Rick also makes an appearance. I'm not sure if he ever had a movie vehicle planned, but that would've been good too. He could be a detective or something. He'd have a laser that shoots out of the eyepatch.
It's pretty funny to see Rubin playing the villain. He doesn't seem like the same guy we know now. He was still this young long-haired kid, he's not too menacing so he makes up for it with a big mouth. He's connected because of his father, and he's kind of a sicko and an over-reacter and that makes him a genuine threat. And he throws the n-word around alot. I was happy to see Run DMC go after him.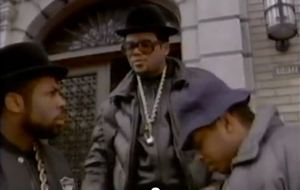 Unfortunately as of this writing TOUGHER THAN LEATHER is still not on DVD. I gotta figure it's a music rights issue at this point, because what else would it be? It's too bad because not everybody holds onto a VCR and a tape of this like I do. It would be interesting for the kids to find out what the world was like before they came along and ruined it.
Judged objectively as a story, this is not exactly a great movie. I love it though. Obviously its biggest strength is as a time capsule for what turned out to be an incredible time in music history, the transitional period in hip hop, the bridge between street phenomenon and commercial product. It was a period when nobody knew where the music and culture were going, and when most of the most popular rappers were also the best ones. Let me take a moment to time travel into a theater showing this in 1987.
Hello friends, my name is Vern. I come from the futuristic year of 2012, pronounced twenty-twelve. In my time, what we call hip hop is the most dominant form of popular music and has completely transformed the culture of America and other countries across the world. Rappers have won Grammies, been nominated for Oscars, become the biggest movie stars. The president is black and listens to some hip hop. You wouldn't want to go there though, the music would make you fuckin cry. It's alot different. It's mostly robots singing over keyboards. Stay here while you can.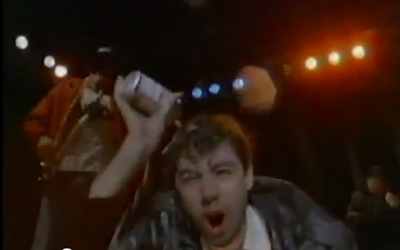 If I tell you what happens to all these people it's gonna blow your mind. So I'm gonna do it, to show off. Some of the news is tragic, though. You see MCA there? The Beastie Boy who dumps the beer on his head? Unfortunately he died this year. No, not from a drug overdose. From cancer. He actually becomes a Buddhist, and is known for his activism on behalf of Tibetan freedom. He's a director too, he started doing videos and then some documentaries. He started a very successful independent film distribution company. Oh no, he was still rapping. yeah, forget about Licensed to Ill, the next one will be their best. You might not get it at first, but believe me, you'll agree with me eventually. They'll have 8 critically acclaimed albums and be in the Rock 'n Roll Hall of Fame.
Run's brother there, Russell? He's gonna become a multi-millionaire off of Def Jam and expanding into clothing companies, TV shows, Broadway shows. He's into yoga and shit. And Run, he's an actual reverend! He's called Rev Run now. He had a solo album, but I don't think he raps that much anymore. He had a TV show where they just followed his family around with cameras, that's what TV is now, they just follow around rich people's kids, it's hard to explain. I think I just read that one of his kids is gonna star in an actual TV show.
Yeah, they're not really Run DMC anymore. Jam Master Jay got killed, somebody shot him, they never caught who did it. DMC actually lost his voice from yelling all the time. He can talk but his voice is totally different. Yeah, alot of this is pretty shitty news I'm telling you.
Oh shit, but Rick Rubin though! That's the bad guy there, and he directed this. You're not gonna believe me on this. He's gonna be a respected music producer. Not even in hip hop for the most part, he's gonna do I think six albums with Johnny Cash, make him cool again, I'm not joking. He's gonna win the producer of the year Grammy a couple times. Oh, and he's gonna have a huge beard, look like a homeless guy.
Now, before I leave here I'm gonna have the DJ drop a special beat that's gonna erase your memory of all this, because you can't live life knowing what's gonna happen. I mean I wish you could try to prevent some of these tragedies – warn JMJ, cure MCA, at least get DMC to be easier on his vocal cords. But who knows what other shitty chain of events that might set off? It's best to just let it go and appreciate the beauty of it. If we can get from now to 2012, that means anything can happen.