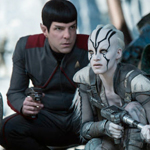 I'm not sure if this is what STAR TREK BEYOND is supposed to mean, but this new star trek goes beyond just referencing old star treks. I don't think part 2, INTO DARKNESS, is as bad as its reputation now, but it kinda left a sour taste in my mouth by building itself too much on "see, this is like before, only it's the reverse of before" and shit like that. I would rather see a new story, which is what they did here.
Since part 1-2 director J.J. Abrams jumped ship to do a STAR WARS, he's only producer on this one. And since Paul Greengrass decided to do another BOURNE movie with Matt Damon, Justin Lin (FAST AND FURIOUS 3-6) had to forget about the one he was developing with Jeremy Renner, so he became available.
Another thing that's different on this one is that Simon Pegg, who plays Scotty, co-wrote it (along with Doug Jung, who wrote CONFIDENCE and some episodes of Dark Blue and Banshee). So it finds Captain Kirk, like Pegg's character in the Edgar Wright movies, unhappy and questioning what he's doing with his life. He's three years into a five year star trekking contract (I guess we've missed a whole bunch of adventures since part 2) and getting kind of bored of the ol' final frontier. So he thinks he wants to become an Admiral.
But one day on what seems like an easy task the Enterprise suddenly gets destroyed by a swarm of metal space bug things and they crash land on a rocky planet. The crew gets split up and they face various threats before they reunite and come up with a plan to fight Krall (Idris Elba, GHOST RIDER: SPIRIT OF VENGEANCE), the leader of the bugs, and rescue themselves.
It all culminates in a big action spectacle thing with a space ship chase through a city and a battle to prevent, I don't know, destroying the city or some shit like that. But for the most part it's like an old episode of the show: an adventure that happens on a planet they end up on. It explores themes about the meaning of star trekking and they learn about themselves and what not, but it doesn't feel like The Most Important Thing That Ever Happened To Them. I wish that was the case with more of these event movies. It's weird that something so simple can feel fresh.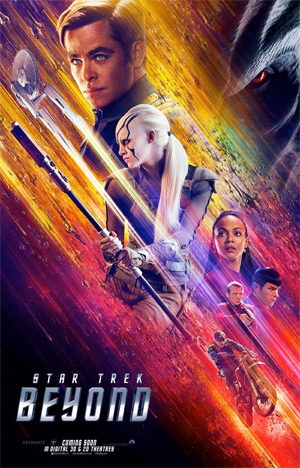 I also like that it embraces the goofy and the weird. The rainbow colors on the posters aren't lying. The opening scene, with Kirk's disastrous attempt to deliver a gift from one alien culture to another, feels off, because animated aliens don't seem like Star Trek to me, but it's still a funny, clever idea. Crazy shit happens in this universe. When discussing the history of an old space craft, Bones (Karl Urban, PATHFINDER) mentions it was once grabbed by a "green space hand." I don't know if that refers to some specific episode, or is just meant to capture the vibe of '60s sci fi, but I couldn't stop smiling at that line being included in a modern, mostly serious movie.
By the way, remember how Abrams established that "Sabotage" by Beastie Boys is still remembered in this future? This one adds another song I love to the repertoire. I'm glad that the music I like happens to be what survives. I was right, you guys.
Another crazy touch is a sad one. They have one of those scenes where some very serious officials show up to deliver some news to Spock (Zachary Quinto, HITMAN: AGENT 47), so you know somebody died. It turns out it's not his parents or some brother that went off to war, it's Ambassador Spock. So it's a sweet tribute to the late Leonard Nimoy, who we saw as old Spock in the first two reboot movies, but it's also a major moment for this young Spock. Being an emotionless Vulcan he spends the movie acting like the only significance is the loss of an inspirational mentor figure. He doesn't seem to care that he has just received news of his own death!
He and Kirk are both questioning their careers, so they kinda get the most character development. Sulu (John Cho, reunited with Lin 14 years after BETTER LUCK TOMORROW) and Chekov (the late, lamented Anton Yelchin, FRIGHT NIGHT) are really just supporting characters who each get a few funny moments, but are mostly there to follow orders. But Bones (Urban at his most charismatic ever) gets the most funny lines, and Scotty gets to have the most time with the cool new character, Jaylah (Sofia Boutella, Gazelle from KINGSMAN), a no-nonsense warrior with the appearance of a Sith and the personality of a Na'avi. A resourceful survivor of a previous Krall attack, she lives inside a crashed Federation starship that they might be able to bring back to life, like Dominic Toretto's unkillable muscle car.
Jaylah steals the movie, which is kind of unfair to Uhura (Zoe Saldana, COLOMBIANA) because it seems like she doesn't get as much to do as the boys. In FAST AND FURIOUS terms, Jaylah gets to be Letty, so Uhura has to be Mia.
But the weak link in the movie is Krall – not the singer Diana Krall, who is not in the movie, but Krall, the villain, who I mentioned earlier so obviously that's who I meant, you guys. Krall is a character that hides the great Elba behind too much alien makeup. He isn't as intimidating as Bana in part 1, and isn't very clearly explained when they get into his backstory and motives.
I do appreciate the gesture, though. A (THIS IS A SPOILER) former military officer who became a Federation captain when peace came to the universe, he is a soldier facing off with an explorer. Kirk is able to rediscover his purpose while also emphasizing why Star Trek is different from other space stories: it's about star peace.
I love the message, but it also feels slightly disingenuous, because right after righteously telling Krall that the Federation is not a military organization, he has to defeat him in a floating fist fight to the death. And I feel like a bit of a phony as a viewer because I have to admit that I was excited about the idea of Jaylah returning in another movie, and then less excited when they made it clear she'd be wearing a uniform instead of kicking ass. So that puts into question how dedicated I am to this message of space harmony.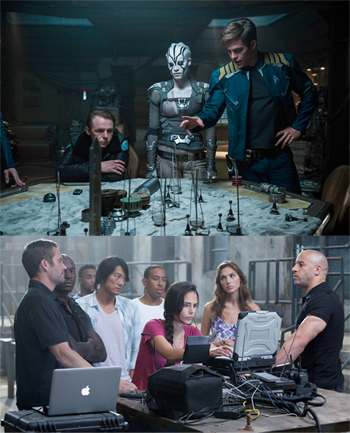 I kinda forget about this, because I don't really spend much time around people who don't respect the FAST AND FURIOUS series, but I've definitely seen some snobbishness about Lin being chosen to direct this. Just because he directed four beloved movies, turning a basically dead series into a pop culture phenomenon, and the biggest franchise in Universal Studios history, they think he's qualified to do a STAR TREK? Why, I never. I wonder if they were mad when the guy who wrote INVASION OF THE BEE GIRLS was hired to direct WRATH OF KHAN.
The ironic part is that Lin sees himself as more of a Star Trek guy than a car guy. I think he does a good job, but not as good as he does on his FAST movies, and he doesn't try to reinvent the series like he did there. If you're looking for action there is some good stuff, but it's more the ideas that are cool than the execution most of the time. Apparently Joe Taslim from THE RAID and FURIOUS 6 is in here, but someone will have to tell me what he did. I think he's in makeup too.
There's a big, fun action moment in the middle of the movie – you will know what it is and it involves a motorcycle – that definitely reminds you who directed this. But the real reason to hire Lin isn't on the surface. The main appeal to FAST AND FURIOUS isn't the cars, just as in Star Trek it's not the space ships. In both it's the ensemble of very likable characters, the friendship they have, the sometimes funny things they say to each other, and how they work together as a complex machine to accomplish a mutual goal. And then laugh and celebrate with each other.
Happily, I think the Star Trek themes match up with Lin's FAST themes. In BEYOND they seem to use the word "unity" as much as FURIOUS 6 uses "family." Kirk's crew becomes his family, just like Dom's crew becomes his. They even both use the word "crew"!
Kirk's crew, as an extension of Gene Roddenberry's progressive vision, is pretty diverse, with members who are white, black, Asian, various nationalities, and now at least one is gay (I think Sulu's husband is played by writer Doug Jung – would've been a good place for a Sung Kang cameo!). Plus different types of aliens. Of course, THE FAST AND THE FURIOUS is a little ahead on this one, always sticking with only one lead white man in their large ensemble. But we're dealing with the same message in both of these. I don't care if you're Vulcan, or a reggaeton star, or a lady with a head shaped like a sea shell, I don't care if you drive a Japanese car or an American one, we can all get along, we can share in a passion, we can be family.
Kirk, like Dom, lost his father in a traumatic way, and is still dealing with it every day. Both started by breaking the rules, but succeeded because of a strong sense of honor. Both have larger-than-life charisma that brings people together, turns rivals into brothers, turns disparate people into a family. And they think they want to come home, but their real home is out there traveling, in concert with their vehicles, like a cowboy and his horse, living life a quarter mile or a light year at a time.
I'll be honest, I've given it many shots over the years and I just don't think I'm a guy who can enjoy Star Trek in the way I enjoy THE FAST AND THE FURIOUS. But in a way I think they're the same. Both long, convoluted sagas about friendship and teamwork, talented people rising above challenges to succeed. They can be fun, silly stories, but sometimes characters we like die, and sometimes they come back somehow. They give us pulpy adventure on the surface but underneath they speak to our humanity and positivity. Trekkos and Fast Furiosas, we are brothers.
This entry was posted on Wednesday, July 27th, 2016 at 1:07 pm and is filed under
Reviews
,
Science Fiction and Space Shit
. You can follow any responses to this entry through the
RSS 2.0
feed. You can skip to the end and leave a response. Pinging is currently not allowed.