Never thought they'd be able to pull a trick like this, but somehow they made STAR TREK cool. I'm not even sure if I can say cool again. I guess when the first couple movies came out it passed as cool. Anyway, this is some top grade movie magic here because it takes this pop culture phenomenon that has for generations been the #1 cliche nerd obsession and makes it into something that we, as a society, can share peacefully and enjoy together.
Going on opening night of course I saw it in a sold out crowd that must've contained some hardcore Trekkos (that's what they prefer to be called – the word "Trekkies" was made up for the classic documentary and to true Trekkos is considered ten times worse than the n-word) but I never even felt a twinge of that nerdophobic uncomfortableness I felt when I went to see SERENITY. Midnight show in Imax might've been a different story, I don't know, but my point is this thing is reaching far outside of the nerd audience. They said we weren't ready for a black president, and they were wrong. They never said we weren't ready for a cool STAR TREK, because nobody was even gonna argue that one.
Some Trekkos may feel sad to see their favorite band going top 40, but as a guy who never gave two shits out of a rat's ass about STAR TREK it was fun to be let into the treehouse for a minute. I mean I got nothing against the Star Trek shows or movies, I can see some of the things that are good about them, but they never meant anything to me. I should revisit WRATH OF KHAN to see what everybody's raving about, but I don't know – somebody just reminded me Kirstie Alley was in it. I guess I do still listen to that one Prince album she's on. Maybe I'll give it a shot.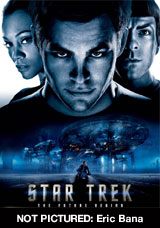 So anyway.  STAR TREK. Director/producer J.J. Abrams (M:I3, FELICITY) has ingeniously made a stale series poppin' fresh by doing a sequel, prequel and reboot all at the same time. If you haven't heard, this recasts the original series characters (Kirk, Spock, Bones [not the Snoop Dogg character]), Scottish guy, other guy, Uhura, Chewbacca) as young spaceprofessionals early in their careers. But it connects this prequel type beginning to a Leonard Nimoy future through time travel – he has to help out because a badass alien Eric Bana has come from the future to get some revenge on a young Spock. So it takes place in a different timeline where some things are the same as before, and some things are very different. Not only does this premise work as defense against the insatiable nerd worship of continuity, it's also refreshing after so many prequels and reboots of popular characters in recent years. You do get all the "a ha, that's how it all began" or "so that's why he started saying that" or whatever but you also get "oh shit, didn't expect THAT!" For example, Spock making out with Uhura (SPOILER). Would've been funnier if Kirk walked in on Spock doing her doggystyle, maybe wearing some kind of space fetish mask. Oh shit, maybe he's got some kind of bondage gear on his ears? I don't know. Anyway, still a clever moment despite obvious missed opportunities.
Like M:I3 (but on a more epic scale, obviously) Abrams does a great job of keeping the movie constantly hurtling ahead without feeling like a Stephen Sommers style out of control locomotive. It has a fast-paced, fun tone, not heavy but not dumb, and all built around the characters and their relationships. Kirk (played by a guy named Chris Pine) is the lead and there's a great story of the circumstances of his birth and how he comes to join the Federation of Star Trek Guys (FOSTG) due to starting and losing a barfight.
Seeing pictures of Pine it's easy to imagine him being some bland, brooding chunk of meat, but no, he's more of a Han Solo with a little Jack Burton. He's a funny, arrogant dude with many sex partners (some green) who likes to fuck with people. He's "the only genius level repeat offender in Iowa" who fortunately stays true to his rebellious spirit but also happens to be great at what he does. So a combination of talent, coincidence and time travel tinkering make him a hero. Just like all great heroes. Also he rides a motorcycle, like all great heroes and rugged individualists. Spock, I assume, rides a scooter.
Everybody is good in this movie, like the guy who plays Spock. But Chris Pine maybe stands out the most because he's so cool and where the fuck did this guy come from? Apparently he was one of the Tremor Brothers who I enjoyed in SMOKIN' ACES. Anyway, I'm guessing he'll start showing up in everything.
We also follow Spock's path from child to Star Trek Guy and one brilliant thing I didn't expect is that they make Kirk and Spock hate each other. Spock is actually pretty unlikable in this movie, you want to punch the fucker, he's some uptight goodie two shoes tattle tale. But at the same time you sympathize with where he's coming from and can tell that once he learns to loosen up a little he'll be okay.
Since I don't know that much about the STAR TREK I can't tell if this is a chicken or egg type situation, if this is the way they spin it now or if it's why STAR TREK has the appeal it does. But at least in this version, Spock is a fuckin nerd. So it either explains or takes advantage of this longtime connection between the human nerd and the Star Trek. Spock gets bullied as a kid, he gets good grades, he's close with his mom, as a cadet he's a fuckin narc – writes the tests himself, accuses Kirk of cheating. And he even looks like a nerd with his clothes too tight, bowl haircut and stiff walk.
So a nerd can relate to some of that stuff but they also can see Spock as a nerd hero because when the bullies pick on him he beats them up, and because he gets the hot chick that cool Kirk can't even get the first name of. In fact, Kirk has to hide under a bed to see her in her underwear. He's turned into a peeper like the nerds in REVENGE OF THE NERDS. So the tables have turned.
Like IRON MAN it has a sense of humor because its hero has a sense of humor, while the movie itself is taken seriously. You can feel the enormity of this dude going from dude fuckin around in Iowa to commanding a gigantic space ship in its confrontation with a scary fucker named Nero who's crossed time and waited 25 years to have his revenge. I still don't think Bana's gonna ever match his performance in CHOPPER, but this is a good villain. It's more impressive what he does physically than verbally. I like that he does evil things but actually has a pretty good reason to be pissed off, or so he thinks. When you see it through Old Spock's perspective later you realize it's all a silly misunderstanding. Too bad those two didn't talk it out, although we would never have gotten this alternate timeline where STAR TREK and JAMES BOND movies are both exciting. So Nero is a villain with a bit of tragedy, but Kirk's callous dismissal of him at the end is still my favorite part.
The STAR TREK universe is much more varied and visually detailed in this version. It doesn't look like STAR WARS but it has more of that feel because instead of spending 75% of the time in one space ship you see the Enterprise, the badass Romulan ship, some kind of space station, a space academy, Iowa, others. There are a few random background aliens who aren't the usual lazy ass STAR TREK aliens with the bumpy foreheads, but also aren't STAR WARS because they seem to be live action actors altered digitally to have stretched faces or big eyes or whatever. Not the best but kind of a cool touch. In other words, not STAR WARS cantina scene good but not PHANTOM MENACE two-headed race announcer bad.
By the way, did you know Winona Ryder was in this? So she's in an ALIEN movie and now a STAR TREK. I would like to see her meet either Predator or E.T. next. Just the other day I was wondering what happened to poor Winona. She used to be so good and it seems like she still could be, but she doesn't do many high profile movies anymore. And no, I don't think she got blacklisted for shoplifting or whatever. They got security on those sets, she's not gonna sneak off with anything too valuable. And they got insurance to cover those sorts of things. Get this lady back to work, keep her off the streets.
My one complaint about STAR TREK is that same tiresome complaint I gotta make every other movie these days: motherfuckers forgot how to use cameras. You don't go to a STAR TREK movie for the action scenes, so I'm not gonna cry about it, but still. Never thought even STAR TREK would be plagued by the shakycams. There's a funny car chase at the beginning that made me dizzy, I was gonna let that one go, but the blurred out bar fight was worse than anything in TAKEN. The movie's got a nice realistic look so a little chaos can work, I get why you would want that in the skydiving scene. But you still gotta get better coverage during, say, a sword fight, because I can't get excited if I don't know who the fuck that guy is or what exactly he's doing. This can be blamed on Abrams' TV background I guess, but I thought he had a better balance in MI:3 and besides, I saw a second unit director in the credits. If you don't know how to do it hire somebody who does. Only then will you live long and proper.
This entry was posted on Sunday, May 10th, 2009 at 2:25 am and is filed under
Reviews
,
Science Fiction and Space Shit
. You can follow any responses to this entry through the
RSS 2.0
feed. You can skip to the end and leave a response. Pinging is currently not allowed.