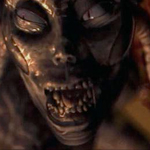 "Don't go. Please! I want a baby."
SPECIES is one of these movies of the '90s that isn't very good but that represents a weird enough collision of influences to be interesting. It's a studio genre movie so it has an all-star cast. Ben Kingsley (PRINCE OF PERSIA, BLOODRAYNE) leads the government monster hunt, and his team of specialists is Forest Whitaker (BLOODSPORT), Michael Madsen (BLOODRAYNE), Alfred Molina (PRINCE OF PERSIA) and Marg Helgenberger (FIRE DOWN BELOW).
Behind the scenes they got a couple of legit horror technicians in the mix: composer Christopher Young, whose eerie score is very similar to what he did for HELLRAISER, and monster designer H.R. Giger does his biomechanical thing like in ALIEN, but this time with bonus eyes and boobs. This was the first time his creatures got the computer animation treatment, an exciting development in those days. It was only two years after JURASSIC PARK and just doing everything digitally was still in the future, they had to put in some effort to do it so it was usually a big deal. The digital parts look almost charmingly crude now, but luckily they got puppets and costumes in there too, like you did back then.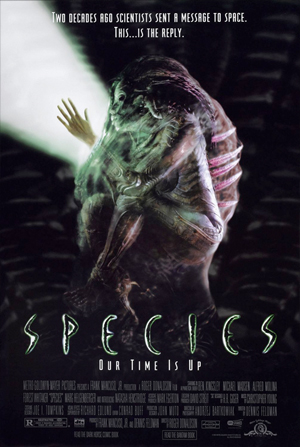 The story is about Sil, a human looking alien girl created in a lab on earth by government scientists who got the DNA sequence from SETI and combined it with a human embryo. I mean, what else were they supposed to do.
You know how it is with kids, they grow up so fast. When they're a pre-teen it seems like they were born only 3 months ago. I mean that literally of course, that's how fast Sil grows. So they start to get cold feet, they try to gas her and she punches her way out of the glass box they got her living in like she's David Blaine.
So Sil is on the loose and maturing by the hour, with unknown powers, weird things moving around inside her, and dreams of Giger creatures humping. She has an instinct to reproduce fast, so she starts looking for a man. And she's very attractive when she's in human form so you expect most of them aren't gonna complain, but the danger is if she scares them or the team is on her tail she might end up twisting their necks or tongue-impaling them. She hasn't learned to be gentle yet.
As a young girl she's played by Academy Award nominee Michelle Williams (HALLOWEEN H20), then she builds a cocoon and comes out Natasha Henstridge (GHOSTS OF MARS). The movie is shot like boring TV, no sense of atmosphere at all (sorry, cinematographer Andrzej Bartkowiak), and the team of experts mostly sit around like idiots with nothing to do. Whitaker is probly the goofiest, being an "empath" whose job is to feel everything real deeply or something. Also Molina has to do a scene where he's a big nerd thinking he's getting laid without even trying. And it's near the end of the movie, way after he should know better.
Madsen's character is the biggest joke though: he keeps showing off about being this secret dirty job motherfucker that the government only calls in when they need to kill someone who's really hard to kill, and then all that means is he has a handgun that he pulls out later. I mean, there is nothing at all to prove he's any more valuable to this than the average cop. Then again, he spends the whole movie flirting with Helgenberger. Maybe he does more when he's not distracted. This is a pretty stupid movie.
But I kinda like it 'cause I like Sil, she's a good monster in the classical tradition. It's not her fault. She doesn't know better, she's just following her mating instincts and defending herself from people who really are trying to kill her.
Some people are nice to her, especially women – an employee on a train, the clerk at a dress store (where I thought she was gonna buy a fancy wedding dress and just wear it around, which I guess is what she does but it's sort of this poofy thing that could pass for just ugly) – but once she tries to jump head first into the L.A. dating scene she has more trouble.
I like how this monster walks obliviously into all this sexism. It started with her very conception, when she was engineered as a female because the scientists thought that would make her "more docile and controllable," according to Kingsley. That turns out to not be the case, in my opinion.
She finds out that a club is where to pick up a man, and the doorman lets her cut past the line, saying "You. Legs. You're in." She has to compete with other women, and ends up taking her shirt off and walking around the club with just a bra. Nobody says anything. After going home with a guy even Sil starts to get second thoughts, and the guy doesn't understand that no means no. Don't worry, he gets what he deserves.
The funniest part is after Sil gets a glimpse of Michael Madsen and then he shows up walking handsomely into her biomechanical sex dream. She has a crush on him!
Speaking of dreams, it should be noted that there's one with a, uh, Giger train. You know, with teeth and veins and ribs and everything. I read that Giger was really bummed they only showed a quick glimpse of it. He really believed in it. Years later they almost re-used the design for POLAR EXPRESS. I made that up. But it's true.
Oh, here's a pretty inventive part. Instead of the thing where they are suddenly frightened by a cat jumping out they do it with a squirrel. This is a whole new ballgame, people.
Director Roger Donaldson was coming off his pretty decent remake of THE GETAWAY, which also had Michael Madsen in it. I don't think this speaks highly of his directational skills. It's interesting to compare it to UNDER THE SKIN, since both are about incredibly hot, often naked alien women seducing guys and killing them and they have no chance of escape because of boner. They're sci-fi movies about the fear of female sexuality, except one is vague and arty and the other one is mainstream and bland and normal.
Well, to be fair there are some weird bits in SPECIES, and not all of them in Sil's dreams. Like there's the part where Whitaker sees a mid-transformation species baby just kickin it in the sewer.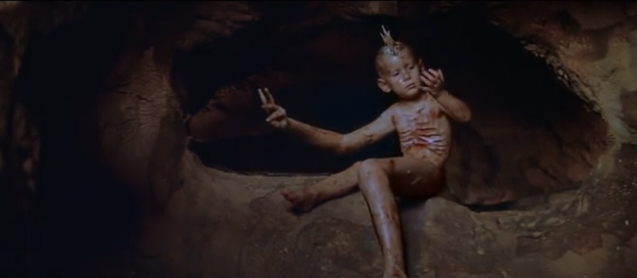 You gotta respect that. But for the most part they have opposite approaches to similar material. Everything that's in UNDER THE SKIN is missing in this one: mood, atmosphere, style, eeriness, naturalism, tension, mystery, believable human characters. It does have all those other things that are purposely so light in UNDER THE SKIN: talking, explanations of what's going on, etc.
It's too bad we can't have a mixture of the two. I think SPECIES actually has some great satirical ideas about gender going on beneath the surface, but they come across kinda weird, almost like they're not supposed to be funny, even though I think they are. For what it's worth, writer Dennis Feldman's previous movies were all pretty comedic: JUST ONE OF THE GUYS, THE GOLDEN CHILD and REAL MEN (also director). Since then all he's done is VIRUS with Jamie Lee Curtis.
This would actually be a good candidate for a remake by someone smart enough to focus on that subtext and skilled enough to do better than this.
P.S. Did you guys know that the legendary chupacabra is actually Sil? At least that's what the author Benjamin Radford concluded. The first eyewitness account basically described the monster in the movie, happened a month after the movie came out and the witness admitted to having seen it. I don't know if that means the chupacabra is trying to make a baby with all those goats she's sucking or what. But it's interesting I think.
This entry was posted on Wednesday, October 15th, 2014 at 11:27 am and is filed under
Reviews
,
Science Fiction and Space Shit
. You can follow any responses to this entry through the
RSS 2.0
feed. You can skip to the end and leave a response. Pinging is currently not allowed.