Thomas Jane plays Malone, a fedora-wearing, '52 Buick driving, ten thousand bullet firing, fake film noir style opening scene narrating, badass private eye motherfucker in a mostly empty city portrayed by Spokane, Washington. The movie takes place in the modern day (email is mentioned once) but obviously takes most of its cues from the cliches of detective stories/film noir, including the femme fatale client, the fast, back-and-forth quipping and, you know, his hat. He's old fashioned enough that he keeps calling women "sister." Also, alot of the score is that cheesy type of saxophone they always use in modern movies and TV as a code for "it's like an old private eye movie."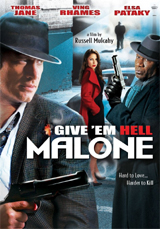 The filmatic technique is not old school though, at least not that old school. There's a bunch of gratuitous freeze frames that seem more Guy Ritchie/opening-of-TRAINSPOTTING than, say, badass BLACK BELT JONES opening credits. I'm not sure what the difference is, but there is one. There's also some bright red CGI blood and a slo-mo CGI bullet going through a CGI nose. But mostly just in the opening bloodbath. It's not a constant barrage. I didn't mind, but alot of people seem to be allergic to that stuff so you've been warned.
I was pretty excited for this movie, but the fedora and shit should've tipped me off that it's a little too cute for its own good. I would prefer a movie called GIVE 'EM HELL MALONE that doesn't realize that title is goofy. Still, I enjoyed it overall. There are some groaners there but most of it is a fun time not at the movies (because it's DTV).
In the opening Malone shoots a whole bunch of dudes and steals a case from them. Afterwards he opens the case – we don't really understand what's inside, but he describes it to his employer as "the meaning of love." (Oh, I get it, the mysterious briefcase gag. The mcmuffin.) Having opened it gets him involved in a whole mess where he has to try to save the client's brother from a Japanese school girl assassin at an amusement park, and his old partner Ving Rhames tries to kill him, and also there's a disfigured pyromaniac named Matchstick. That character almost looks like a reject from DICK TRACY, but the performance by Doug Hutchison is weird and creepy and darkly funny. (And a total ripoff of Heather Ledger's Joker, they say on the internet. But I thought he was good.)
There are alot of funny lines and ideas in this one. Although the opening has a few annoying stylistic devices it also has a pretty great bad-guy escape – he jumps out a window and crushes himself on another level of roof. Then he flops himself painfully to the street because a wino is about to steal the case. Then he steals the nearest vehicle but it's a bright pink flower delivery van so he mutters, "Pink. Fucking pink."
Malone's backstory is told like a legend, and it's like an even more over-the-top version of the wonderful family reunion massacre in Jane's version of THE PUNISHER. They kill his extended family, "his entire gene pool," so he tracks the killers down, rips out their hearts with his bare hands and eats them. The lead villain scoffs at this story because of the difficulty of breaking one's hands through a sternum.
Another hole in his story: his mom is still alive. He goes to her nursing home all the time so she can take the bullets out of him. She's an alcoholic so she has alot of booze to pour on his wounds. He usually has on a bloody bandage. An interesting note: even his mom calls him Malone, so I guess it's his first name. So he's not the same Malone that Burt Reynolds played in MALONE. "You got a first name?" "Yeah."
By the way, his mom is the one who utters the titular words of encouragement.
The best thing the movie has going for it is Thomas Jane. This guy is very dedicated to some nerdy things, he'll talk up comic books or detective novels just like anybody my colleagues at the Ain't It Cool News would idolize. But unlike the rest of them he's authentically manly. At this time I would like to call your attention to his interview on the DVD extras. He's in an alley somewhere in Spokane wearing a tank top under a big coat with a fur collar, and he's really annoyed with a beeping sound going on nearby. He incorrectly believes they'll cut that stuff out, so every time it starts beeping again he stops what he's saying and stares off to the side bitterly, also taking the opportunity to puff on his cigar. I don't know why, but I found it very compelling. Somehow the combination of absurdity and cool in that interview explains why Thomas Jane makes this movie work. I went back and forth on the goofy tone of the movie, but he never did. He knew exactly how to play it seriously.
Jane's best roles have been in mid-range type movies – not big studio pictures, but with some funding, not super low budget. STANDER, THE MIST, even THE PUNISHER fits that category. I wish he'd get more roles like that – doesn't have to become a superstar, but just find some good-sized projects that interest him. But if those aren't available right now I think it's great that he's finding unusual DTV movies to work on like this one and DARK COUNTRY, which he directed and which is a great showcase of his acting. It's a much better route than just taking whatever mainstream movies will hire you.
The second best thing in this movie: the pacing. It keeps the energy up. Plot constantly in motion, lots of confrontations, lots of action, doesn't dilly dally.
Worst thing about it: definitely the music. When you're trying to do a retro kind of thing the music has to spot-on or the whole movie seems phony. Actually, Jane did well with that in DARK COUNTRY. This one is trying hard to imitate different styles but without any authenticity or the proper instrumentation. When a keyboard tries to sound like a horn nobody wins. It just sounds cheesy.
Also, fucking French Stewart is in this movie. The guy who took over as INSPECTOR GADGET for the DTV sequel. Not in it that much though, I was relieved.
Another complaint: the title is sorely lacking an exclamation point.
The director is Russell Mulcahy. He's not exhibiting the chops of the guy who did RAZORBACK, HIGHLANDER and RICOCHET, but he's getting it back. Definitely more exciting than the blandly directed SCORPION KING 2: RISE OF A WARRIOR OR WHATEVER.
At the end it says, "To be continued…," and I thought, "I'd watch that." So it's not too shabby. Just the right amount of shabby, I guess. I kind of liked it.