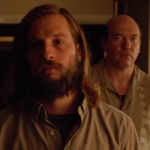 I'm real late to the dinner party (get it, because this is a movie about a dinner party), but THE INVITATION is a potent suspense thriller well-deserving of its reputation from film festivals and indie circuit release from Drafthouse Films. It's tense and uncomfortable and it's best not to know what sort of bad thing it's leading up to, but don't worry. You can sense its presence from early on.
Will (Logan Marshall-Green, who I did not recognize as the whiny boyfriend I hated so much in PROMETHEUS) and Kira (Emayatzy Corinealdi, MILES AHEAD) are a couple invited to this other couple's house out in the Hollywood Hills. It's an awkward reunion for a close circle of friends who haven't seen or heard from these party-givers in two years. There's love and laughing and joking, but also weirdness with Eden (Tammy Blanchard, BLUE JASMINE)'s extra long hug of Will. And it starts to come out that not only are they exes, but their marriage ended because of a tragedy. They had a son who died in an accident right here at this house.
In the turmoil they went their separate ways, finding their own methods of dealing with it. Will seems to turn it all inward, but Eden claims to have found happiness at a retreat in Mexico. Everything turns super uncomfortable when she and the new hubby David (Michiel Huisman, BLACK BOOK) turn preachy about it. They even make everybody watch a promotional video! The friends try to take it in humor and friendly open-mindedness, but exchange glances of disbelief.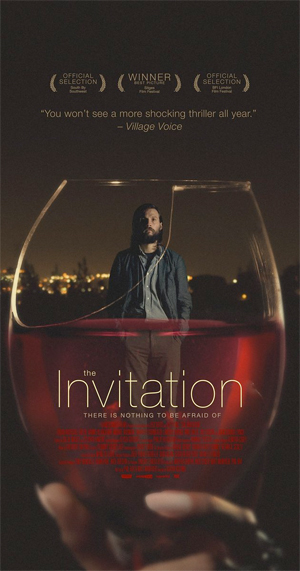 Much of the movie's tension is social. Will, as a central victim of this tragedy, is pissed off by David talking about it as if he owns it. The friends try to keep Will calm. Kira, as the new girlfriend who's accepted but not close with these people, is in the worst position. And I don't know, there might be something going on with their relationship too. There are times when you'd think she'd rush to make sure he's okay, but she doesn't.
As everybody tries to brush off all the weirdness, Will gets more upset and suspicious. There are two people at the party who aren't part of this circle, both weirdos from the cult. When Pruitt (John Carroll Lynch, GRAN TORINO) gives a little TMI about the cult helping him find peace after doing time for murdering his wife, there's more reason to worry. But Will starts making accusations that don't necessarily hold up. Kira is horrified that he's out of line and the others worry that he's breaking down. He's not sure either, I suspect.
I guess this would be considered a slow burn, but the burning is most of the fun. It doesn't feel uneventful. To me it's leading to a satisfying payoff, but don't expect some shocking twist that justifies the rest of the movie. It's almost a relief, an end to the mystery of what exactly is gonna go wrong here. A moment of truth when they get to stop worrying about saying the wrong thing and just try to survive.
The acclaim for this has earned a comeback for director for Karyn Kusama, who came on the scene with the big-deal-at-the-time indie drama GIRLFIGHT, which gave the world Michelle Rodriguez. Kusama's two Hollywood followups, AEON FLUX and JENNIFER'S BODY, were poorly received and seemingly killed her career. I agree that they're flawed, but both have more good qualities than they get credit for. In fact, it was Charlize Theron's game performance in AEON FLUX that made me a fan. When I first heard she was gonna be in a MAD MAX movie I didn't think about how much I loved her in YOUNG ADULT (from the same writer as JENNIFER'S BODY) as much as I thought about her dedication to badass movements and poses in AEON FLUX.
In both of those Kusama apparently struggled to get her vision through the studio obstacle course, so it was a smart move to go small with this limited-location, dialogue heavy script by Phil Hay & Matt Manfredi (THE TUXEDO, AEON FLUX, R.I.P.D., RIDE ALONG 1-3).
Early on (after an intense opening that's weirdly similar to GET OUT's) I thought there were a few of those self conscious line deliveries that you get in the more amateurish indie movies that play a film festival or two and never go anywhere. But the whole ensemble quickly get into their groove, with a particularly strong performance by Greene. This is a gripping suspense movie that finds its horror in grown up topics like grief and how it affects relationships between spouses and friends. And like Eli Roth's KNOCK KNOCK, Kusama finds spooky atmosphere in the Hollywood Hills, where there are beautiful, modern, rich people homes that are geographically isolated enough that they might as well be the TEXAS CHAIN SAW MASSACRE house. If some shit went down while you were in there how the hell would anybody notice?