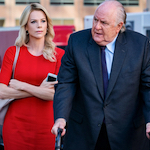 During my annual Oscar-bait viewing I was scared away from multi-nominee (best actress, best supporting actress, best makeup and hair) BOMBSHELL, about the Roger Ailes sexual harassment scandal at Fox News, when my friend Matt Lynch tweeted that it was "worse than VICE!" That was an effective and immediate optimism killer. Now that it's on video though I gave it a shot and I don't agree, it's not nearly as obnoxious or frustrating as VICE. But what good does that do to me when it's not very good either?
Three great actresses play three Fox News employees with their own little stories. Two are playing known real life TV personalities. All three are blonde. Charlize Theron (REINDEER GAMES) plays Megyn Kelly, the star of her own show who was held out as the smart and independent woman at Fox because a couple she noted Trump's sexism a couple times during the 2016 election. Of couse she also did the same bullshit as every other jerk on that network (about the only example in the movie is her crusade against non-white depictions of Santa Claus).
Theron, one of my favorite working actors, captures Kelly's demeanor well, and at times the makeup job is uncanny. But I kept thinking "Who does her accent remind me of?" and once I realized it was Mira Sorvino in ROMY AND MICHELE'S HIGH SCHOOL REUNION I couldn't unthink it. (read the rest of this shit…)
VERN has a new action-horror novel out called WORM ON A HOOK! He has been reviewing movies since 1999 and is the author of the film criticism books Seagalogy: A Study of the Ass-Kicking Films of Steven Seagal and Yippee Ki-Yay Moviegoer!: Writings on Bruce Willis, Badass Cinema and Other Important Topics as well as the crime novel Niketown.