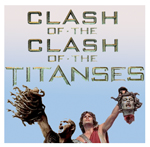 Like some sort of mythological Greek hero whose companions have been struck down in the midst of a daring journey,  I stand alone on this: I liked the CLASH OF THE TITANS remake.
I cannot lie. I thought it was good. Don't sacrifice me to a kraken, I have the right to admit this publicly. Remember, the first amendment is about protecting all speech, no matter how vile. Just give me a chance to try to explain where I'm coming from here.
I probly saw it under better circumstances than most. I had pretty much written it off based on what everybody said, but the trailers for the sequel have such cool monsters that it inspired me to finally get around to renting this one. While alot of the people who told me it sucked saw it in reportedly shitty fake 3D, I saw it in vivid blu-ray. While they saw it when it was fresh and they were hoping for good things, I saw it after a couple years of everybody else grumbling. I also saw it a few days after Tarsem's IMMORTALS, which I really expected to like, but found to be completely imboretal.
So I'll be damned, Louis "Not as good HULK" Letterier's remake is good pulpy fun, better looking and less jokey than THE SCORPION KING but with a similar knack for keeping things moving along and not being pouty and broody all the time. It's finally the kind of rousing lowbrow fantasy adventure I've been waiting for since LORD OF THE RINGS gave birth to the Digital Age Fantasy Movie. It has what can be fun about low grade swordfests: a storyline built around a menagery of special effects monsters, operatic drama pulled from a mish mash of ancient myths and modern action archetypes, pretty clever ideas about what life might be like in a world where everybody knows there's monsters and gods.
But it supports Vern's Theory of Swords and Sorcery, which states that the most enjoyable ones have a tough guy as the hero (CONAN THE BARBARIAN, SCORPION KING, WOLFHOUND, sort of BEASTMASTER) and not a bland weenie (DRAGON SLAYER, LEGEND [as beautiful as it is], original CLASH OF THE TITANS, everything else) and direct, not-meandering story. The story here is not forged into a perfect blade like CONAN THE BARBARIAN (original), but I think it's pretty good, using various methods to make it more involving and exciting than the 1981 version. I am about to become the historic first person to ever give it any credit for its writing. Please have my plaque ready when I'm finished.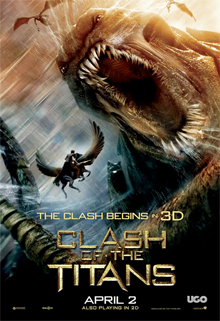 The smartest part of the movie that nobody acknowledges: The clash in this one is not only between sea-beast and demon-head, but also between Man and God. The world was created by Zeus, but let's face it, Zeus is an asshole. I love the idea that humans get fed up with their shitty toga-wearing lives and decide to give the Gods (the 1%?) a piece of the ol' garbage-can-through-the-window-of-Sal's-Pizzeria. In a world where everybody knows that gods are real that sort of rebellion would be inevitable, right? You can do anything and you're treating us like this? Can't you use your magic powers to make shit more comfortable down here? Mortals would either have to live their lives cowering in fear or man up and clash with the titans.
The shit is on when humans give a statue of Zeus the Sadaam Hussein treatment and knock it off a cliff. And they basically go on strike, because Zeus (Liam Neeson from DARKMAN 1) needs their loving prayers, it's his energy source. The only thing our side didn't count on was that Hades (Ralph Fiennes, SCHINDLER'S LIST reunion) is powered by our fear and is using the opportunity to mount an olympian Mount Olympus coup. And come on man, even if Zeus didn't live up to all his campaign promises I don't think we can afford a Hades administration.
The big debate among humans, now that the war is started: should we just sacrifice this princess to stop the kraken from killing us, or should we fight the kraken? Argument #1 is like, shit is bad, so let's put it all on this one authority figure. It'll be easy. The Sacrificers stay behind to try that method while Perseus and his squad follow argument #2, the no-negotiating-with-terrorists route. Like in the original they go to the three witches to find out how to kill the kraken, those gals send them to Medusa, etc.
In this version Perseus is Sam Worthington of AVATAR and ROGUE fame. He gets alot of shit as an actor but I like him, I think he has a good tough-guy-with-inherent-integrity presence if not a great range so far. Whatever your trouble with him I will not accept you telling me that he's a step down from Harry Hamlin. I mean come on, pal. Let's be serious here. I'm sure he's a nice guy, but– Harry Hamlin.
Obviously with Worthington in the role it's a much tougher Perseus. He doesn't need magic weapons in this version. No invisibility, unpolished shield but good enough for a bit of a Medusa reflection, and he turns down the magic sword Zeus tries to give him. He doesn't need Burgess Meredith either. To be fair to Hamlin-Perseus, I have to admit that Worthington-Perseus gets his sword skills as soon as he tries fighting, just because he's half god. So I can't claim he earns it all on his own. Also you can tell he's part god because of his buzz cut. How else would you cut your hair like that back then other than magic? Still, he seems more like a hardworking half-god, and way more of a badass.
Worthington-Perseus doesn't have time for no love story, he doesn't do all this to impress a pretty girl. I'm not saying he's gay, but he doesn't give a shit about marrying or saving Andromeda. He just wants revenge on his biological father Zeus for raping his mother and killing his adoptive parents. To him Andromeda is just some lady tied up in front of the giant monster he wants to kill. Rescuing her is incidental. In fact, it's more about not giving in than about saving a life. Sacrificing Andromeda is for sissies.
The witches he faces are a little freakier too. Instead of sharing a giant marble that they see with they have an actual eyeball, with the ocular muscle thing hanging off it and everything. He picks it up and dangles it over a ledge. Hamlin-Perseus would probly wince and make an "ew, gross!" face before picking it up, Worthington-Perseus doesn't hesitate. He's a Perseus that'll get his hands dirty, you know?
On the topic of Bubo, the clockwork owl: they just use him as a punchline. In one scene Perseus pulls him out of a weapons locker and asks what it is, and he's just told to put it back. It's a funny joke aimed at those people who still hold a grudge against the cute thing that was in a movie they grew up on but not against the rest of the movie. But personally I'd like to see Bubo actually be a character and they could still use the same joke, like any time he shows up Perseus is grumbling "oh, for fuck's sake" like it's the most annoying thing in the world. Then both sides of this divisive Bubo issue would sort of get their way. I am a uniter.
One big improvement I can't believe people don't appreciate is the characters in his Fellowship of the Severed Head. In this one they have names and backstories, I could tell them apart and hoped they'd survive. He even has Mads Mikkelsen from VALHALLA RISING on his squad.
Calibos is pretty different in this version. He's a guy (Jason Flemyng) in makeup, no calve's legs or tail. He doesn't look as cool, but he's a more tragic character. This time he's the king who was married to Perseus's biological mother. When Zeus raped and impregnated her (more on that later) he got jealous and that's why he (not her father) put her and the baby off to sea. Later he was outcast and turned into a monster and Hades further monstrifies him. So he's a terrible person, I disagree with how he handles all this, but he did start out as a victim. So he gets a little Darth Vader moment at the end as he dies. Nice touch. Spoiler.
To me the key scene in winning me over is when they face the giant scorpions. Instead of sprouting out of Medusa's blood toward the end it's from Calibos's blood early on. Calibos attacks our boys in the woods and runs away after Perseus cuts off his hand. Somebody asks "Who was that?" and Perseus says, "Let's ask him."
So they go after him and find some of his blood, which grows into a giant CGI scorpion that they have to fight. This is not something I usually do, but I would like to praise the handheld camerawork in this scene. It's held by hand, but not in the shaky BOURNE type of way – it's shot like the operator is actually trying to hold it still and get a clear shot of everything. And the lens gets some dirt and blood on it. It's subtle, most people probly wouldn't even really think about it. But subconsciously it adds a human touch and adds to the reality of this illusion that there really is a monster there and they're really fighting it.
Killing the scorpion is a long and difficult ordeal for the team that ends with Perseus tearing out of the beast's exo-skeleton covered in goo (see also BEOWULF and JOHN CARTER). But they all laugh at him covered in scorpion goo, a cathartic release after a difficult challenge that they barely conquered.
Then they hear screaming, and some of their colleagues come running over the hill… followed by three more of those fucking things.
So it's a good monster battle followed by a human moment followed by an "oh shit" moment. That would've been enough to get me on the movie's side, and then they take it to the next level with these guys called the Djinn that show up. These are the coolest 21st century addition to the Titanverse. They're dressed like desert nomads, they have glowing eyes and skin like cracked wood and they scare away the scorpions. Perseus's boys explain that they're evil sorcerers that you should stay the hell away from, but Perseus (being Worthington-Perseus) says, "Well, somebody should thank them."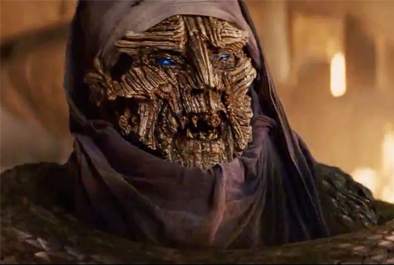 Before long one of these Djinns is on the team. Just one of the boys. Djinn don't like the gods either, and Perseus isn't as racist as everybody else, so he trusts this guy. This is so great to have a monster on the team. He's kind of like an evil Chewbacca. He doesn't speak English, he just makes a weird roar every once in a while when stating his opinion. The other thing is, the humans don't team up with the Djinn at first, but when they run into them again they've domesticated the giant scorpion! Not just riding it, they have a tent built on top of it, and they invite our boys inside. There are shots just like in LORD OF THE RINGS, those helicopter shots of the team hiking on top of mountains on their journey, but in this one they're riding on a giant scorpion, and it looks pretty real.
So let's get this straight: Perseus's mom's husband, mutated by Perseus's biological uncle, has blood that grows into a monster that Perseus now uses as a beast of burden. Small world, huh?
Considering the great special effects in the original CLASH it seems like they shouldn't make this movie unless they can bring to the table the best effects work currently available. Well, that's not exactly what they did, but there are definitely some cool monsters. The Kraken is especially cool, it seems convincingly enormous as the little Pegasus and bat creatures fly around it like butterflies to a man.
The one effects scene that I think could've been better is Medusa. She's got alot to live up to with the original, and they do base her on Harryhausen's snake-body design. I don't know, she's pretty cool, but the way she moves around real fast it doesn't seem as real.  I have that problem with alot of cgi beasties. If they slowed down they'd have more character. And I think they should've kept Harryhausen's ugly, scaled face. They go with a traditional pretty-faced Medusa, but they're not up to the task of CGIing a realistic human.
But I definitely gotta give credit for the part after she's been beheaded, where her body continues to wiggle around, blindly taking swipes hoping to hit him. Then it sort of flops over a ledge. This is some great animated acting in the Harryhausen tradition.
I think Pegasus on the ground was a real horse with wings added digitally, and that works really well. There's one probly non-animated moment that reminded me alot of Harryhausen, when Perseus is unconscious on the shore and Pegasus tries to wake him up by stomping on the ground, splashing water. It seems like a genuine horse thing to do. (A good guy horse, not a bad Enumclaw type horse of our nightmares.)
So I think it's a fun monsters & swords questing movie, but there's also some weird stuff going on underneath the surface, not necessarily all intentional on the part of the filmatists, that I enjoy thinking about. For example there's a mistreatment of women that's ingrained in this culture. Perseus is the product of rape – Zeus morphed into the king to fuck his wife. And then he turned back into Zeus and grew wings and flew off, so she'd know what just happened. Not cool. But like I mentioned before the King isn't any better to her – after she has baby Perseus he locks them both in a coffin and throws them in the sea. Talk about blaming the victim.
And poor Medusa has a tragic backstory too. They tell us she was a beautiful woman who was raped by Poseidon, so Athena made her into this turn-you-to-stone snake monster to prevent this from happening again. They mention something about hiding her away in this temple where women aren't allowed so that other women wouldn't be harmed by the stone-stare, but it definitely sounded to me like Athena was blaming poor Medusa, like she thought Poseidon couldn't control himself or something. Incidentally, the GOP is currently trying to push this same turn-rape-victims-into-a-snake-monster women's health care policy through in a couple states.
Anyway, it would be nice to see the ladies get some justice in Titanworld, but the movie treats them with a cold heart. We hear a good reason to feel bad for Medusa, then Perseus calls her a bitch and chops her head off. So he's not the most enlightened movie hero and this is not a just world he lives in.
Look at his relationship with his dad. At first it's there's no need to argue, Zeus just don't understand. But after the dust settles Zeus seems to have sort of a tentative support of his son. It's like the estranged son grows up, he's tasted kraken blood, he mellows out a little and tries to learn to get along with the dumb bastard that conceived him. And it's imperfect but they give it a shot. But are we as an audience comfortable with this? Isn't he a little buddy-buddy with Zeus considering it's the guy that raped his mom? I can understand forgiving the releasing of the kraken and all that, but the other part…
One of the credited writers is Travis Beacham, the young man who did Guillermo Del Toro's upcoming PACIFIC RIM. At some point his script was rewritten by Lawrence Kasdan for director Stephen BLADE Norrington, but whatever Kasdan contributed he didn't end up getting credit. Somebody said there was alot of reshoots and moving plot points around and I know there's a (not as good) alternate ending on the DVD. So it would probly be fair to say that some of this is messy writing and unresolved leftovers from previous drafts. But for me it works as extra flavoring, little ironies and questions to ruminate on after coming down off the high of a dude on a flying horse using a severed head in a bag to kill a sea monster the size of a mountain.
I liked this one. I apologize for any distress or turmoil I have caused you and your loved ones. I never wanted to hurt anybody, you gotta believe me.
This entry was posted on Thursday, March 29th, 2012 at 5:12 pm and is filed under
Fantasy/Swords
,
Reviews
. You can follow any responses to this entry through the
RSS 2.0
feed. You can skip to the end and leave a response. Pinging is currently not allowed.