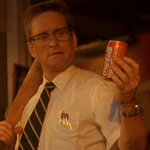 Joel Schumacher's FALLING DOWN (1993) is a movie I've always hated for what I thought it was saying. Watching it again a couple decades later I think I was partly wrong. Maybe even mostly wrong. But I still can't get all the way on board. I'll try to explain why.
Michael Douglas plays a defense industry office drone in L.A. who one morning gets stuck in traffic, loses his shit, decides to abandon his car and walk home. And along the way he decides to go nuclear on anyone he thinks is wronging him. This includes gang members who try to collect a toll for him sitting on their rock and a Neo-Nazi (Frederic Forrest, VALLEY GIRL) who shows him his weapons cache, but also a convenience store clerk, the staff and patrons of a fast food restaurant and random construction workers. As he travels he builds up an arsenal by taking people's weapons, like a video game that didn't exist yet at that time.
(He's credited as "D-FENS" after his vanity license plate, but they find out his name is William Foster, so that's what I'll refer to him as.)
We learn that "home" is actually his ex-wife Beth(Barbara Hershey)'s house, where he wants to see his daughter Adele (Joey Hope Singer) on her birthday, but he's not welcome there. His calls become increasingly creepy, but the police won't listen to Beth. The protagonist is Prendergast (Robert Duvall), a desk jockey cop on his last day before retirement who figures out a pattern of incidents and tries to catch this guy, without the support of the department or his antsy wife (Tuesday Weld). Like Emilio Estevez in JUDGMENT NIGHT we're eventually shown that trying to be nice to his wife is holding him back and we're supposed to cheer him on when he tells her to shut up.
It works out well that the two main characters are just wearing dress shirts and ties. Other than the lack of cell phones and the fact that the can of soda that sort of starts his rampage is a Coca-Cola Classic (red white and you) it seems fairly timeless. On the other hand there are a few important background details that do specifically place it in the early '90s:
#3: MC Hammer posters during climactic showdown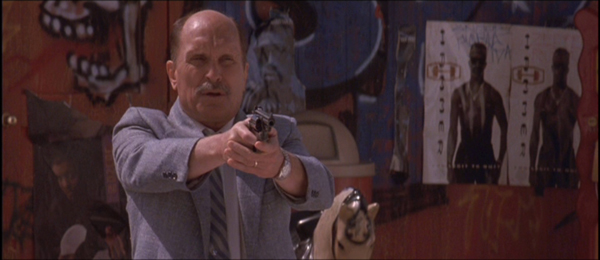 #2: Arsenio Hall Show billboard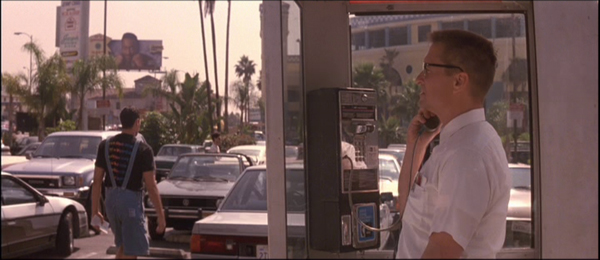 #1: Promotional Sir-Mix-a-Lot inflatable ass!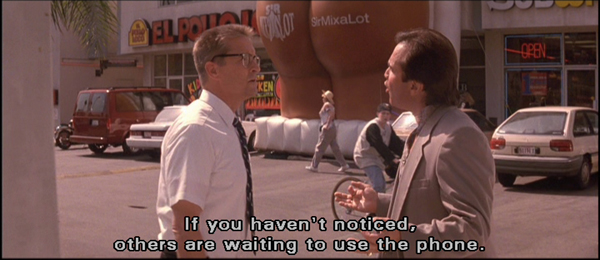 In fact I'm surprised there's not a part where a dude pulls up playing Young MC really loud on a car radio or boombox and Foster rants about how it's not really music. I am positive that he is uncomfortable with the direction pop culture is going. But what I didn't get back in the days of baby having back and Hammer not hurting 'em is that this is mostly meant as a critique of a type of middle class white paranoia that continues to be a phenomenon today. This guy yearns for the old days, we hear it in his complaints and see it in his haircut. To him "the old days" is before he was exposed to other races and classes, and he includes their existence on his list of urban stresses. One thing driving him crazy when he's stuck in traffic is a school bus full of noisy kids. Right before he snaps there's a series of shots of specific kids, one Asian, the rest black. Later he almost gets onto a city bus but he gets bumped around in the crowd of black people clamoring to get on the bus, and he decides to walk away. He starts his rampage after arguing with a Korean convenience store clerk (Michael Paul Chan, RAPID FIRE) who he thinks doesn't speak English well enough. He's mad because the clerk won't give him change for the phone and then because he wants to buy a can of Classic Coke and thinks it's overpriced. The stereotypical Latin gang members we'll give him a freebie on since they started it, with a switchblade of course. (They're unarmed when he beats them up, then come back with a big bag full of machine guns and shit for, obviously, a drive-by.)
Ironically, if he was willing to overlook racial and class differences and take the time to talk to his fellow Los Angelenos he would find out that he has more in common with them than he thinks. Or even if he just listened to their songs:
Considering all of Foster's interactions with minorities it's no wonder the Neo-Nazi running the army surplus store tells him they're the same. And I realize now that that's the point. He thinks he's against bigotry when he sees it in this guy, he can't see that he's part of the same continuum.
Yes, as Douglas explains on the DVD commentary track, "This man is nuts. He is out of his mind." The movie isn't saying he's doing the right thing. However, I think it would be a little disingenuous to pretend that we the audience aren't supposed to get some kind of satisfaction from the targets he chooses to go crazy on. And I believe this scene has a tell tale sign in it. Here is a guy we've seen incensed by black children and adults, Latinos and Asians, yet when the store owner is being bigoted toward a gay couple he seems offended. They're the rare minority characters in this movie who are not played broadly, and they also have something in common with him since they get angry at how a business is treating them and trash some of the merchandise. (Much more deserved here than any time Foster does it.)
It has always bothered me that this character fumes at almost every minority but sympathizes with the one the director happens to be a member of. Depiction is not endorsement, but this detail seems fishy.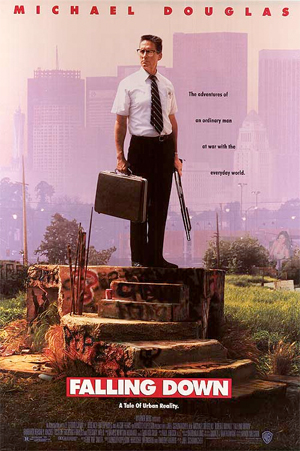 Of course Schumacher and the movie don't agree with Foster's rampage. But doesn't it feel like he's supposed to be an anti-hero, with a certain amount of I'm-mad-as-hell-and-I'm-not-gonna-take-it-anymore wish fulfillment in some (most?) of the things he does? It seems to me like he's supposed to be a populist hero when he chews out old rich guys on a golf course or when he storms a mansion barbecue but calms down when he realizes it's the groundskeeper, not the owner. And the only black character he maybe sympathizes with is "Not Economically Viable Man" (Vondie Curtis-Hall, director of WAIST DEEP), a guy protesting outside a savings and loan that denied him a loan. He has this resentment of the richer-than-him who have used the system unfairly, yet his biggest hissy fits are saved for service people and the working class.
I think there's supposed to be satisfying stick-it-to-the-man-ishness in a similar vein to Curb Your Enthusiasm. But the different is Larry David is usually right. He's an asshole, but he's right to be annoyed by little things in life, and it's fun to see him make assholes squirm. This guy, I would argue, is more out of line. Just because some business's policy doesn't fit what he needs at that moment doesn't mean it has no purpose. Maybe, as Foster thinks, the Korean clerk or store owner Mr. Lee is being a dick by not giving him change for the pay phone. Or maybe he has to have that policy because he has people coming in all day every day asking for change and if he makes exceptions he opens the floodgates. Maybe they're even the same minorities and panhandlers who Foster hates so much, and maybe Mr. Lee is a total racist too, but not enough that he's going to say "you know what, usually I have a policy of not doing that but I see that you're an upstanding, hard working white man with a tie, so I'll do it for you." Maybe junkies ask him for change so he'll open the drawer and they can try to rob him. Or maybe he just needs to keep the change for his business because he's the only one working and he can't run to the bank if he runs out from giving it all to the phone company. Who knows?
One thing we do know: he is not responsible for food prices going up since Foster was a kid. He didn't do that one.
The worst part is the scene at the "Whammy Burger," where he takes the whole restaurant hostage because they refuse to serve him from the breakfast menu a few minutes after the cutoff time. This is clearly supposed to be a really relatable situation where we go "I know, why do they fucking do that, they are so mean to me!" But I don't think it's very common for fast food restaurants to have a cutoff time like that, and if they did I think they would have more leeway than that, and if they didn't he should not be such a fucking baby about it, especially since he ends up changing his mind and wanting a burger anyway after threatening dozens of lives at gunpoint.
It's really a pet peeve of mine when people are rude or impatient with service people, or if they're a pain in the ass to waiters, or are picky about what earns a good tip, or like to say the phrase "let me talk to the manager." If I notice people complain alot in conversations or on social media about the stupid guy at the place that did the thing or got the order wrong or whatever, to me it's a red flag about their character. If you're shitty to people who work shitty jobs for shitty pay then you have alot to learn in life and you're not as good a person as you think you are.
William Foster and the people I'm referring to in the above paragraph just assume that the people working at "Whammy Burger" are stupider than them, because they're young and they don't get paid much and they work in a job that's not considered important (although of course it's so fucking important to them that they get the specific sandwich they want at that moment). Well, maybe they really are stupid and going nowhere in life. In that case you should be nice to them. Or maybe they're working their ass off at a job harder than you ever had and saving money to go to school to get a job like the one you used to have but threw away through your own actions.
And anyway if they have a different menu at different times of day they have to have the correct ingredients prepared and equipment available. You don't fucking know. They're a business with posted hours, you'll have to live with it. You are not better than Sheila. The fact that not getting the fast food sandwich you want at that exact moment is crippling to you proves this. If you didn't get fired from your job for being a crazy asshole Sheila wouldn't go tell you how to build your bombs to kill people with.
I'm team Whammy Burger, buddy. The customer is not always right, you entitled weiner. You have just proven that.


I also question the level of paranoia that seems meant to be relatable. After being outraged by a sidewalk and then a street that are closed for construction, Foster decides that nothing is actually being done on the streets, they're just tearing them apart and putting them back together to make money. And of course the person who he makes answer for this alleged high level conspiracy is just a random construction worker, who first denies it and then acts like he's been caught red-handed. Foster blows up the street with an RPG (with help from a young kid, who knows how to use them because he's black, and therefore streetwise) and it's all played for stick-it-to-the-man chuckles. Are we really supposed to believe that shit?
Early in the movie it seems like we might be supposed to believe that Foster is a nice guy who has been pushed too far. So there's an uncomfortable moment when an officer who comes to talk to Beth scoffs at finding out she got a restraining order even though he's never hit her or her kid before, that she just thinks he has the potential for violence. "He could, I think."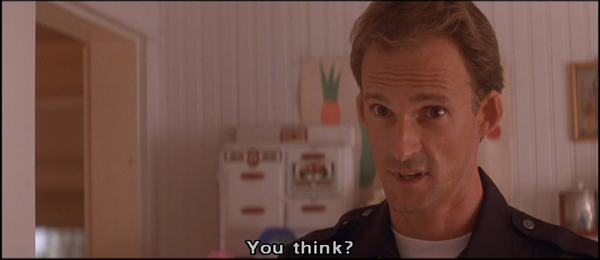 He suddenly doesn't believe she's really in danger. He makes her feel guilty about it. Hershey is excellent in the scene, conveying so many complex emotions with her face. Otherwise it would seem like a smear on her character.
Here, unfortunately, is an example of a person who really liked that scene: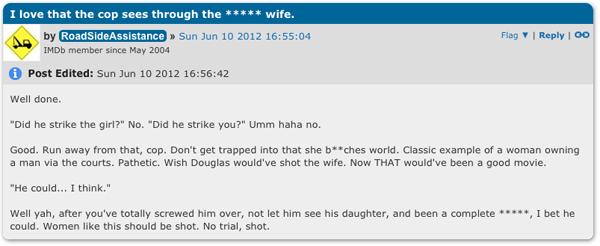 At the end, when Foster tries to carry through with his threats, we're definitely supposed to root for Beth and her daughter to get away from him. But this earlier scene seems to play it like "oh come on lady, are you kidding me?" She says that she wasn't sure about getting a restraining order but the judge wanted to "make an example out of him." These shitbag Taliban motherfuckers on IMDb would find some fucked up wife-beater way to see it no matter what happened in the scene, but unfortunately they're not making that shit up out of whole cloth. It's heavily implied in the scene that the system is giving this guy a raw deal. That she shouldn't have been allowed to get a restraining order because it wasn't too late yet.
Of course, the movie ultimately shows that she couldn't be more absolutely, unequivocally correct about what she said. She saw his temper and possessiveness and worried that he would hurt her and her daughter. Sure enough, he stalks and threatens her, repeatedly ignores pleas to leave her alone, abducts the daughter at gunpoint after going on an all day murder spree and then commits suicide by cop in front of her. Beth was absolutely right, the cop was wrong to be skeptical. But 11 year IMDb member RoadSideAssistance thinks she's a bitch who should be shot.
Setting aside these creepy reactions to the scene, it makes the most sense to assume it's a narrative trick, that Schumacher is trying to lure us in with candy and then scold us for our unhealthy diets. But honestly, with the skeptical way the officer reacts it feels like Schumacher just didn't think about how the scene would connect to the overall story, and decided he was on Foster's side while filming that. I'm not sure it's the proper execution of the script by Ebbe Roe Smith (an actor who was in TURNER & HOOCH and stuff, but whose only other writing credits are a 1993 TV movie called PARTNERS and the movie version of CAR 54, WHERE ARE YOU?)
Here's the thing. This is better than most Schumacher movies. Duvall and his partner (Rachel Ticotin, TURBULENCE) are likable, interesting takes on cliche characters. Hershey is excellent. It's a believable portrait of L.A. as hot, dirty hellscape, though many of its inhabitants are painted too broadly for my tastes. Douglas gives a very good performance as a loser seething with anger, and he has some good asshole lines (like when he shoots the gangster who missed him in a driveby and says "There. See? That's the concept. Get some shooting lessons, asshole."
By the way, what's with that scene? They shoot up the block and apparently kill two innocent bystanders, but the bullets all miraculously miss Foster. Jules Winfield would definitely interpret it as an act of God. But why is he protected? I don't know. All I know is he did not give a single shit about the innocent people, including a woman pushing a stroller, who got shot in his place. He's so fuckin sensitive about the shit life throws at him, but doesn't have a thought in the world for anyone else's suffering, from the people on the street to the ones who serve him his food, to his own family. They're not people to him, they're obstacles to him getting what he wants. "I don't want lunch. I want breakfast!"
And that's pretty accurate. I think there's alot of that in this world.
I thought about not posting this review today as planned, because a particularly heinous hate crime happened yesterday and is on alot of people's minds. I've been excited to explore this movie for a while because I thought it would be an interesting discussion, I don't want to do it now if it's gonna be a total bummer. But I decided that when something like that happens it shows how important it is to stop and think about the normalization of these kind of attitudes and world views. So I want to end by sharing some of the IMDb user reviews by people who seem to agree a little too much with William Foster's actions. This is actually a fairly small slice of the "he's a working class hero!" contingent on there. If you go through those reviews, most of them describe Foster as an "everyman" or "average American," even though he's a crazy guy who was fired from his job and legally barred from seeing his own child and ex-wife. It's also interesting how many of them are written by people from other countries who seem to think this movie depicts what America is really like.
These reactions are not necessarily an indictment of FALLING DOWN, because many great movies are loved by people for the wrong reasons – a good example of that is actually highlighted below – and I don't think that's always the movie's fault or responsibility. I think it falls on us as people to call out shitty attitudes and promote better values. Try to understand people who are different from you, leave your ex-wife alone, don't feel so entitled, and lay off the fuckin Whammy Burger staff, man. They're just saving up to get a car to abandon in traffic.
* * *