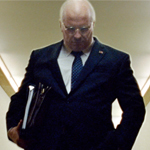 When I heard writer/director Adam McKay was doing a movie with Christian Bale (TERMINATOR SALVATION) playing Dick Cheney, I couldn't picture what that would be, but I assumed I would love it. The former Saturday Night Live writer has much more experience in beloved Will Ferrell comedies than in Serious Important Movies, but I enjoyed THE BIG SHORT's novel and audacious attempt to make entertainment out of explaining the early 2000s housing bubble. Many worship ANCHORMAN or STEP BROTHERS, but for me it's TALLADEGA NIGHTS: THE BALLAD OF RICKY BOBBY that makes me laugh no matter which part I rewatch for the one-thousandth time on cable. Maybe people don't think of it this, way, but to me it's the best pop culture portrait of what was going on in our country during the Bush years. So I figured McKay had good instincts about this stuff.
TALLADEGA, with its PowerAde sponsored family prayers and gay French elitist villain, lampooned the unearned bravado, proud ignorance, xenophobia and crass-corporatization-of-everything that George W. Bush represented to many of us. By the time Bush left office he was kinda like BATMAN FOREVER after BATMAN & ROBIN came out – nobody would admit what a big fan they'd been – but that attitude is still here. Back then, people made fun of the way he pronounced America, and that became shorthand for what was going on. But these days "'Murica" has been reclaimed by the people who want to glory in all that shit. It's written in big letters on this giant pickup truck I see parked in a neighborhood I walk through often, next to a sticker with a picture of an assault rifle and some macho line about the 2nd amendment and protecting freedom. I feel my forehead turning red whenever I see that truck because it's always parked just up the street from a cafe where a man with just such a weapon, legally purchased, randomly murdered four people, and then a fifth person downtown. That's Bush's 'Murica all right – wave your Dumb Asshole flag with pride while you trample on the graves of its victims.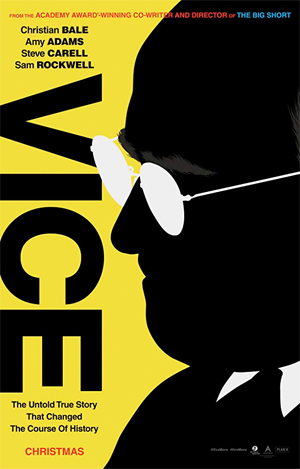 VICE is about a different aspect of that era – the sinister saga of an uncharismatic Nixon administration creep turned oil CEO who unexpectedly fell into the office of Vice President, then played the system to gain unprecedented executive power and, among other things, start wars that are still ongoing and have claimed hundreds of thousands of lives. It's a fascinating character and story that I imagine would be hard to tell in a normal movie sort of fashion. Unfortunately we now have evidence that it doesn't work in an unorthodox fashion either, or at least not the unorthodox fashion(s) that McKay chose. I'm sorry to report that despite some good scenes and moments, VICE is a weirdly terrible movie.
But first, let me say that Bale's performance as Cheney is next level, even for him. There's some stuff at the beginning where he's young and drunk, two ways I've never seen the real Cheney, yet just by the dead expression on Bale's face he truly feels like the guy. He does the grunting, charisma-free sort of talk we know from interviews and debates – the Batman voice meets The Penguin – but what really sells it is the sounds he makes in the pauses before speaking. Breathing loud, or saying "uhhh." There's a part where he's in the White House sitting for an intelligence briefing and somebody hands him a danish. He says "That's, uhhhh…" and that's it. Two syllables, one word, no meaning, completely sells him.
I've seen many reviews that sort of write off the performance as just an imitation, like on a sketch show. I disagree and I feel like I have special qualifications for this judgment. In case you haven't heard me brag about this before, I need to tell you about my greatest accomplishment in life: I flipped off Dick Cheney. Looked him right in the eye. Whatever I wrote at the time may be more accurate, but here's how I remember it.
I'd read Cheney was in Seattle for a fundraiser, staying at the Westin, and I didn't have to work until the evening, so I decided to go see if there was a protest. No luck – just a couple random people scattered around with signs, no crowd forming anywhere. I stood on the corner of 5th and Virginia and I don't think I was there for that long before all the sudden holy shit, a convoy of black vehicles rolled by and right there, one empty lane of traffic away from me was Dick Cheney, Liz to his left. I think I had made a little sign with something corny like "War profiteers not welcome" or something, but instead of holding it up my instinctive reaction was to yell "FUUUUCK YOUUUU" and hold aloft the mighty double bird. He looked right at me, smirking, and waved.
(Hopefully this will be in the deleted scenes on the Blu-Ray.)
So I have some personal experience in this area and I say that it's fuckin supernatural how well the actor captures the soul-less malevolence on that prick's face. Bale gained weight, sure, and Greg Cannom (A NIGHTMARE ON ELM STREET 3: DREAM WARRIORS, FRIGHT NIGHT PART II, KICKBOXER 2: THE ROAD HOME, THE SHADOW, KULL THE CONQUEROR, TITANIC, BLADE) did a great job on the makeup, but it's through some ineffable force of Christian Bale magic that we can look into his eyes and collide head first with the event horizon of the vice president's presumed humanity. That feeling of a guy who seems incapable of making a person to person connection and for a second it might seem like social awkwardness or cowardice but then you realize it's because he has about as much respect for you as he does for a fruit fly.
So yeah, give him the Oscar.
If I had any concern about the movie after its very good trailer it was that they might play his "vice" like some cool Scorsese anti-hero shit, or, worse, try to give him some likable qualities. Those aren't problems here. At one point he has a family dinner and jokes around, a rare moment where he behaves like a regular human, but it's intercut with the catastrophic war he just started in Iraq, so it only makes him look like more of an asshole. Surprisingly for a biopic they only show him being good about two things, both family related. In one scene he menaces his father-in-law (Shea Whigham, FAST & FURIOUS, FURIOUS 6) at his mother-in-law's funeral, for seemingly being responsible for her death. In another, he is instantly accepting of his daughter Mary (Alison Pill, SNOWPIERCER) coming out to him. I'm glad they didn't try to humanize him any more than that. I suppose they may have tried and just not been able to figure out anything else.
The cast is mostly good, if not on Bale's level. Most out of place is Tyler Perry (ALEX CROSS) as General Colin Powell. He tries his best but he's just so physically unlike Powell, one of the more on-camera members of the administration, that the challenge may be insurmountable.
The weirdest is Steve Carell (CURLY SUE) as secretary of defense Donald Rumsfeld. I couldn't mentally separate him from comedic Carell characters like Michael Scott from The Office, but he's also capturing the Rumsfeld personality as I remember it – the cynical, amoral asshole who un-self-consciously blabbers out crazy shit, seemingly convinced that he's some kind of lovable, chummy truth-teller. The juxtaposition of the comic persona and the historical figure makes its own sadly current statement that somehow in this country buffoons can become masterminds if they're connected and greedy and cruel enough to get to the top.
You know I always love Amy Adams (BATMAN V. SUPERMAN: DAWN OF JUSTICE). She plays Cheney's wife Liz, who I saw in that car but knew nothing about. She's portrayed as a strong, scheming woman who was sort of a puppet master, turning her drunk loser college boyfriend into a politician, even filling in for him at speaking events where she clearly outshines him. She seems to share in his creepy, inhuman thirst for power, making them perfect soulmates. Or whatever it's called for people without souls.
Sam Rockwell (TEENAGE MUTANT NINJA TURTLES) plays Bush, and I think he works well, though I was more impressed by Josh Brolin in W. It's a surprisingly small role, which I think is calculated and clever. The first act centers around the response to the terrorist attacks on September 11th, 2001, and we don't even see the president until much later in the movie. I like that.
Like Bale, Rockwell and Adams are nominated for Oscars for this, which is fine. But the movie itself being nominated for best picture is puzzling to me. To each their own, but I can't imagine the person who would see this and be happy with the way the story is told. THE BIG SHORT's gimmicks came out of the premise that this financial world shit is intentionally too complicated for normal people to understand, and that's why they get away with it. I see no good reason for McKay to use the same approach for this subject, yet here is Alfred Molina (SPECIES) as a waiter who lists various authoritarian powers as if they're dinner specials. Can you guess how many of them Cheney orders? And here's a scene where somebody says the story reminds them of Shakespeare and then the dialogue turns faux-Shakespearian. I know there was a big musical number that was cut because it just wasn't working, and I'm very curious how they could tell the difference. To me most of the wacky shit bombs, and even the ones that made me chuckle a little (like the MONTY PYTHON AND THE HOLY GRAIL style fake ending joke) seemed wildly out of place.
I suppose I did like the reoccurring gag about him calmly announcing and apologizing for his heart attacks. Other jokes often come off as flimsy excuses to string together scenes that don't add up to a story. Every time it gets a groove going, some cutesy shit pops up and either makes me cringe or seems like a shortcut robbing us of a real cinematic experience.
Arguably the most annoying gimmick is the at-first-unidentified narrator. He keeps explaining shit instead of, you know, making a movie about it. And then he's revealed as Jesse Plemons (BATTLESHIP) who we'll keep seeing breaking the fourth wall as he does normal, non-Cheney-related things like go for a jog or take care of his kid in his living room. Eventually we learn what the character's connection to Cheney is, and maybe it's kind of a cool idea on paper, to be very charitable. If so the pay off is still nowhere close to being worth the distraction.
(Also, SPOILER for those who have seen it – is that even ethical? Do they know who that guy is and depict him accurately, or are they assigning their own political beliefs to an unknown dead guy? And making him a veteran for extra credibility?)
McKay also keeps McKaysplaining things using documentary techniques, from the not-as-good type of documentaries that are more Power Point than cinema. He uses onscreen text, Ken Burns style freeze frame zoom-ins, Michael Moore style file footage montages. It would not be surprising if McKay showed up in the movie with a microphone and camera crew chasing after the real Cheney and getting turned away by security. Maybe this is for people who were too young to experience the mini-industry of anti-Bush documentaries, but they could still buy FAHRENHEIT 9/11 for 99 cents on Amazon, or The Robert Greenwald Documentary Collection for $3.26. This was an opportunity to do a real movie.
Really it kinda feels like if you were shooting the shit with McKay and you were young or from another country or something so he's telling you anecdotes to explain to you what the deal was with Cheney. "Yeah, he shot a guy in the face and then the guy apologized to him!" That might be a good conversation if you'd never heard that story, but wouldn't it be great if he'd had time to figure out how to translate it to the medium of film? Maybe some other time, I guess.
As if to ensure I could never forgive this shit, McKay has the temerity to end on a hacky joke about a cartoonish airhead being excited for "the new FAST AND FURIOUS movie." Not since X-MEN: APOCALYPSE's X-MEN 3 joke have I felt so embarrassed for a bad movie trying to point fingers at a better one. Right after I saw this, FAST FIVE was on cable,  and yes, it is a movie that accomplishes (even exceeds) what it sets out to, and is still being enjoyed seven years later, which I cannot fathom happening with VICE. What the fuck got into the director of STEP BROTHERS to make him think he should shame people for their lowbrow tastes? As a horrible vice president once said on the floor of the senate because he was criticized for awarding no-bid contracts to the nefarious corporation he had previously been the CEO of, go fuck yourself.
Pretty good title though. Double meaning, like HOSTEL.
This entry was posted on Tuesday, February 12th, 2019 at 11:04 am and is filed under
Comedy/Laffs
,
Drama
,
Reviews
. You can follow any responses to this entry through the
RSS 2.0
feed. You can skip to the end and leave a response. Pinging is currently not allowed.