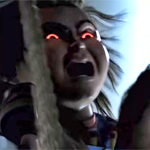 You all know the story of the 1988 horror classic CHILD'S PLAY: a single mother buys her son the talking doll he wants for his sixth birthday, she brushes it off as imagination when he claims the doll is telling him weird things, a babysitter gets killed and because of the tiny footprints at the scene the police suspect the kid did it. We only see glimpses of what the doll is up to, but we know that a cornered serial killer named Charles Lee Ray performed a voodoo ritual and his spirit is hiding out in there. And the mom goes from worrying about what's wrong with her son, to worrying she's losing her mind for starting to wonder if he's right, to the total shock of seeing the doll walk around and talk to her and stuff. And now she has to stop this supernatural threat that no one will believe her about before the killer transfers his soul into the body of her son.
This new movie called CHILD'S PLAY that is officially considered a remake is not that story. You still got a single mother (Aubrey Plaza, INGRID GOES WEST) trying to make ends meet working at a store, and she still has a son named Andy (Gabriel Bateman [ANNABELLE]), who she buys a doll named Chucky. But Andy is 13 years old (huge difference) and the doll is an A.I. infused walking and talking robot (also huge difference) and he is not possessed by Charles Lee Ray or anyone else (hugest difference). So there's no secret, everybody knows it walks around and talks to you and stuff, and the kid is not young enough to be confused by it. Instead of dealing with the classic "no one believes me" theme (until it's implausibly shoe-horned in near the end) the tension comes from the kids (he has friends in this) making the poor decision to try to hide things from the adults, even though Andy is friends with a nice cop who could help him (the great Brian Tyree Henry from Atlanta, WIDOWS, IF BEALE STREET COULD TALK and SPIDER-MAN: INTO THE SPIDER-VERSE). (read the rest of this shit…)
VERN has been reviewing movies since 1999 and is the author of the books SEAGALOGY: A STUDY OF THE ASS-KICKING FILMS OF STEVEN SEAGAL, YIPPEE KI-YAY MOVIEGOER!: WRITINGS ON BRUCE WILLIS, BADASS CINEMA AND OTHER IMPORTANT TOPICS and NIKETOWN: A NOVEL. His horror-action novel WORM ON A HOOK will arrive later this year.