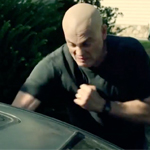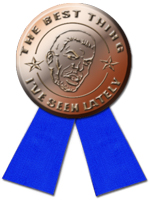 When we last left novelist and heavy metal drummer turned filmatist S. Craig Zahler, he had made a distinctive directorial debut with BONE TOMAHAWK, a nice western with great characters and dialogue and that turns into a little bit of a gory cannibal movie by the end. I liked that one quite a bit but I think film #2, the crime movie BRAWL IN CELL BLOCK 99 (which is coming to video on the 26th but I splurged for VOD) is a huge leap ahead for him.
Vince Vaughn (PSYCHO) stars as Bradley Thomas, a burly tow truck driver who, after a really bad day, decides to go back to the drug business for a while. Cut to 18 months later, when his bedroom is almost as big as the whole house we just saw him in, and his wife Lauren (Jennifer Carpenter, BATTLE IN SEATTLE) is pregnant. Their dreams are finally coming true, but some things go wrong at work (as they do) and he ends up in prison, where he must protect himself on the inside and his family on the outside from the enemies he's made.
There's much more to it than that, but that's not to say it's real complicated. It feels kinda minimalistic because it unrolls at a methodical, confident pace without gratuitous explaining of anything. Stylistically it almost falls into the Arthouse Badass category, and it feels very '70s inspired. If not for a cell phone, it would seem like a period piece – he even listens to original O'Jays songs on an 8-track in his car. It has the serious, patient feel of THE FRIENDS OF EDDIE COYLE or STRAIGHT TIME or something like that, as opposed to, like, an energetic Guy Ritchie type feel, and without pretension or sacrificing any pulpiness. It can be slow and subtle and sparse but with enough simmering badassness and profound bursts of violence to out-thrill your average spectacle.
I like this type of crime story where it shows some kind of process that's not the standard thing you always get to see. That always makes it seem like the writer or filmatist must know what they're talking about. There's a scene where he's done some deliveries and then he drives into some wooded area, parks the car under a tree, takes off the license plate, switches it with another license plate, takes a camouflaged netting out of the trunk, covers it up and walks away. The whole time I'm feeling like he's about to get spotted or ambushed or something but no, we're not seeing this because it's a momentous occasion. We're just seeing what an ordinary work day is like before things go sour.
Some of the prison scenes are the same way. You go through the whole orientation process with him, almost like you're stuck in there with him. The routine processing stuff feels so legit it's almost as upsetting as when he gets stuck in the TRAINSPOTTING toilet of cells, or the one with the broken glass on the floor.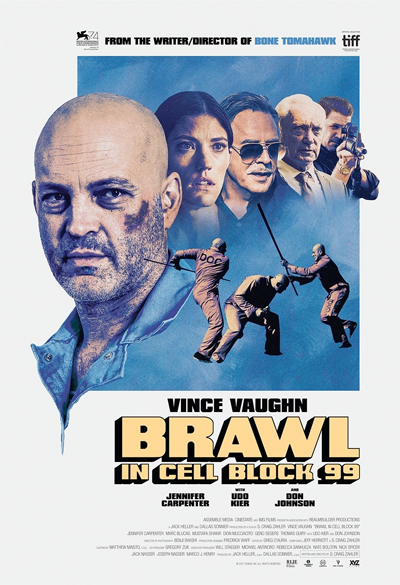 By that point we're at least a little more comfortable with him as the anti-hero we're gonna be watching go through some shit. At the beginning we know nothing about him and we take one look and figure we're waiting for him to explode. There are plenty of indications that he will. When he's laid off in the opening scene, the staff stands sternly like they're ready for a fight. Every calm, reasonable move he makes seems like a prelude to violence. It's not. Then he gets home and discovers that Lauren has been "seeing someone." Only when she gets inside the house does he fist fight her car in a long, painful looking scene. He strips that thing like an animal carcass. Then he sits in the living room quietly discussing how to salvage the marriage, his hands covered in bloody cuts.
As you may have heard, Vaughn is really good in it. I know the bald head and tight long-sleeved shirts are part of it, but I kept thinking of this as a Quiet Bruce Willis performance. So much of the movie is people telling him things – usually threatening things – and him responding with a stare. Maybe a nod. When he talks, especially in the early scenes, there's a bit of a Tim Blake Nelson cartoon hick thing going, and that can be a little distracting. But mostly it's a great performance, and different from what we're accustomed to seeing from Vaughn, even back before he was known as a comedy guy.
There's alot of quiet and negative space, but when people do talk it's very distinctive. Bradley keeps his mouth shut more than the next guy, but he can't resist an occasional zinger. Same with his wife. When he finds her in the kitchen cooking and asks what she's doing she says "The ritual that happens after you buy the groceries but before you eat 'em."
And there are just the odd things people like to bring up. Inmates keep comparing their prison to "that one over in Austria," apparently a very plush one that everybody knows about and expects everybody else to understand references to.
Like in BONE TOMAHAWK the language can be very stylized, with a Coen-esque love of odd or archaic wordings. In fact, some of the linguistic flourishes do sound almost like it's supposed to be a western. After proposing his plan for saving their marriage, he asks his wife, "Will you abide?" When it's implied that he has no business judging a drug addict he says "That's fourteen years done. And the bottle ain't the same as junk." I don't think real people talk like this, but I kinda dig that these characters do.
Bradley is actually an old west type of dude, too. He's a simple man with a simple code. He really does only care about Lauren and her baby. Becoming a criminal again seems to be entirely about having a daughter and making his wife happy. He's willing to commit savage violence – like, shit you honestly haven't ever seen in a movie before – but it's always to protect her. He's a weirdly relatable type of husband and dad, all things considered. Kind of like the SCARFACE version of my dad, who would get up every day at 4 am, drive downtown and take the ferry to the shipyard in Bremerton, work all day and then come all the way back and buy groceries and get tired and go to bed and start all over again just to keep us living comfortably.
Lauren outwardly takes Bradley's single-minded dedication as sweetness, but she also seems somewhat scared of him, and he definitely has an oppressive, controlling side to him. He presents these outrageous requests – give me five years to be a drug dealer, don't come to my trial, don't bring our daughter to visit me in prison, but do wait for me – and she just agrees, no discussion, no counter-offer. In the reality of the movie I don't believe he's ever hit her or threatened to, but her knowledge of the violence he's done to other people can't be discounted.
Anyway, it seems he is not a guy who would hurt his wife. But if you might, he will smash your head in. Or off. Literally. He's a little bit like Parker in that he would not be considered a good person in real life, but within the reality of the story I am so behind him and rooting for him to do what he's so good at.
A real badass action movie kinda touch is when a screw named Andre (Mustafa Shakir, Quarry, Luke Cage) sizes him up and asks if he boxes, mentions being the boxing coach. Bradley says he doesn't and that he's not interested. Andre seems skeptical, and later suggests maybe Bradley hurt somebody in the ring, maybe killed somebody. (Butch Coolidge, is that you?) The next day Andre refers to him as a "boxing legend," which I take to mean he looked him up and found out he has a glorious past he's not talking about. We never get any details, and it never turns into PENITENTIARY or UNDISPUTED. But these exchanges establish that 1) Bradley's gonna be a hell of a fist fighter and 2) Andre won't be a slouch either.
There are a few fights and they are outstanding. This is not the kind of movie where a fight starts and there's some guitars or some beats. I'm not sure but I don't think there's any music during them at all. When they happen they are fast, blunt, raw, and hard. And then disgusting things happen to body parts. Things I never even thought of happening to body parts, let alone saw. Fight choreographer/stunt coordinator Drew Leary gets to have a full screen with only his credit on it, and he earned that.
I don't like the tattoo on his head, though. What's up with that? "Did he have any distinguishing characteristics?" "No, just a big bald guy. Well, no, come to think of it, there was one thing. He had a giant tattoo of a cross wrapped in barb wire covering the entire back of his head. Never once mentioned Jesus, but had that on there. And it just looked terrible on him. Like, very, very bad. If I saw him from the back I could positively identify him from a football field away. But otherwise it could've been anybody."
In all other ways though, A+ movie, and I will now treat new Zahler pictures as immediate must-sees.
P.S. BRAWL IN CELL BLOCK 99 has the same number of syllables as ASSAULT ON PRECINCT 13.