Well, POLTERGEIST was a movie that people loved, so the best thing to do is to get the surviving cast members back together four years later (the actress who played the older daughter had been murdered), but not Spielberg or Hooper. The director this time is credited as Brian Gibson (WHAT'S LOVE GOT TO DO WITH IT) but I bet Tobe Hooper secretly was uncredited director to make up for not getting full control last time. You can't disprove it so go ahead and add it into wikipedia if you want.
Well they've moved into a new house now, but Zelda Rubinstein and a Native American colleague are digging around on the old property and find some kind of Indian grave or something that tells them Carol Anne is still in danger or whatever. It's true, some kind of evil priest (Julian Beck) who looks like a 100 year old Gilligan in a pilgrim outfit keeps showing up talking to Carol Anne, appearing in her crayon drawings, or even coming to the house and trying to convince Dad to let him inside. He's a real creepy looking guy, well cast, clearly an authentic old person and not just makeup. (Which is why he died during filming, though.)
And other ghostly shit also happens.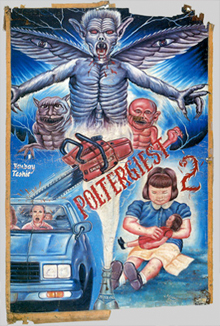 The family jokes around alot. I think this was a conscious attempt to re-create the fun feel of the first movie, but I think it's off the mark in this one. Like, they have jokes about dad calling up the insurance company and telling them the house disappeared so they use that as a loophole to get out of paying for it, ha ha. Also it ends on an illogical joke premise, that dad gives their car to their Native American exorcist guy, then realizes that they don't have a way to get home. Because you just gave away your car, dumbass. You really want to end on that note?
What this reminded me of most was a NIGHTMARE ON ELM STREET sequel. It's a variation on the story of the first one, but repeating it takes most of the power away. The family doesn't want to have a TV anymore, so now the ghosts come in through a toy phone that Carol Anne can hear voices on. They add the information that their Grandma had "the gift," Carol Anne does too and that's why the ghosts like her. She's ghost nip.
So it's mostly just enjoyable as an excuse to string together gimmicky special effects sequences. There's a scene where the son's braces start to grow until they become a huge ball of wire that wraps around him and carries him to the ceiling – something Freddy might even do if he found a teen whose main characteristic was having braces. There are more animated ghost monster dudes that are even better than in the first one. But definitely the highlight is when Craig T. Nelson swallows a tequila worm (should've noticed the eyeball on it), then pukes up a weird pile of organs that turns into a beastie that crawls around the house and terrorizes everybody. The puke monster was designed by H.R. Giger and appears to be played by a quadruple amputee in a complex latex makeup job. The movie was actually nominated for the best visual effects Oscar, but lost to ALIENS. (The other nominee was LITTLE SHOP OF HORRORS.)
There is a nod to Spielberg – the kid has an E.T. poster hanging in his room. Also I think it's probly meant as a tribute to Hooper when a levitating chainsaw attacks the family car in the garage.
Michael Grais and Mark Victor wrote and produced the sequel. Those are the guys who wrote the original draft of POLTERGEIST before Spielberg rewrote it, but presumably they got the job because somebody could sense that they would go on to write MARKED FOR DEATH. This isn't as awesome, but it's okay.