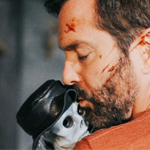 I haven't watched a PUPPET MASTER picture since the early '90s, so congratulations to this marketing that got me excited to watch the new PUPPET MASTER presented by the new Fangoria.
PUPPET MASTER: THE LITTLEST REICH is sort of a start-over made with the blessing but not direct participation of Charles Band. I don't think I can technically call it a reboot, though, because it's not supposed to end or replace the still ongoing original series. It's an alternate universe version where the titelistical ruler of evil puppets, Andre Toulon, is a totally different character. Instead of a victim of the Nazis he's a French-German Nazi sympathizer played by Udo Kier (BLADE, BARB WIRE) in nasty burn makeup. The screenwriter is S. Craig Zahler, and though it does not feel anything like BONE TOMAHAWK or BRAWL IN CELL BLOCK 99 it does continue his tradition of pushing the discomfort buttons and making me wonder "Should I be concerned about these racial themes?"
The main story takes place in the present, when artist and comic book store employee Edgar (Thomas Lennon, MEMENTO, THE DARK KNIGHT RISES) has to bite the bullet and go stay with his parents while getting back on his feet after a divorce. Desperate for money, he decides to take his dead brother's rare hand-made puppet to Dallas to try to sell at a convention for the 30th anniversary of "The Toulon Murders." But there are a bunch of other people there with their own original Toulon puppets, which all come to life (through goofy hand puppeting, not stop motion) and gorily murder Jewish, gay and black people. Puppetry and bigotry become one.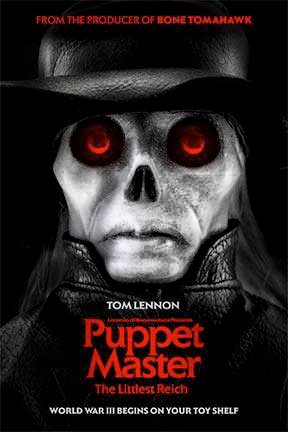 None of it feels like real life. It feels like cheapo exploitation. Like, there's this back story about how Edgar had a brother who died as a child. Since Lennon is 48 that would've probly been decades ago, but the photos and still-left-the-same bedroom make it seem recent. Also, would there really be a convention to celebrate some murders? And if so, wouldn't there be more activities than one tour of the mansion where the guy got killed by police? And would that tour really be guided by one of the traumatized officers (Barbara Crampton, FROM BEYOND) who shot him? And shouldn't the movie make fun of, or have an explanation for, the kind of people who would attend such an event?
But the movie does have a certain amount of heart. Lennon is a veteran comedy dude known for The State and Reno 911, as well as writing THE PACIFIER, NIGHT AT THE MUSEUM, etc., but here he's very good in a genuine dramatic role where the only joking is joking-around-with-your-friends joking. Edgar's fresh relationship with Ashley (Jenny Pellicer, The Bridge), a high school acquaintance who he bumps into while in town and invites to go on the trip, is very sweet. And for a horror franchise started in the '80s the movie is shockingly sex-positive. Whenever they're alone together they immediately start taking their clothes off, and it's totally cute, not exploitative.
They also somewhat pull off the cliche of the obnoxious friend (Nelson Franklin, SCOTT PILGRIM VS. THE WORLD, as Edgar's boss from the comic shop) who turns out to be sweet and heroic when the shit goes down. And the idea that Edgar's super hero comic is full of deeply personal commentary on his real life relationships is a little obvious, but feels sincere enough to work as an extra emotional layer. So there's a little bit of that PHANTASM or SQUIRM thing of a movie that's slightly on the silly b-movie side but you still care about the characters.
Surprising to see in the cast: Charlyne Yi (KNOCKED UP, THIS IS 40).
Cool to see in the cast: Michael Paré (STREETS OF FIRE, MAXIMUM CONVICTION, BONE TOMAHAWK, THE DEBT COLLECTOR). Playing a cop, of course.
Coolest to see in the cast: Matthias Hues (NO RETREAT NO SURRENDER 2, I COME IN PEACE, KICKBOXER 2, BLACKBELT, MISSION OF JUSTICE, TALONS OF THE EAGLE, TC 2000, GREEN STREET HOOLIGANS 2, SHOWDOWN IN MANILA) as a guest who SPOILER gets sort of possessed by Blade. Or really the puppet climbs inside him and controls him like a puppet. Or a mech. Good shit.
The Swedish directing team of Sonny Laguna & Tommy Wiklund (WITHER, ANIMALISTIC) don't bring any particular style to it that I noticed. I think it was a poor choice not to include a little stop motion. They do have some low rent cg for the flying robot toy who, honestly, looks like a shitty toy from some other shitty movie, not an evil toy created by a master puppeteer.
The main puppets redesigned by Tate Steinsiek (PIRANHACONDA) are cool looking, though they could use some animation or more sophisticated puppetry. Blade (the guy with the skull head and black hat, not the Daywalker) and Tunneler (the guy with the drill head) are like the originals rendered in a different style, I like them. There's also a… frog clown? I guess as kind of a Kermit joke maybe. I guess I'm okay with him, now that I look at this still.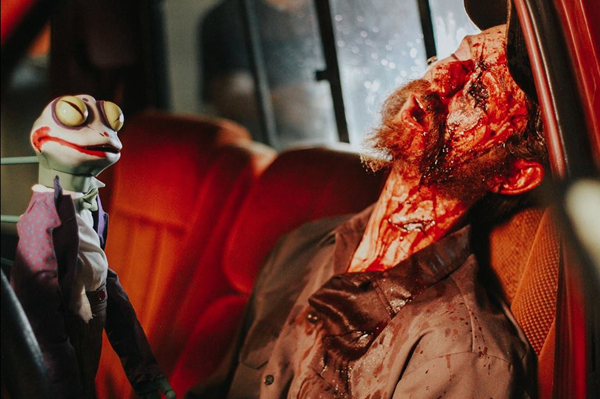 There's also a baby doll with a Hitler mustache. Looks crappy, but I like that they get to kill baby Hitler and not point it out.
It just occurred to me: are they really puppets? They don't have strings. They don't have a place to stick your hand in. Aren't they just dolls? Isn't he really a Doll Master? Anyway, the coolest special effect is not a puppet, but a human-sized makeup FX creature that shows up for a little bit. Good job on that one.
Unfortunately I think there's a miscalculation that prevents THE LITTLEST REICH from being as fun as it ought to be, at least for me in solitary home Blu-Ray viewing. Because these killer puppets are Nazis (I hate killer puppet Nazis) they target minorities – Edgar even describes the puppet attacks as hate crimes. To answer my first paragraph question, no, I don't have to be concerned about these racial themes, they're sort of the point, and the movie is definitely on the side of the victims. Also I can get down with a particularly over-the-top gory and transgressive murder that I'm not even gonna describe, more because I will sound like a sicko than because it would be a spoiler. This movie is maybe more Troma than Full Moon. The problem is it's knowingly too goofy to be scary to anyone, yet the targeted victimization makes me feel bad, keeps me from laughing or applauding. This is the type of movie that works if there are a bunch of asshole characters who, in movie terms, "deserve it," but Zahler is explicitly saying that in real life bad things often happen to people who don't deserve it at all.
I mean, I agree, but the thing is this is not real life, so read the room, PUPPET MASTER! Nobody is renting PUPPET MASTER: THE LITTLEST REICH to solemnly reflect at the end like BLACKkKLANSMAN. And also nobody is solemnly reflecting at the end, no matter how nicely you ask them to. Anyway, what's next, a DOLLMAN where he fails to save refugee children locked up in a desert concentration camp by ICE? An EVIL BONG where at the end we're reminded of the horrendous racial inequities perpetrated by the War on Drugs and that there's nothing we can do about it? A GINGERDEAD MAN about the devastation of natural disasters in third world countries? A ROBOT JOX where the robots save the day and then you find out that they're being built by slaves and that's the end?
On top of that there's a shock-the-audience-out-of-the-blue likable character death like it's that Hong Kong movie where it seems like it's gonna end okay and then Cynthia Rothrock dies. I know it's intended to be upsetting, to actually get a reaction out of you in a fuckin PUPPET MASTER movie, but what I am suggesting is that maybe satisfying would be a better target for this one.
That said, it literally ends on a TO BE CONTINUED, and I will be watching the continuation. So they got me on a string.