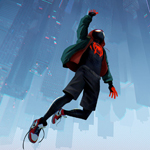 SPIDER-MAN: INTO THE SPIDER-VERSE is the 7th motion picture starring Spider-Man (not counting unauthorized Turkish ones), the second Sony In Association With Marvel movie of 2018, and probly only the third biggest Marvel Comics movie of its year. But I honestly think it's revolutionary. Not necessarily for super heroes – its story of colliding alternate dimensions is clever, but built on familiar comic book traditions – but for animated features. Somehow Sony, who had been considered so clueless about what to do with Spider-Man that they had to farm him out to Marvel, found people who knew how to celebrate the vast history, meaning and potential of the character in a completely new cinematic way.
So much has been done in computer animation since TOY STORY. There have been many great achievements in the form, including two funny super hero movies in the INCREDIBLES series. But the kineticism and print-inspired graphic playfulness of SPIDER-VERSE feels completely new. The Spider-men-and-women run and flip and swing and glide in exaggerated splash page poses true to the history of cartooning but rarely possible in computer models. They're (mostly) rendered in three dimensions, but with line art details and outlines and Zip-a-Tone dot shading. Some shots or characters are done in traditional hand drawn animation. Backgrounds sometimes have spray paint coloring in honor of the movie's graffiti writer protagonist. Comic book description boxes, sound effects and motion lines – most importantly Spidey-Sense wiggle lines – appear on screen. The filmatism includes split screens, pseudo time lapse, jump cuts and hotshot flying camera moves that seem more at home in this cartoony animation than in the special effects movies where they have to pass for live action.
I hope I get a chance to catch it in 3D. Seems like it would be great for that. Here are a couple screen grabs just from the trailer to show you how drastically different this looks from any of the other animated movies.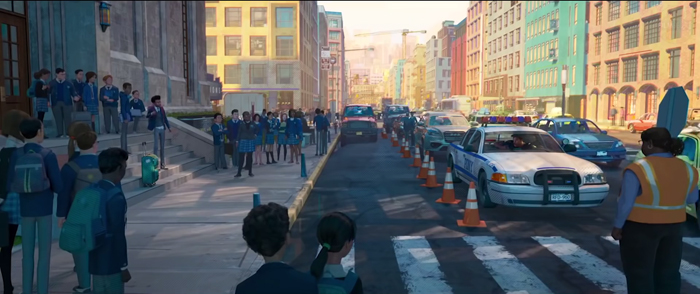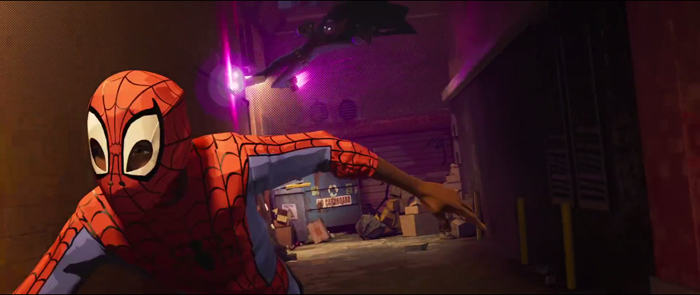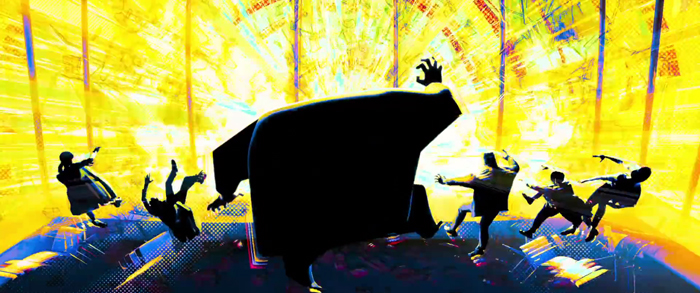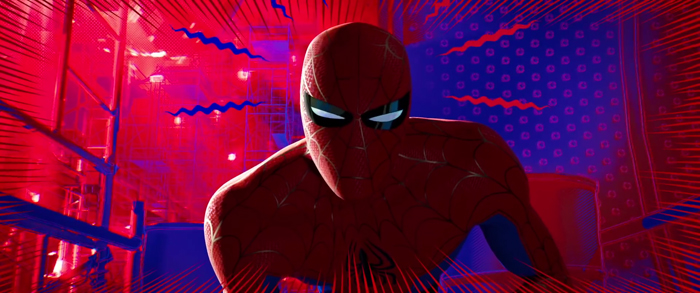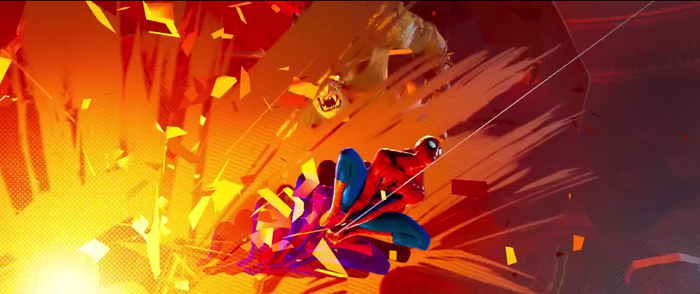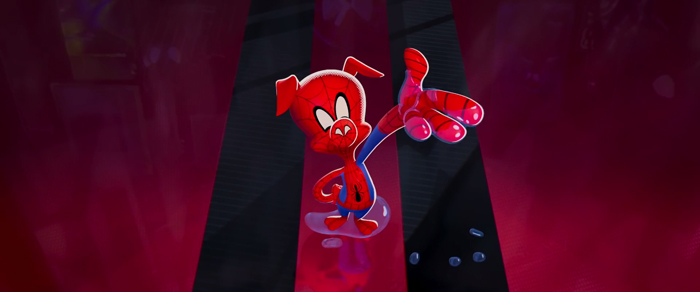 You're not gonna flip to this on cable and wonder if it's DESPICABLE ME or something.
And it's a good movie. Miles Morales (Shameik Moore, Shaolin Fantastic from The Get Down) is a young artist who gets bit by a radioactive spider and gets those spider powers we, as citizens of the earth, have heard of once or twice before. He manages to meet Peter Parker (Chris Pine, SMOKIN' ACES) to try to get his spider-manly advice about the situation, but Parker is killed in a battle with Green Goblin (Jorma Taccone, director of MACGRUBER) at Kingpin (Liev Schreiber, SALT)'s super-collider, so Miles feels it's his duty to finish the mission, decked out in a store-bought Spider-Man Halloween costume. Eventually he'll upgrade and customize his suit with spraypaint. It's the only super hero uniform that includes Air Jordans. But first he meets an older, slightly out-of-shape but still alive Peter Parker (Jake Johnson, REDBELT) and it becomes clear the the super-collider is sucking in various alternate dimension spider-people who must team up to stop the machine from destroying all of reality.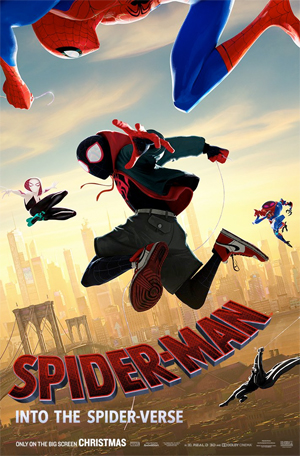 I already found Miles' story compelling before he was a Spider-Man. His dad (the great Brian Tyree Henry from WIDOWS and Atlanta) is a broad-shouldered cop who cares about him in a way he finds smothering and sends him to a private school where he feels out of place. I don't know if Wesley Snipes is about to challenge Miles's badness on the subway, but I think he's both intimidated by the school itself and embarrassed to have been sent there. He also has an uncle (Mahershala Ali, PREDATORS) who encourages his art but doesn't get along with his dad. And he has an awkward new friendship with a classmate (Hailee Steinfeld, 3 DAYS TO KILL) who will of course turn out to be a fellow Spider-Person. Her hair is shaved on one side like the badass white lady in THE NIGHT COMES FOR US. They do a really good job of animating her to be intimidatingly more cool than him.
The movie has three directors – Bob Persichetti (head of story, PUSS IN BOOTS), Peter Ramsey (director of RISE OF THE GUARDIANS, storyboard artist on A NIGHTMARE ON ELM STREET 5 and PREDATOR 2) and Rodney Rothman (writer of 22 JUMP STREET) – but much of the promotion has centered around producers Phil Lord and Chris Miller, the 21 JUMP STREET/LEGO MOVIE/didn't get to do SOLO guys (Lord also co-wrote this). Like much of their work it's packed with quick, funny jokes and character quirks such as Miles' habit of singing along with R&B songs (an impressively authentic "don't know most of the words" style). But it absolutely works on the level of colorful, light-hearted super hero adventure. And I only knew a few little references, but I'm positive it's full of delightful details for Spider-Devotees. It's the first cinematic appearance for many comic book characters, most importantly Peter Porker: Spider-Ham (comedian John Mulaney). Also there's a part where the Spider-cave or whatever has a bunch of vehicles and one of them is the Spider-Buggy which I think was a Hot Wheels toy.
Also Nicolas Cage is in the movie.
I think they get some good emotion out of the premise too. There's a not too heavy-handed scene where older, alive Peter has to go face still-grieving-over-dead-Peter-Miles-dimension Aunt May (Lily Tomlin, NASHVILLE). The emotional tension is thick without resorting to the "characters speak quietly and then go silent and look sad because this is the powerful part" animation cliche that I've become hyper-aware of since being annoyed by one of the ICE AGEs on a plane years ago.
Also hats off to the soundtrack, which honestly feels like "what music would this kid listen to?" more than "what are the marketable names to list on an ad?" The score by Daniel Pemberton (KING ARTHUR: LEGEND OF THE SWORD [seriously, I'm a big fan of his score for that]) also has a unique energy to it. For some parts he recorded the orchestra and then had a DJ scratch with it!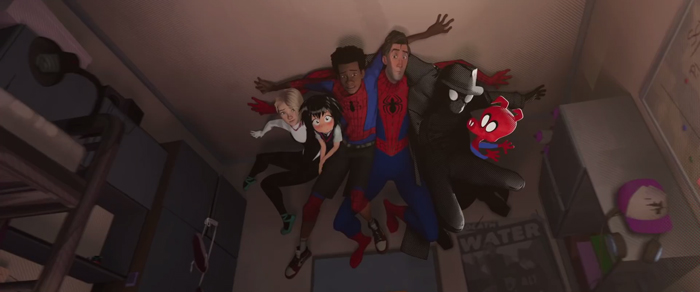 I sorta got my start writing reviews for The Ain't It Cool News, and that makes me feel connected to the rise of what Harry Knowles called "Geek" culture that took place over the past two decades. For all Harry's many faults, he was always very positive about trying to prop up the types of things he loved and spread his enthusiasm for them into the mainstream. He wanted comic book movies and sci-fi and fantasy and all that to be huge and beloved by everyone. Meanwhile, the infamous talkbacks showed the other side of the coin. What I assume was a minority of angry bile-spewers started to dominate the conversation, seeming to hate most things and most people, using anonymity as an excuse for crudeness and cruelty, providing a daily reminder that vile misogyny, racism and homophobia were still out there in force, even (especially?) among those people into the same things you were into that the internet magically brought you closer to.
I still think about the talkbackers often, because the same forces of ugliness seem to have spread across video games, Twitter, the world. At the same time, Harry's dream came true: super hero movie universes are a no-sign-of-going-away staple of pop culture. And along with $200 million adaptations of obscure space comics with talking raccoons came a broadening of the types of lives and voices that can be seen in comics and movies. But some conservative part of the culture stubbornly resists, somehow seeing inclusion as an attack on their lives. But mommy, I don't want to share the cookies! And since social media has taken over so many normal people's days, and is so good at amplifying obnoxiousness, what used to be niche nerd fights are now water cooler conversation.
It's so weird to me because aside from the self-evident rightness of different cultures and backgrounds being able to exist and take part in entertainment, it's just more interesting to see new variations on characters or stories than to see the same shit every time. It's so fucking stupid. They're punishing themselves.
SPIDER-VERSE doesn't (and shouldn't) address any of that. But Miles is a beloved mixed race character who came to us in 2011 in the context of an online clash between people who campaigned for Donald Glover to play Spider-Man in THE AMAZING SPIDER-MAN and people who clutched their pearls at the idea of him not being white like in the drawings. I think SPIDER-VERSE works as a metaphor for the joy of diversity, cultural and otherwise, in both fiction and reality. In this story, Miles existing doesn't take away this version of Peter Parker, or that version. They all can exist simultaneously, together or separate. And since Miles, the various Peters, Gwens and the others each occupy the role of "Spider-___" in their own part of the Spider-Verse – being alternate dimension versions of the same person – it follows that people can at the same time be…
all alike no matter their race, background, whether they are a talking animal or not, etc.
their own beautiful selves, informed by their experiences and circumstances, some shared, some very different
…and that's not a contradiction. They're not from the same reality, or even in the same medium of animation, but they can get along and work together and learn from each other and enjoy each other's company.
I mean I'm sure they just did this Spider-Verse thing because it's a fun gimmick. But if you think about it it's kinda beautiful, too.
SPIDER-VERSE is an animated movie, is a super hero movie, is a Spider-Man movie, and it does each of those identities proud (love the SPIDER-MAN 3 reference), but it also stands on its own in each category. There's nothing like it. I feel certain it will inspire little artist kids, and confident it will encourage more stylistic boldness in the animation studios. Maybe after we've seen sequels and spin-offs and stuff we'll be used to it and lose track of how brand new it feels right now, but it will still be a great movie. I would go so far as to say that SPIDER-MAN: INTO THE SPIDER-VERSE is really fuckin cool. The more I think about it the more I love it.
Turns out we really did need yet another Spider-Man movie. Life can be like that.
This entry was posted on Thursday, January 3rd, 2019 at 2:34 pm and is filed under
Cartoons and Shit
,
Comic strips/Super heroes
,
Reviews
. You can follow any responses to this entry through the
RSS 2.0
feed. You can skip to the end and leave a response. Pinging is currently not allowed.