Stuart Gordon's ROBOT JOX is the timeless story of some Robot Jox. It's a post-apocalyptic world where the surviving factions of humanity fight over territories in sanctioned robot-on-robot battles. During the time of this story the Americans and Russians are fighting over Alaska. So this is the story of those robot battles and of the jox that jock the robots.
The robots aren't alive, they are controlled by jox. Robot jox, if you want to be specific about which type of jox they are. These robot jox train in the martial arts and what not to prime their bodies to do moves that will be duplicated by the robot body around them. They have teams of course to build their robots and work on new weapons and help train them. So it's like a futuristic cross between UFC, NASCAR, and war.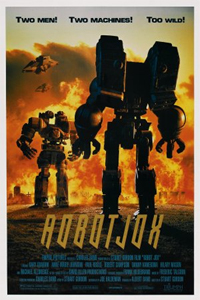 The American fighter is called Achilles, he's played by Gary Graham (the main earthling cop from the ALIEN NATION tv series). He has a fat old redneck in his corner named Tex Conway (Michael Alldredge), a guy that used to be the champ and wears a cowboy hat with his futuristic jumpsuit. One more fight and Achilles gets out of his contract, and that's a good thing. Robot jocking is dangerous and he's getting old and obsolete. They got these new kids that are test tube bred for robot fighting. He doesn't understand them because they don't think like humans.
Let me give you an example. In his fight with the Russian (Paul Koslo from MR. MAJESTYK and OMEGA MAN) the other robot fires its arm as a projectile. Achilles sees that it's heading right for the spectators, so he walks into it, tries to block it. But it knocks his robot into the stands, many people are killed and it's a huge tragedy. He's traumatized and refuses to re-do the fight, causing a scandal and branding him a coward across the world.
Afterwards, in a bar, the test tube robot jox tell him they don't understand why he tried to protect the fans. The people who sit in the stands sign liability waivers, so why would he care? It just doesn't compute for them, this trying to save human lives business.
So it becomes a reluctant fighter story. He eventually decides to help train this new test tube girl Athena (Anne-Marie Johnson). There is some intrigue about who's leaking intel about their new weapons, and some question about who will actually fight. It's a nice lean story, short and simple and classically entertaining, using a cool concept to good effect on a super low budget.
The futuristic sets are cheesy but the robot fights hold up better than I expected. They're done with stop motion and I think miniatures that are actually pretty huge. (They're miniature in the sense that they're not really giant robots, just regular sized robots.) They move really slow, they don't zip around like the Transformers, so they really seem to have some weight to them.
The tone of the movie is like a non-sarcastic STARSHIP TROOPERS – kind of naive and rah-rah ready for adventure. Gordon actually wrote the script with the esteemed science fictional novelist Joe Haldeman, whose book "The Forever War" I am very familiar with, not in the sense that I've read it or know what it's about but in the sense that the Ain't It Cool boys have name-dropped it about a thousand times over the years to show that they used to read books. I think Ridley Scott is making a movie out of it. Anyway, Haldeman didn't see eye to eye with Gordon on the movie, and compared his script being rewritten by Gordon to his child getting brain damage. Gordon later realized that Haldeman thought they were making a movie for adults and Gordon thought it was for kids. Whoops.
I read in the book Filmmaking on the Fringe: The Good, the Bad and the Deviant Directors [shameless capitalistic link]
that the movie was kind of a disaster for Gordon. The production company went under after filming but before doing the robot stuff. He had to wait around for the new overlords to decide if they even wanted to finish it. Then when they did it took way longer than expected. By the time it was out it was 2 years later and they'd missed the transforming robot toy fad they wanted to cash in on. But it did good on video.
Gordon says it was made for 10 year old boys, and sure enough it has a PG rating. But I gotta admit – I enjoyed it. Still, this is the rare movie that I'd actually like to see a remake of. I think with today's technology and a mid-sized budget and (here's the hard part) a tasteful, competent director this could be incredible. Get into way more detail on the fights – the same lumbering, hulking style but with the robots strategically taking each other apart piece by piece, still functioning with broken pieces hanging off. Kind of like an MMA fight. If they want to they can work in some out-of-robot fighting, since the jox are martial artists anyway, it's already set up in the premise. If they need the story to be bigger that can be arranged too. There's a whole post-apocalyptic landscape to explore. Maybe he's transporting his robot somewhere and gets into some scrapes along the way. Or he could start as a scrappy small time fighter with a home made rig before he fights his way to the big time and the glorious job of securing ownership of the Alaskan territories.
If people are actually excited for a new TRON movie then I say there's room for something like this too. I don't know. All I know is that the world is ready to start saying the phrase "Robot Jox" again.
This entry was posted on Monday, June 28th, 2010 at 11:01 am and is filed under
Reviews
,
Science Fiction and Space Shit
. You can follow any responses to this entry through the
RSS 2.0
feed. You can skip to the end and leave a response. Pinging is currently not allowed.