HOBO WITH A SHOTGUN – which came out this week on the dvd and the blu-ray – stars Rutger Hauer (BLIND FURY) as the titleistical armed derelict. I don't think he ever gets a name, he's just an old drunk who rides the rails into Hope City, better known as "Fuck City," a small Canadian town overrun with barbaric crime and ruled savagely by a psychotic crimelord called "The Drake" (Bryan Downey) and his two douchebag sons, who I think are supposed to be modeled after Tom Cruise in RISKY BUSINESS. They wear sunglasses and letterman's jackets but participate in public beheadings and sex slavery. Some of the cops are corrupt too, and one likes to serenade the local prostitutes with smooth come-ons like "You're so hot I wanna cut off my dick and rub it all over your tits."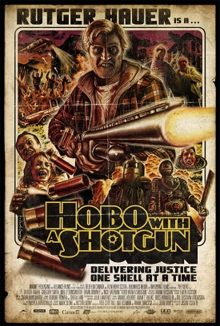 In other words it basically takes place in Tromaville, and the feel is similar to some of the better Troma movies, except without many laughs. One difference is that the punks who beat people up in Fuck City are obviously authentic punks. You can tell by their carefully riveted and band-logoed jackets. Troma dresses people up with face paint and blue mohawks and shit, they're more like escapees from a ROAD WARRIOR ripoff attacking old ladies and robbing fast food restaurants. It makes more sense that way. I mean when was the last time you saw a modern day punk beating somebody up? I think alot of them are kind of smart and shy beneath the leather. They're just a different type of nerd that's into a specific genre of music instead of Lords of the Rings books or whatever. They wouldn't hurt a fly or eat dairy. But post-apocalyptians can't be trusted.
Another difference is that this is deliberately retro-styled, with a well-done '80s style keyboard score, super-grainy film stock, and a scene in an old fashioned video game arcade. That's because this came out of a promotion for GRINDHOUSE – this director Jason Eisener won a contest with a fake HOBO WITH A SHOTGUN trailer he made with his friends, and like MACHETE they expanded it into a real movie.
It was obviously harder for Eisener to do with his resources than it was for Robert Rodriguez, who can get Bruce Willis to come to his house and film on a green screen for a weekend any time one of his kids comes up with an idea for a movie. But in my opinion the novelty of MACHETE, as not-as-good-as-most-people-hoped as it ended up being, is more culturally valuable than HOBO. It has a better reason to exist. Now hold on, hear me out here, fellas. See, HOBO is imitating an old style of low budget filmmaking, but they're actually doing it with less money, resources and skills than the people that made the real ones. MACHETE is doing similar but with more money and resources than the real movies, and that's more unusual because you can do something different instead of a pale imitation.
I can imagine a "real" HOBO WITH A SHOTGUN made in the early '80s, it might even have starred Rutger Hauer, and it would've been better than this because there would've been no irony, it would've meant it. MACHETE I feel like could not have existed, not with such a weird cast (Trejo, De Niro, Seagal, Lohan, Rodriguez, Johnson), probly not with him riding an explosion on his motorcycle, maybe not even with its emphasis on Mexican immigrants getting the shit end of the stick and wanting to kick ass. It took a Mexican-American dude building an empire on SPY KIDS movies to make that a reality.
But that doesn't mean there's no value in making HOBO WITH A SHOTGUN. It's got some well done parts and some clever ideas, so I enjoyed it okay. The bad guys run around wearing ice skates just so they can use them as weapons. And Hauer adds something to it with his craggly-face and weird performance. It's not like Kevin-Bacon-in-DEATH-SENTENCE dedication, it's more like the guy is just a nut. He kinda seems like a crazy guy playing a crazy guy, if that makes sense. (In my opinion it does.)
Like in THE TOXIC AVENGER the criminals try to come up with the most repellant things to do, so they blowtorch a school bus full of kids and murder a reporter on live TV. I guess my favorite example of an over-the-top-sleazy villain is one that's also in the trailer, it's a guy dressed as Santa Claus in his car looking at kids and jerking off. The Hobo With a Shotgun spots him and does not feel St. Nick is owed a fair trial.
The scene where the hobo acquires the shotgun makes no sense, but it's kinda funny. He's in the pawnshop ready to spring for his lawnmower but the store is getting held up so he instead takes a shotgun that's the same price off the wall (apparently already loaded) and uses it to blow the thieves away. He still insists on paying for the gun. Then he just goes around blowing people away and for a while it seems like it's supposed to be a magic gun that doesn't need loading, but then eventually they do show him putting some shells in. I know they're not going for realism here, but I kinda think it would be more interesting if we found out how he was able to afford all that ammo.
I think the ironic distance of the movie causes me to be a little distanced myself. When I watch a DEATH WISH sequel or a WALKING TALL or VIGILANTE I feel like the people who made it really are mad and looking for justice through any means necessary, or (actually more often) believe that that's what the audience wants to feel and is happy to give it to them. With this movie it's obviously not serious and expects you to know that. Eisener does not believe the city is this bad and is not frustrated and wanting to strike back violently. With a real vigilante movie you can be passionate, but this is just a movie that nods its head knowingly at real vigilante movies, so the best you can do is nod your head knowingly back at it.
I gotta admit that I had a bit of a prejudice dealing with this movie that it doesn't seem like most people have. When that GRINDHOUSE contest happened I remember alot of people loved the HOBO trailer and were talking it up. I never actually got around to watching it until now. Not that I didn't believe it was good, but it did kind of bother me that they used the word "hobo." There's a thing in comedy, not as common now as it was several years ago, where people thought it was funny to refer to a "hobo," often in the context of having a dark secret that they killed a hobo. I know they're trying to use an old timey phrase to be wacky, but I feel a little uncomfortable about everybody deciding human misery is the latest cute thing to joke about. And it's kind of an extra "fuck you" to not get the terminology right. I don't think they're usually talking about a hobo, they're talking about a homeless person.
"Hobo" is not a synonym for "homeless person," "bum," "wino," "tramp" or "beggar." Hobos (more common during the Depression) are basically migrants or nomads. They're people who travel around looking for whatever work they can get and then move on. "Bums" also were travelers, but tried to go without working when possible. Hobos believe in work but want to travel and see the world and be free. They have their own Hobo Code, both in the sense of a code of honor (they actually voted on a series of rules at a Hobo Convention, no shit) and in the sense of pictograms that they draw places to give tips to other hobos who might come through.
I'm not sure "Hobo With a Shotgun" is even a hobo. He does come into town on the back of a train, so he might be. And he does have that idea of mowing lawns. But that seems like more of a far off dream than an immediate plan for work. He doesn't seem to look hard for jobs. He does beg for money. He also seems to be alcoholic and mentally ill, two things that tend to force homelessness on people, not giving them a chance to deliberately choose a hobo lifestyle.
His dream is not owning a farm or starting a business or something, but copping a fifty dollar used lawnmower at a pawn shop. I know they're not trying to be mean, but at best it's a little condescending.
I'm not saying I'm deeply offended. He's supposed to be the good guy, obviously. And the actual Troma movies have way more questionable jokes about AIDS, hate crimes, retarded people, you name it. But it just seems a little weird to be so amused with "hobos," when it's such a depressing problem we see every day and try not to make eye contact with. Even living in a relatively small city like Seattle you got homeless people everywhere. Some of them you get used to like they're your neighbors. There's the guy who wears a plastic bag on his head and mutters to himself, the balding guy at the bus stop every night who says "Spare change, big guy?," the guy with the afro pick and the little radio, the weird muscle flexing guy, although I haven't seen him around in a couple years, he might've left, got busted or died.
There are the guys downtown who pretend they just got here from New Orleans and got their car impounded and need a specific amount of money. The guy, I think he's from Haiti or somewhere, who asks you your name and uses the letters as the first letter in each line of a poem, then he asks for money. The guys who try to sell you batteries or razors. The ones who say they need money for the bus but you recognize them from asking you that for years and their eyes look more and more dead as time goes on.
In my neighborhood there are always different guys sitting on the corner by the liquor store or leaning up against the wall behind it. There was an old lady who carried a ridiculous amount of blankets and clothing in a shopping cart – not sure what happened to her. There are the kids here every once in a while looking real sad with their heads down, clutching signs about being stranded away from home with no money. Only a smelly dog. There are people that fall asleep in the doorways, people that just flop over and pass out on the sidewalks. I never want to be that asshole that just steps over a guy and pretends not to see them, I hope that if they were actually hurt I would notice and try to help them. But if they're sleeping something off I don't want to be the asshole that wakes them up either.
There was the lady that sold Real Change at a couple different grocery stores, I saw her on the bus for years. I never knew until after she died that she had been homeless since being kicked out of a building for filing a complaint against the landlord. Who knows what the story was there. I know there are definitely some shitty landlords out there. I'm sure some people would say well, she's dumb, she should've known that filing a complaint against the owner of your building was gonna cause her some problems. So you're comfortable saying that because somebody did something you think was dumb that means they should die on a sidewalk? See, I can't agree with you on that one.
Alot of the spare-changers, if you tell them you don't have any they still bless you or tell you to have a good night or something. Very occasionally they curse you out. Sometimes I'm being honest, I really would give them change but I don't have any. So I get pissed if they do that. I'm not exactly rolling in the money myself, why do you act like I owe you something? I don't even know you.
Then again there's Jesus. He would say to help them. He was really into helping poor people. Easier for him though with his bread and fish multiplying powers and what not. But it's obviously a good philosophy.
I wish I knew how to help these people. Instead I learn to get jaded and desensitized to their plight. But when I let my guard down, even if they're messed up I got alot of sympathy for them. I think most of them are out-of-control addicted or mentally ill with no system in place to help them cope. They got no family, sometimes because their relatives are dead, sometimes because the family's got good reason not to want to talk to them anymore. But whatever the situation they're obviously in a shitty place in their life and if I could be Jesus and bring 'em inside and feed 'em and teach 'em to fish I would love to do it. But I don't know a way. There are probly some situations where giving them money can help them, but usually you figure it's only feeding the habit. You tell yourself that, anyway, and you're probly right. Also, you've seen the guy with the bag on his head throw his money in the bushes. Some of the other guys follow him around because they know he does that.
It's just a shitty situation, and it gets worse in times like this. The economy's doing bad, plus the politicians believe they gotta keep cutting taxes, so the various governments go broke, they gotta start cutting budgets. That means less homeless shelters, less women's shelters, less city workers to look after the homeless people, bring them blankets during the winter. It means less mental health services, less social workers, less treatment for addicts, and therefore more people on the streets. And you know how bad our fuckin insurance situation is. If somebody is out of work because they're crazy you can't just tell them "hey, stop being crazy." Or you can, but they probly won't do it, or be able to do it even if they want to. You gotta have a good job with good benefits first, then you can be crazy. Otherwise it's trouble.
So I see Rutger Hauer with his sun-hardened wrinkles, his dirty hat and layers of clothing, his callused hands, I got a hard time thinking "ha ha, hobo. Ha ha, he gives her a cup of shitty dandelions, 'cause he's homeless, he can't afford real flowers." If it seemed more authentic it might be cool, but they do this cartoon version. I mean I think he could manage to steal something better than dandelions.
But I guess they're trying. I do appreciate that they got basically a "Bum Fights" guy as a villain that gets a comeuppance. I hope some of you don't know about this, that there really were some scumbags who paid homeless dudes to fight each other and sold video tapes of it. Widely, commercially distributed professional videos and DVDs, a whole series of them, until I think they got sued or something. It's good to see a guy like that feel the wrath of Hobo w/ Shotgun.
If all that shit I brought up doesn't interfere with your enjoyment of a movie like this (which for most it probly doesn't or shouldn't) maybe you'll think the movie's better than okay. But maybe not. I feel like it doesn't have enough jokes but isn't designed to be taken seriously either. So I can't appreciate it on the level of THE EXTERMINATOR or something because it's tongue-in-cheek, but also not on the level of BLACK DYNAMITE, because it only has a couple of laughs. It's not serious enough to be drama and not funny enough to be comedy, like that movie THE WASH starring Snoop Dogg and Dr. Dre, except instead of a car wash it's about a homeless individual and Snoop Dogg isn't in it at all, or on the soundtrack. Bummer.
I will say this, it has a perfect ending. Not a joke, not a parody, just a fateful conclusion to the story of this character, a little poetic flourish and some of the ol' dramatic synths as the credits roll. That goes a long way.
Actually, thinking about that ending I am prepared to say that HOBO WITH A SHOTGUN is probly better than THE WASH, from what I remember. But it's no TOXIC AVENGER.