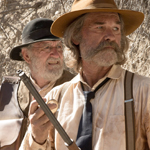 Before THE HATEFUL EIGHT, Kurt Russell first teamed with his crazy mustache on a different ensemble western with bursts of outrageously brutal violence. BONE TOMAHAWK is kinda like a John Wayne movie that happens to bump into CANNIBAL HOLOCAUST for a minute. But don't get too excited about that high mash up concept. For the most part it's a straight up western, for people who enjoy westerns. It's just that it's got a scene or two that might make a few of those guys spit out their coffee.
In the opening scene two murderous bandits, Buddy (Sid Haig) and Purvis (David Arquette), trespass on some kind of skull-decorated burial ground that Indiana Jones might be able to tell them about. They were just talking about what's proper to do with the Bibles of the travelers they murdered on the road, but they do not show the same concern for this particular culture. Anyway, they get into some trouble, you could say.
Purvis escapes and makes it into the town of Bright Hope, where he is not welcome, and quickly ends up shot and arrested by Sheriff Franklin Hunt (Russell). But during the night some kind of savages attack the jail, tearing one man apart and abducting Purvis, a deputy (Evan Jonigkeit, Toad from X-MEN: DAYS OF FUTURE PAST), and a local doctor (Lili Simmons, who I guess is on Banshee, but I honestly thought she was Katherine Heigl). She was at the jail to attend to Purvis's bullet, and yes, for the record she drops the slug into a metal canister. Anyway she's in the wrong place at the wrong time, she gets abducted. Most of the movie is about the rescue party traveling to cannibal territory to try to get them all back.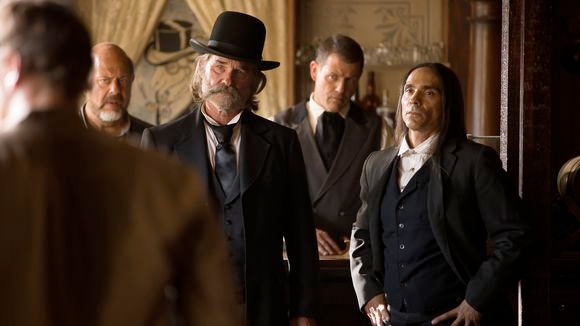 The culprits, we learn, are not a real Indian tribe, but barbaric cave-dwelling inbred troglodytes, kinda like the savages in OFFSPRING (the book by Jack Ketchum, basis of the crappy movie that spun off into the excellent THE WOMAN). This is a cool way for the story to follow traditional western tropes without making us feel like Redskins fans. And since the Native who provides the exposition (Zahn McClarnon [Holy shit, that's Hanzee, the most badass character from Fargo season 2! He's only in this one scene, though]) says that white men wouldn't notice the difference, there's kind of an implication that horrible deeds attributed to the tribes could've really been done by these fuckers, and misunderstood by dumb white people. Later we do see that they like to scalp people.
It's also worth noting that the troglodytes are racist when it comes to who they eat. Not important, but an interesting detail.
You know me, I like a good tribe-of-mutant-savages movie. This group includes such characters as Wolf Skull, Boar Tusks, Eagle Skulls, Sharp Teeth and Misshapen Troglodyte. But honestly they're not in it enough to feel like the subject of the movie. It's not really a movie about monsters. It's about the fully evolved, terranean characters on this journey. This probable suicide mission starts with the two men who "don't have a choice," the sheriff and the doctor's husband Arthur O'Dwyer (Patrick Wilson, also from Fargo season 2!), who the sheriff understands must go despite an ever-worsening leg injury that slows them down and could eventually require amputation. For his part Arthur is aware of slowing them down and tells them to go ahead of him with hopes to catch up while they sleep. And they don't argue, they just do it. Everybody here is very aware of the "man's gotta do what a man's gotta do" ethic.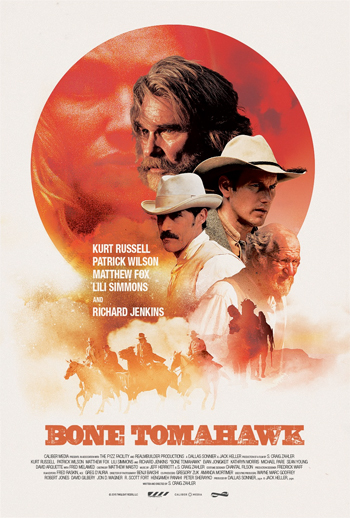 Also insisting on going along is backup deputy Chicory (Richard Jenkins, unrecognizable at first), a goofy, somewhat doddering old man always trying to prove himself valuable even though nobody else thinks he needs to. He brings a good combination of determination and humanity, not wanting to just shoot everybody. He's the comic relief but also a deceptively good deputy.
On the other hand there's fancy-dressing John Brooder (Matthew Fox), an asshole, but admirable in that he felt a duty to help. Based on his look you might think he'd be an aristocrat who thinks he's tough but finds out this business is too much for him. To the contrary, he's a mass killer of Indians ("Strange thing to boast about." "It's not a boast. It's a fact."), like the Chris Kyle of the Old West, and that either is a sign that he's crazy or a thing that has damaged him. He seems to have the potential to go Mr. Blonde on them at any moment.
Since this had a little buzz from Fantastic Fest but went the limited/VOD route right away I wasn't sure how legit it would be, it could be a phony-feeling young indie dude's fake version of a western. I'm happy to say that skepticism was unnecessary. It's the real deal. Nice cinematography (by Benji Bakshi, veteran of seven Billy Blanks Tae Bo videos!), convincing period detail, a nice deliberate pace, even a not-ironic-I-don't-think end credits cowboy song with the excellent title "Four Doomed Men Ride Out." Like most of my favorite westerns this one is largely about the relationships of the characters, some guys in the grim position of having to go on a dangerous mission, bonding and having each other's backs, and trying to overcome their own fears and weaknesses.
The main cast are all excellent. Russell is a more upstanding, more John Wayne-like character than in HATEFUL EIGHT. More lovable. Wilson is actually very similar to how he is in Fargo, a quiet, calm, but unrelenting man who keeps turning out to be tougher than expected. At first I thought Fox might be in over his head, but maybe he just looked funny with the mustache and the small hat. He works. Jenkins, though, absolutely steals the movie. With his declarations of "it is the official opinion of the backup deputy that…" he gets all the laughs, but he's also a character who can be very sensitive without it ever making him seem weak. After Brooder shoots two Mexicans seemingly without cause, Chicory walks over and looks at the bodies for a little bit before moving on. Like they at least deserve that much. It's the little moments like this that make it work.
Rookie writer-director S. Craig Zahler is an author with a bunch of novels under his belt, including at least one western and some crime and sci-fi stuff. That makes sense. This is a very literary movie. Sure, it uses its silences and wide open spaces well, but its biggest strengths are its characters and the words they say. It never feels like he's mimicking the Coen Brothers, but he seems to have a similar interest in archaic language. The conversations are interesting for the word choices alone. I think my favorite moment in the whole movie is just what Sheriff Hunt says to a man about to die on the mission. Instead of an obvious wording like "we'll finish what you started" or "you won't die in vain" or whatever, what he says is "We'll make sure all this has value."
I liked this one.