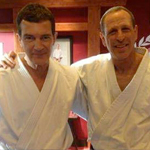 Instead of thinking of ACTS OF VENGEANCE as the new one from DTV action master Isaac Florentine, I recommend viwing it as the new Antonio Banderas, and oh shit Isaac Florentine directed this! Held to the standards of Florentine's amazing UNDISPUTED 2, 3 and 4, NINJA 1 and 2 or other Scott Adkins vehicles it can't really compete. But for a non-martial artist Banderas has some good fights, and it has a nice, weird revenge story for him to sink his actor teeth into.
He plays Frank Valera, a successful defense attorney who, like all workaholic dads in movies, promises to be at his daughter (Lillian Blankenship, SECURITY)'s talent show where she's singing a song specifically for him but he stays at work too long and gets there after it's over and feels like a piece of shit and emotionally watches the cell phone video of her singing and tries to call to apologize to his wife (Cristina Serafini, DAY OF THE DEAD: BLOODLINE) but man did he fuck up, this guy.
(For what it's worth, most of the delay was caused by gridlock, and he was honking his horn alot. It was mostly out of his control.) (read the rest of this shit…)
VERN has a new action-horror novel out called WORM ON A HOOK! He has been reviewing movies since 1999 and is the author of the film criticism books Seagalogy: A Study of the Ass-Kicking Films of Steven Seagal and Yippee Ki-Yay Moviegoer!: Writings on Bruce Willis, Badass Cinema and Other Important Topics as well as the crime novel Niketown.