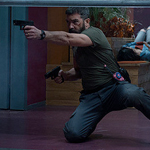 SECURITY is solid, entertaining old school action in the post-DIE HARD mold. The score by FM Le Sieur even had me thinking of the UNDER SIEGE movies during the watch-as-a-well-orchestrated-plot-by-heavily-armed-criminals-unfolds section about the ambush of a convoy of U.S. Marshals transporting an important witness for a mob trial.
Admittedly this is a Nu-Image production and it doesn't feel as big and cinematic as those '90s studio action classics. The supporting cast on the good guy side have a bit of a TV feel, and the shopping mall that it takes place in has got to be some set they keep in a Bulgarian studio to use in various movies. The stores and merchandise are blandly generic – there's a store called "Gift Shop"! – so it never has that feeling of being filmed in a real location, though the layout works well for action staging.
Everything else is refreshingly on-point. Antonio Banderas stars as discharged Marine Captain Eddie Deacon, temporarily separated from his wife and daughter to deal with psychological issues, struggling to find work, having to beg for a special favor from an agency worker just to be set up with a minimum wage job doing security at a mall. Of course he starts the same night and in the same area as the attack on the US Marshals (actually their uniforms say "USA Marshals," which is weird) and the witness the attackers are after, a little girl named Jamie (Katherine Mary de la Rocha), escapes to the mall. So Eddie has to play ASSAULT ON PRECINCT 13 with a crew of young doofuses on his team.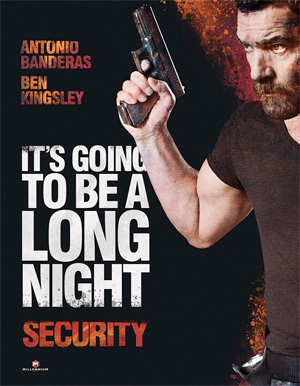 Though DESPERADO is my favorite Banderas role, it seemed weird treating him as an action star by casting him in EXPENDABLES 3. But these days he seems like he could replace Cuba Gooding Jr. as the go-to DTV guy. He's got GUN SHY coming out (a comedy, but directed by Simon West) and something called BULLET HEAD and of course Isaac Florentine's ACTS OF VENGEANCE and he's had a few others. Here he looks a little skinny and short for such an asskicker but he and his doubles do the action well, even pulling out some of his dancerly mariachi moves – sliding on the floor while shooting, two guns aimed in opposite directions, etc.
But mostly he's just a compelling character who we really attach to in the broody opening in the employment office and cheap motel where he makes a sad late night call to his wife. This is a troubled super-badass humble enough to take it in quiet stride that he has to take orders from silly young guy Vance (Liam McIntyre, Spartacus: War of the Damned) to get money for his family. If I'm not mistaken, though, Vance pegs him for army and he lets him believe he guessed right and get cocky about it, a mild and unnoticed act of disrespect.
The young mall staff (also including cowardly Mason [Chad Lindberg, Jesse from THE FAST AND THE FURIOUS], knows-how-to-make-bombs-from-the-internet Johnny [Taiwanese pop star Jiro Wang] and hungover lady badass Ruby [Gabriella Wright, EVERLY, TRANSPORTER REFUELED]) could disregard this brand new hire, but the script by Tony Mosher (MECHANIC: RESURRECTION) and John Sullivan (RECOIL) is smart enough to make them follow him and work together to protect the girl, with minimum in-fighting. Even Vance, who Eddie has to hit over the head to stop him from giving in to the bad guys, quickly recognizes the wisdom of putting the Captain in charge.
Where most low budget movies of this type would whiff it would be in the villains. They'd have someone totally generic or just kinda dull, or a big name past their prime person not really giving their best. This one has Academy Award winner Ben Kingsley exuding pure calm menace as a guy just calling himself "Charlie." At first he comes to the glass doors pretending to be Jamie's dad. When Eddie's not buying it suddenly a bizarre looking henchman steps out of the shadows with a suitcase full of bribe money. Look at this weirdo! His name should be Igor.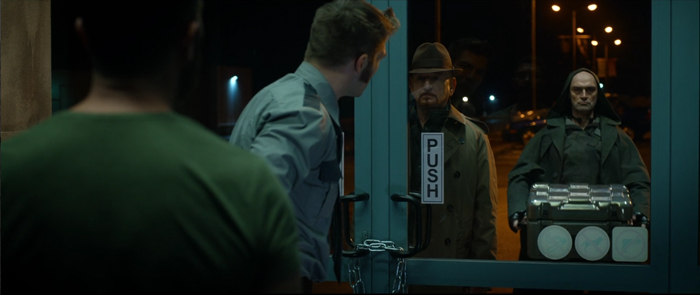 The actor is Velimir Velev, who has previously played such characters as "Male Day Terrorist" (OCTOPUS), "Mime/Spider" (SPIDERS II: BREEDING GROUND), "Alien" (ALIEN HUNTER), "Bald Assassin" (THE TOURNAMENT), "Prison Clerk" (CONAN THE BARBARIAN), "Miner #4" (EXPENDABLES 2) and "Preacher Murderer" (THE HITMAN'S BODYGUARD). Here he at least graduates from a noun to an adjective, being credited as "Feral." He makes a strong impression for a dialogue-less thug.
Later he's the first guy to storm the castle, and he does it in a delightful way: sprinting toward it screaming like a maniac, running up an SUV, leaping onto the wall, climbing up it using two axes. I do not want to fuck with this guy! And he's only the second best henchman because Charlie's #2 "Dead Eyes," sort of the Everett-McGill-in-UNDER-SIEGE-2 character, is played by my current pick for most underrated action guy: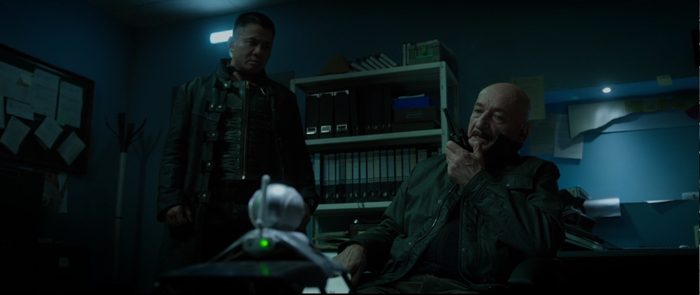 That's right, it's MMA legend Cung Le, who starred in John Hyams' DRAGON EYES, played Bronze Lion in THE MAN WITH THE IRON FISTS, and excellent supporting villains in BODYGUARDS AND ASSASSINS, THE GRANDMASTER and SAVAGE DOG, among others. And they seem to have designed his role with fans like me in mine, keeping him around for intimidation until a climactic okay-then-I'll-do-it fight. Of course it's not the high level of martial arts of any of the movies I just listed, but it's a good fight considering it's against the dude from the Pedro Almodovar movies. (Fight choreographer: Borislav Iliev [EL GRINGO, ENEMIES CLOSER, LONDON HAS FALLEN, played "Three Fingers" in WRONG TURNs 3 and 5].)
The fighting and grappling is decent, not great, but it's mostly taking-cover-from-machine-gun-fire-and-creating-distractions-and-strategizing kind of action. It's well staged, with excellent, tension-raising use of security monitors and a camera on a remote control car that Jamie cleverly uses for reconnaissance. There's also a nail-spewing booby trap, minor use of consumer drone, a good bow and arrow scene, and of course a few explosions and highly detailed vehicle crashes. Here's a nice DIE HARD 2 moment with the added quirk that he has to use a silly looking toy walkie-talkie: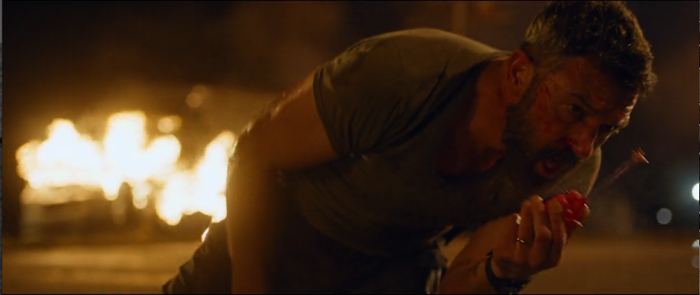 I can't take credit for finding this one. I only know about it from the recommendation of Sternshein, later backed up by other commenters. Thank you!
We'll have to keep an eye on this director, Alain Desrochers, a Genie-Award-nominated Canadian director who got his start with a couple episodes of the The Hunger TV series. His action movies include NITRO (2007), its sequel NITRO RUSH (2016) and the upcoming BON COP BAD COP 2. (He didn't do the first one.)