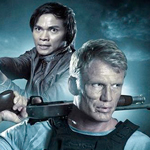 SKIN TRADE (actually written as SKINTRADE on screen) is the long-awaited passion project of Dolph Lundgren, who produced and wrote the screenplay with Gabriel Dowrick (an editor and sometimes director) and Steven Elder (an actor who was in GALLOWWALKERS). Over the years Dolph had sometimes planned to direct it himself, sometimes not to act in it, at one point possibly to have Steven Seagal co-star. Eventually he handed over the reins to Ekachai Uekrongtham, director of BEAUTIFUL BOXER and PLEASURE FACTORY, which is about the sex industry in Singapore. To Dolph SKIN TRADE is an attempt to raise awareness about the problem of sex trafficking. For me it is an achievement in having a movie that stars Dolph Lundgren, Tony Jaa and Michael Jai White.
Dolph plays Nick Cassidy, an NYPD detective who gets himself into trouble by gunning down Serbian gangster Dragovic (Ron Perlman, sort of reprising his character from POLICE ACADEMY: MISSION TO MOSCOW)'s prettiest son two seconds after he yells "I will prove to you… I AM MY FATHER'S SON!"
Just another day on the job, you would think, but next thing you know some dudes fire an RPG into Nick's living room window and he wakes up in the hospital with the side of his face melted and no wife or daughter in his burned down house.
Meanwhile Tony Jaa plays Tony, an undercover cop on a crusade against Dragovic's sex slavery ring in Cambodia and Thailand. We first meet him wearing a nice suit and being threatened at gunpoint to have sex with a young kidnapped child. He fakes like he's gonna do it but instead he pulls out his belt to use as a weapon to beat up every sorry sex slaving piece of garbage in the room and dangle their cowering leader (Gigi Velicitat, ELEPHANT WHITE, THE MARINE 2, STREET FIGHTER: THE LEGEND OF CHUN LI) off the side of the building until he tells them where their next shipment of human cargo is headed. And then he drops him anyway. The guy probly shouldn't have offered him that freebie on sex slaves in my opinion. That was his mistake. (read the rest of this shit…)