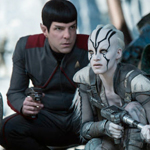 I'm not sure if this is what STAR TREK BEYOND is supposed to mean, but this new star trek goes beyond just referencing old star treks. I don't think part 2, INTO DARKNESS, is as bad as its reputation now, but it kinda left a sour taste in my mouth by building itself too much on "see, this is like before, only it's the reverse of before" and shit like that. I would rather see a new story, which is what they did here.
Since part 1-2 director J.J. Abrams jumped ship to do a STAR WARS, he's only producer on this one. And since Paul Greengrass decided to do another BOURNE movie with Matt Damon, Justin Lin (FAST AND FURIOUS 3-6) had to forget about the one he was developing with Jeremy Renner, so he became available.
Another thing that's different on this one is that Simon Pegg, who plays Scotty, co-wrote it (along with Doug Jung, who wrote CONFIDENCE and some episodes of Dark Blue and Banshee). So it finds Captain Kirk, like Pegg's character in the Edgar Wright movies, unhappy and questioning what he's doing with his life. He's three years into a five year star trekking contract (I guess we've missed a whole bunch of adventures since part 2) and getting kind of bored of the ol' final frontier. So he thinks he wants to become an Admiral.
But one day on what seems like an easy task the Enterprise suddenly gets destroyed by a swarm of metal space bug things and they crash land on a rocky planet. The crew gets split up and they face various threats before they reunite and come up with a plan to fight Krall (Idris Elba, GHOST RIDER: SPIRIT OF VENGEANCE), the leader of the bugs, and rescue themselves. (read the rest of this shit…)