PATHFINDER is a very simple Norwegian adventure movie about a kid whose village is invaded. It's presented as a story that's been passed down from generation to generation, and it does have that feel of a legend or a folk tale.
I've never seen a movie about a culture like this. They're white people with funny beards and mustaches who wear white fur clothes and hats. They live in tents to protect them from the snow. They hunt on skis using bows and arrows (bow and arroweses?). Reindeer pull their sleds. Holy shit, this must be how Santa Claus grew up! This is like a hood movie to Santa Claus.

The Tchudes, the invaders, wear grey furs instead of white, which is helpful for distinguishing the characters from each other – I like that. They don't look like scary badasses or anything, just grim older guys. The villagers tend to look jollier, in my opinion. The Tchudes do have a crossbow with fangs on the front of it, that's pretty scary. Somebody says they're as bad as wolves, which is unfair because wolves can be nice and have more than one color of fur.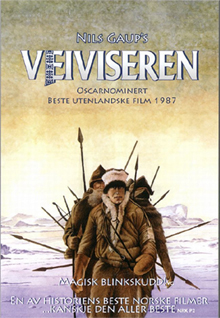 Anyway, the Tchudes come in and slaughter everybody, I guess to steal their food and stuff. I don't think they want their hats. Whatever they're trying to do I'm against it, and so is this kid Aigin. He happens to be out hunting when the shit goes down, so they don't get him. They spot him and he drops one of his skis, but he's pretty good even on one ski so he escapes to another village.
One problem: this fucking snow everywhere. It means he leaves a trail. The people in the next village are like "Great, thanks for stopping by, kid" and start packing up their shit to get the fuck out of there before company arrives. God damn Tchudes. Nobody wants to deal with 'em.
But Aigin's thinking is wait a minute, I only ran because I'm a kid and I was by myself. You motherfuckers are adults with weapons and numbers. Don't you want to protect your tents and your snow and shit? Let's stay and fight like men! This is a good patch of snow you got here!
But the villagers's thinking is uh, no.
Aigin is stubborn as well as confident in his bow and/or arrow skills, so he stays while the cowards flee. In fact, he sleeps. That's how not scared he is. He's willing to risk oversleeping and waking up mid-pillage.
In the morning, though, a couple of dudes show up because they changed their mind and came back to help him. It's a great moment of manly camaraderie. And they're not even gonna wait for the Tchudes to catch up, they're gonna follow Aigin's tracks backwards to find them. Fuck it. Get it over with.
The movie (called OFELAS in its original language) came out in 1987 and was nominated for the Oscar for best foreign language film (it lost to BABETTE'S FEAST, 'cause Oscar voters love feast movies). The director is named Nils Gaup, he apparently appears in the movie also and did some of the music. He later did the movie that was remade as HEAD ABOVE WATER and the Christopher Lambert movie NORTH STAR.
PATHFINDER is a nice story, to the point, not complicated. And I like seeing a movie about a place and time I don't give much thought to usually. I mean I don't know how many movies you guys have seen lately in any of the Sami languages, but I would say that those make up I'd say a mere 45% of the movies I watch these days, maybe even less.
I'm glad most people in movies don't have those long mustaches, though. A couple of these guys always got snow stuck in their mustaches and you can't stop looking at it. It's like when you're talking to somebody with a big wart on their nose and you realize you're not making eye contact.
In one part I thought it might be some kind of dried-up fake snow liquid, and that was even more distracting. But it probly was real ice, because I read that they filmed most of it outside and in temperatures as low as -47 degrees C.
I suppose it still might not be snow on the mustache, it might be frozen milk or something. But other than that this is a good one.