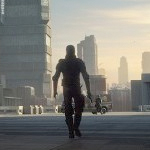 Dreddful. Absolutely dreddful. That means good! I really liked this movie.
It's a coincidence, but it's kinda cool and weird how much DREDD is like a sci-fi version of THE RAID. Similar premise: heavily armed but outnumbered police team raid a building controlled by a crimelord, crimelord announces over the intercom that they need to be killed, they have to fight their way up to the top of the building to kill the leader. But since it's sci-fi the brutality and overkill of the police force is part of a dystopian future, the building (called "Peach Trees") is 200 stories instead of about 30, and the whole thing is sealed behind blast shields so that nobody can get out. Instead of powerful silat skills our protagonist Judge Dredd (Karl Urban) relies on a badass computerized and voice-activated gun with various forms of bullets, explosives and firebursts.
There are a couple other variables that change things up: he's testing out a rookie partner (Olivia Thirlby, the friend from JUNO, it turns out) who has psychic powers. He's lugging along a prisoner (Wood Harris from PAID IN FULL). Many of the building's residents are innocent. But it's similar in its bleak griminess and unrelenting violence.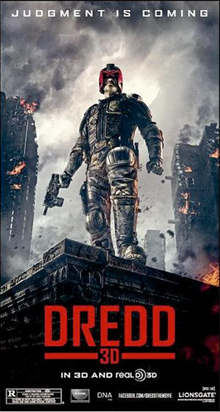 There are more effects involved in the carnage – brains splattering, slow motion skin rippling, bullets seen exiting flesh, the harshest body-falling-from-building splats I've ever seen in a movie – but it all feels pretty organic, not digital-slick and definitely not soundstage phony like the Stallone movie based on the same long-running British comic book.
Urban plays Dredd more mythic and way more menacing than Stallone. You never see more than his mouth, always curled into an exaggerated frown. In the opening scene his face is in shadow, then he puts on his giant helmet and he never takes it off. He has to act without his eyes – hell, he has to act without his nose. Hiding under that thing he still gives one of his best performances as a heavily Clint-inspired stoic warrior who never succumbs to sentimentality, humanization or trying to learn something. Even when he gets to the inevitable (SPOILER) Clint-acknowledging-respect-for-Tyne-Daly-in-THE-ENFORCER moment he has a long pause, says it in three words behind her back and then walks away. He lets her believe she's failed and doesn't need the satisfaction of seeing her happiness when she finds out otherwise. She doesn't get a chance to bond with him and if she's touched by the gesture we don't get to see it. It's character growth in such a tiny increment that it makes it more convincing. The ol' BAD SANTA maneuver.
He reminds me alot of Robocop, but he doesn't have the excuse of being a robot. He's just very professional and inhumanly serious about following the rules. And like ROBOCOP this a future where crime has gotten so bad that society has resorted to an oppressive, militarized police force. They're called Judges instead of Officers because they determine guilt and sentencing on the spot. And it seems like most of them are hanging judges.
That his partner is a psychic and uses her powers to save an innocent suspect is a friendly gesture to the audience and our sensitivity about fascism. She's a rare type of mutant, so it's an unusual thing that she knows if people are guilty or not before they freeze them or shoot them. Which might be a flaw in this system. Maybe put some tax money into finding more of these mutants.
There's a part where Dredd refers to somebody as a murderer and it cuts to some bodies on the ground and I thought Dredd himself might've been responsible for them, I couldn't remember. But unless you count that part the movie doesn't really satirize or judge this system of justice. It just says here's the horrible world this takes place in, and here's what happens there one day.
I've been thinking about this alot since seeing the movie yesterday: it's a weird choice to have this type of society and not show its flaws. As far as we are shown, crime really is bad enough to demand this type of law enforcement. When a Judge feels bad about executing a criminal it's because the guy had a family, not because he didn't have it coming. Still, I think even with the deck stacked in its favor the wrongness of the Judge system is self evident. It doesn't need to be pointed out or especially ROBOCOP 3'd (like, there's a rebel group trying to reform the system or something). That the movie just asks you to go with it makes this vision all the more bleak.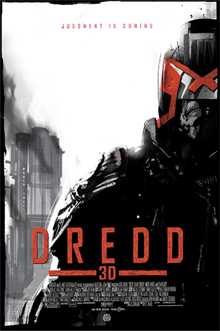 I don't think Dredd is a good idea for civilization, but I think he's an interesting character. I enjoy his single-mindedness and lack of self consciousness. In that sense he's kinda like Blade and Ray Stevenson's Punisher.
The world he inhabits is obviously heightened, but feels real in a way many sci-fi movies don't. I guess a medium budget stopped them from doing aliens and robots, but I like that. It's day time, hazy and overcast, the tall buildings are spread out and the cars don't fly. It's not BLADE RUNNER, it's gigantic housing projects.
GAME OF THRONES flower in the attic/TV Sarah Connor Lena Headey plays the villainess, Ma-Ma. She was an abused prostitute who pulled herself up by the garters and conquered Mega-City One's drug trade, but she's no folk hero. She gets high on her own supply and seems to have a death wish more than a master plan. She's still beautiful but with some serious facial scars. There's alot of disgusting scars going around in Peach Trees, actually. I'm not positive but this computer operator kid I could've sworn had stitches that spelled out a word on his forehead. Dredd has to do some self-surgery too but he seems to have access to better healing agents.
There are many scuffles, mostly pretty intimate, not big show-offy setpiece kinda stuff. Conflicts are resolved in clever, badass ways, and there are some good one-liners. Eastwoodian, not Arnoldesque. It follows proper action movie procedure: builds a good structure, satisfies expectations but not always how you expected. I was hoping Dredd would get dosed with the time-slowing drug Slo-Mo and use it to his advantage in a fight, but maybe that would be too obvious.
I love the smallness of the story. It's just a day on the job for this guy. The world is not at stake, there's no chosen one, no prophecy, not even an assassination attempt or a dirty bomb or anything. It's just the call they chose to respond to, one of several crimes called in at that moment, and they gotta see it through. He doesn't seem impressed when it's over, this is just what he does. More comic book movies should use this approach.
Adding to the tense tone is a pulsing electro-score by Paul Leonard-Morgan. But it turns out there was an even better, more John-Carpentery-Tangerine-Dreamy one by some other guys that they ended up not using but they allowed it to be released under the name "Drokk."
As for the 3D, I'm not sure. For me it had sometimes had blurry spots that messed up the dimensionality, especially in shadowy or reflective parts of the frame. I actually thought it was my tired eyes or a projection problem, but I heard some other people might've had a similar experience. I know they used a bunch of different 3D systems and there are different cinematography styles and graininess and stuff, so maybe some of those techniques are not good for three dimensions. But when I wasn't having that trouble it looked great, well composed, lots of depth.
There are a couple especially good uses of 3D: beautiful slow motion for some drug scenes, splattering blood and brains and teeth, and a really original use for a scene that takes place inside a guy's mind. Heads are concave and bulging in all the wrong places. Bizarre and unsettling.
The director is Pete Travis, who comes from British TV. His previous features are VANTAGE POINT (the Dennis Quaid suspense thriller that I hate from seeing the trailer too many times, but maybe it's good) and ENDGAME (drama about the end of apartheid). I would've guessed he was a commercial director or something, because it looks so good. Special hats off for the most beautifully photographed horrible villain death I can think of. Screenwriter Alex Garland wrote the novel of THE BEACH and then 28 DAYS LATER, 28 WEEKS LATER and the excellent NEVER LET ME GO. (Hopefully a DREDD/NEVER LET ME GO crossover is up next.)
Apparently there were some power struggles between the two, with Garland ultimately taking over editing from Travis, but it doesn't seem like that type of troubled production. It seems like there's a clear vision to it. Whatever happened, neither of these guys seem like the people who would make DREDD, or do this good a job of it. Good for them. I'm sure Dredd's colleagues Blade and the Punisher are happy to welcome another pulpy, lowbrow, hard-R comic book movie into the world, and so am I.