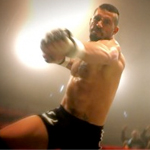 Note: the Blu-Ray cover calls it BOYKA: UNDISPUTED 4, but you know the rules – I go by what it says onscreen in the actual movie, which is simply BOYKA: UNDISPUTED.
Fuck prison fighting circuits. Time for some undisputedness on the outside – doing a flying spinning double kick while breathing the fresh air of freedom, or at least freedomishness. International martial arts superstar Scott Adkins returns to his signature role of Yuri Boyka, defeated villain of UNDISPUTED II who won an international prison fighting tournament in part III and got away at the end. Remember? The first time we ever saw him smile or laugh.
Now we find that new Boyka, the one who has experienced smiling before, in the Ukraine, openly fighting in an underground MMA outfit. The filthy prisoners chanting his name have been replaced by gambler bros in leather jackets. I don't think it matters to him, because in the now noticeably bigger ring he is alive. I don't know what kind of new camera/lens/rig they're using, but it shows him better than ever, putting you in the ring, floating around him, under him, gliding over you like a supernatural force.
When he's not grouchy he's broody, because he doesn't consider the slate clean. He's still very religious, and feels a duty to donate most of his earnings to his church. The father disapproves of his "violence" and questions whether he can seek salvation while still fighting. But Boyka says "I think God gave me this gift. And I think it would be a sin to waste it."
In the grim opening narration he tells us "I know that a man that's done what I've done does not deserve to dream. But I still do." That dream is to be given the shot to prove himself in legitimate, legal fights, specifically a regional tournament happening in Budapest in two weeks.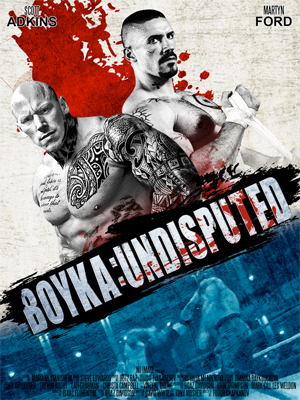 But BOYKA is not about another tournament. In a preliminary match, Boyka's opponent (Emilien De Falco, Van Damme's stunt double from Jean-Claude Van Johnson) is as hungry as he is. Boyka keeps hammering him and he keeps getting back up. Boyka even grunts "Stay the fuck down" at him, his grumpy version of Bruce Lee's head shake warning to Chuck Norris in WAY OF THE DRAGON. But this guy doesn't deserve to go out like Chuck, so Boyka is devastated when he finds out that the guy died in the hospital.
He has to ask what the guy's name even was. (It was Viktor.) He looks through his gym bag, left behind in a locker, to get an idea who he was. And then he does something honorable: he risks his freedom crossing into Russia to find this man's widow and apologize. As the wife of a fighter, Alma (Teodor Duhovnikova, THE SHEPHERD: BORDER PATROL) lives around fighter circles. Boyka follows her to her job at an arena-casino, where he figures out she's an indentured servant in order to pay off her husband's debt to the gangster Zourab (Alon Moni Aboutboul, RAMBO III), who treats her as his property.
It takes persistence, some staredowns and fisticuffs just for Boyka to be able to talk to her. When he does, she refuses his apology, and wants him to leave. Instead he makes a deal with Zourab to fight some matches in exchange for clearing her debt. Boyka has to fight three matches, defeat the champ, and not get turned in to the authorities, and he has to do it in time for the bus to the tournament. But none of that is as important as his interactions with Alma, who gradually, reluctantly respects what he's trying to do for her and lets him use Viktor's equipment to train. Duhovnikova has strong, intelligent eyes and gives a complex, dramatic performance exceeding expectations of DTV, even for this great series. She has scenes where she has to work as a waitress while Boyka is fighting, and she looks up and sees how good he is, and is thinking both about his potential to help her with those skills and the fact that they killed her husband who she'd loved since the age of 16. And then Boyka is conscious of her gaze – and God's – when he's about to finish off his opponent. There's so much going on here.
Adkins is right there with Duhovnikova, miraculously steering this former cartoonish bad guy into a layered portrayal of grief and guilt and stubbornness. That's one of my favorite things: heavy shit expressed simply by quiet, inarticulate tough guys. This is one of Adkins' best performances to date.
Yes, BOYKA brings the series to new emotional territory, but not at the expense of the character's iconic badassness. We see a nicer side of him – he even allows kids to watch him train – but he still seems like the same grimacing Most Complete Fighter In the World. He's just further along in his journey. But not far enough along that he doesn't enter a scene preceded by a security guy flying in from off screen, flipping and smashing a table. My one criticism is that maybe his clothes are a little too in fashion.
The drama doesn't get in the way of the kicking, either. To date, each UNDISPUTED has a different, but superb fight choreographer. This time it's Tim Man, who did the previous Florentine/Adkins sequel, NINJA II: SHADOW OF A TEAR and the upcoming ACCIDENT MAN and TRIPLE THREAT. Todor Chapkanov (MONSTERWOLF, MIAMI MAGMA) is credited as director, with Isaac Florentine as producer. Neither are interviewed or mentioned in the behind-the-scenes documentary. Let's just say that it sure seems like a Florentine-directed film.
These fights continue to build on the acrobatic style and storytelling of II and III. The fight with Viktor stands out because this opponent is not the usual vicious growler, he's a serious athlete fighting respectably and impressively. I've noticed that in these movies if you get hit in the face and your mouthpiece flies out that means you're KO'd. But Viktor gets back up, puts it back in, loses it again, gets back up. Boyka needs to beat him so he keeps getting angrier, until he fights back too hard.
Most of the action is in the ring, but of course Boyka also gets into it with dudes in the gym and on the street, sometimes with guns.
Primary opponent duties are split this time between local champ Igor Kazmir (Brahim Achabbakhe, THE KICK, MAN OF TAI CHI, NEVER BACK DOWN: NO SURRENDER) and a shipped-in heir-to-Boyka's-prison-title called "The Nightmare" (6'8″, 325 pound, heavily-inked bodybuilder Martyn Ford), neither likely candidates for redemption in future installments.
Kazmir is kind of a humorous side-issue. Boyka shakes his head dismissively at the arrogant fighter's post-victory gloating while he's there looking for Alma, and mostly ignores his yapping while negotiating with Zourab in front of him. But he says "Just make sure you save this skunk for last."
The Nightmare "comes right out of a comic book" as Jim Kelly would say – a growling, roaring behemoth who they drag in chained up and muzzled like a literal monster. He's so big he can step over the top rope. Until Boyka his fights are not competitive – his opponents look like dolls as he knocks and throws them around and crushes their heads with his punches. We know Boyka will figure out how to beat him, and that we'll enjoy it.
But what happens to his soul? That we don't know. And that's honestly the bigger concern in this one.
The UNDISPUTED series is an unlikely phenomenon, a great fringe action franchise unpredictably grown by up-and-comers out of an obscure work by the great Walter Hill. Because Hill had had a terrible studio experience on SUPERNOVA, and because he insisted that both of the boxers in his movie had to be black, he had to find funding from various overseas production companies. And it just so happened that one of those companies was Millennium Films, and that they saw the value of the UNDISPUTED title in the DTV sequel market, and that they hired Isaac Florentine to do such a sequel. And then it happened that Ving Rhames backed out and that Florentine decided to shift from boxing to MMA and that Adkins was becoming a full blown martial arts star. So somehow we ended up with three spectacular sequels.
Don't take this as a lecture, but I implore those who share my gratitude for this lightning strike of a series to be sure to support BOYKA by seeing it legitimately. Piracy and lack of video stores have severely cut into the profits of these types of movies, and by extension their budgets and shooting schedules. I was happy to buy this Blu-Ray as a vote for more UNDISPUTEDs, or movies like it. Keep in mind that Boyka is Adkins' signature character, and he wanted to make more, and it still took them eight years to get it made. That wouldn't happen if we all paid them for their work. Or at least told the Netflix Skynet brain that people like Scott Adkins movies.
In conclusion, BOY-KA! BOY-KA! BOY-KA!
This entry was posted on Tuesday, August 1st, 2017 at 9:23 am and is filed under
Action
,
Martial Arts
,
Reviews
. You can follow any responses to this entry through the
RSS 2.0
feed. You can skip to the end and leave a response. Pinging is currently not allowed.