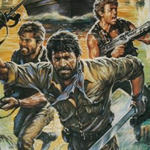 Speaking of Florida projects, here's one where three guys with very little in common set out on a small fishing boat to try to snatch some gold abandoned in Cuba. FLORIDA STRAITS (1986) is a fun little adventure from GET CARTER and I'LL SLEEP WHEN I'M DEAD director Mike Hodges.
Chalk another one up to video store browsing. I had never heard of this when the flashy painted art on the tape cover caught my eye. When I noticed who the director was and that Fred Ward was in the cast I decided to give it a shot. Apparently it was made for HBO, but it seems like a theatrical release (and was in many countries). I was thinking maybe it would be an attempt to cash in on Miami Vice. Instead, the way the setup unfolds in a series of compelling, non-expository scenes reminded me of the excellent Billy Dee Williams slow burn spy-revenge movie HIT!, and this is probly my best only-on-VHS discovery since that one (which has since been released on Blu-Ray and DVD). As of this writing, FLORIDA STRAITS doesn't even have any external review links on IMDb, which is very rare and always something I will brag about.

(read the rest of this shit…)
VERN has been reviewing movies since 1999 and is the author of the books SEAGALOGY: A STUDY OF THE ASS-KICKING FILMS OF STEVEN SEAGAL, YIPPEE KI-YAY MOVIEGOER!: WRITINGS ON BRUCE WILLIS, BADASS CINEMA AND OTHER IMPORTANT TOPICS and NIKETOWN: A NOVEL. His horror-action novel WORM ON A HOOK will arrive later this year.