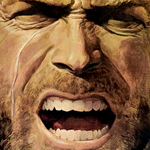 Back in 2013 I started a new old wives tale that it is good luck for a critic's first review of a new year to be a Clint Eastwood movie. I continued the tradition for 2014 and I ended up having a really intense year that was not fuckin around when it came to either highs or lows. It was a year that included a funeral, way too much time spent hanging out in hospitals and job-related fears like losing my health insurance. But on the other hand I finally published that damn novel
and I had a great trip to Tennessee and of course my TED talk or whatever at Cinefamily was a great blessing and the highlight of my career so far. It was also just an evolutionary step for ol' Vern because I learned I could actually make a public appearance without ruining everything, as far as I could tell. So in honor of my miraculously retained Outlaw status let's start off 2015 with THE OUTLAW JOSEY WALES. I haven't seen this one in forever and a day and a half.
What we have here is a badass western revenge story. Clint directs and plays the titlational Josey Wales, who at first is just a regular non-outlaw family man. Then "redleg" raiders come through raping and pillaging, kill his boy and his wife, burn down his house, scar his face. Who knows how many days later he's still just sitting there brooding on his patch of land when a squad of Confederate guerillas come by, tell him they're at war with the bastards who did this. "I'll be comin with you," Josey says.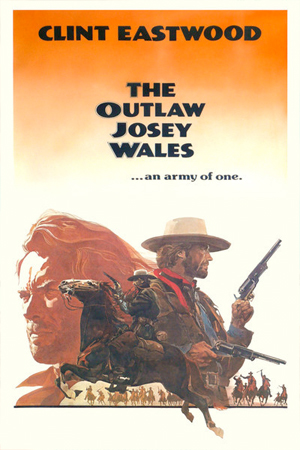 Either Josey has an undisclosed past in combat or he's a fast learner, because by the end of the opening credits civil war montage he's the baddest pistol packin mother on four legs. But the war is over and they still haven't killed Terrill (Bill McKinney, the maniac driver with the trunkload of bunnies in THUNDERBOLT AND LIGHTFOOT), the leader of the squad that killed the Wales family. John Vernon convinces the team if they turn their guns in to some Union soldiers they can go free. Only Josey refuses, so he's the one who has to come back and singlehandedly kill almost all of the "blue scumbellies" who execute his buddies with a gatling gun.
So that's how he becomes The Outlaw, and it's a run-for-the-border movie heading for The Nations instead of Mexico. He has with him a young, wounded soldier (Sam Bottoms) and then it turns into a WIZARD OF OZ type deal, picking up new people along the road: an old Cherokee misfit (Chief Dan George), a feisty upper class Northerner lady (Paula Trueman, PAINT YOUR WAGON), her pretty granddaughter (Sondra Locke of course), a young Navajo woman who doesn't speak English (Geraldine Keams), a dog. Josey keeps finding new badass ways to evade capture (including sending his dead friend's body on a horse into a camp to draw fire), proves to be an equally good shot with tobacco spit (he hits a snake oil salesman's shirt, a dead guy's head, a scorpion, a beetle, the dog), and tries to prepare his ragtag squad for a last stand at the old lady's late son's ranch near Blood Butte.
As far as just being a Clint Eastwood western, this is up near the top of the non-Leone ones. It's his sixth movie as a director and second as director of a western, the first was HIGH PLAINS DRIFTER. It's very badass but technically more lighthearted than that one 'cause there's no Devil symbolism and he doesn't rape anybody. There are some enjoyably quirky side characters, some nuanced relationships and some contemplation at the end.
Clint's son Kyle makes his film debut as Josey's son at the beginning. I noticed Joel Cox is credited as an editorial assistant. I believe that's his first time working with Eastwood too. He did THE ENFORCER the same year and at this point has edited 35 Clint movies including TROUBLE WITH THE CURVE and his episode of The Blues. This was also the beginning of the Eastwood and Locke relationship. Philip Kaufman (THE UNBEARABLE LIGHTNESS OF BEING) was originally the director of the movie, but the two fought over Locke and Eastwood took over as director. This led to the DGA rule that cast members can't replace a director. So in a way Sondra Locke got Mel Gibson's hairdresser that job directing the reshoots on PAYBACK.
The villainous Terrill is overshadowed a little bit by secondary villain Fletcher, played by John Vernon. He's the guy who convinces the Bushwhackers they can get amnesty by turning themselves in, and of course considering Vernon's filmography we're not surprised that he's a fucking traitor. But he turns out to have more dimension than your usual John Vernon bastard. Yes he meant to sell them out, but he didn't know they were going to kill them. When the angry senator commands Fletcher to "hound" Josey he says he can't just chase him, he has to kill him. He knows otherwise Josey will come for him. Still, he seems to feel guilty for what he did and to enjoy Josey's victories against his side.
George's character Lone Watie is another highlight. It's so rare, especially in a western, to see a major Native American character that doesn't fit the standard issue stereotypes. This guy is smart but he's not here to share his mystical wisdom with the white man. He's a smartass who likes to flip Josey alot of shit. He's not a tribesman, he's an individualist. You get the feeling he doesn't really fit in anywhere, and that he doesn't give that much of a shit about it. When we first meet him he's dressed like Abe Lincoln. You can't imagine him having much in common with Ten Bears (Will Sampson from ONE FLEW OVER THE CUCKOO'S NEST), who's interesting too, but a little more like who you expect to be in a western.
I like Josey's rapport with the old lady too. Kinda reminded me of John Wayne and Katharine Hepburn in ROOSTER COGBURN. She's rightly proud to be a Yankee and says that "Anything from Missouri has a taint about it."  Interesting. Is his friendship with/tolerance of her a sign that he's evolving beyond a goon for the pro-slavery forces? She seems to think so when, in a prayer, she says, "And thanks alot for Josey Wales, who you changed from a murdering Bushwhacker on the side of Satan to a better man in time to deliver us from the Philistines."
That brings up a major issue I have with some of these westerns. It's kind of like the American equivalent of the Japanese movies with rapist heroes. How cool of an outlaw can Josey be after we take two seconds to consider what his side is fighting for? It's not just a normal immoral/amoral thing like robbing trains or something, it's defending a despicable institution of oppression, the legacy of which still haunts us today. In movie terms, Josey is prolonging the lifestyles of the white people in 12 YEARS A SLAVE and MANDINGO. How righteous can his revenge be when it involves defending 400 years of atrocities worse than what happened to his family?
I'm okay with these Union soldier characters being savage marauders. I'm sure it happened. I can even forgive them being portrayed as cackling villains who just like doing evil shit. But it doesn't feel like this is all about the dehumanizing effects of war, like it's saying that both sides did bad things, at least not at this point in the movie. It feels more like it's good guys and bad guys, doesn't it?
I know, it's just a story, and it's okay to tell stories from different perspectives. But the fact that it takes this perspective… you gotta wonder, you know? Noble underdogs victimized simply for their violent insurrection to prevent the freedom of an oppressed race never seen or mentioned one time in the whole movie – what kind of a person is inspired to tell that story?
The DVD in my Clint box set has some extras on it, including some text about adapting it from the novel Gone To Texas. The aforementioned Philip Kaufman, who wrote the screenplay along with Rawhide story assistant Sonia Chernus, says he cut most of the ideology from the book but used the pro-South, anti-North themes because they were a staple of western melodrama. It talks about how the book was originally called The Rebel Outlaw: Josey Wales and was a small press book with only 75 copies made. And no more than 74 made it to book stores because one was sent to Clint's production company Malpaso. In an interview elsewhere on the disc Clint says he left it sitting on his desk for 2 weeks because the cover was terrible. I thought he meant it looked shitty and amateurish, but I guess he just means corny judging by this pretty cool looking first edition copy that could be yours for only $7,500.00.
Anyway, Clint's friend Bob Daley felt sorry for the author and gave it a shot, ended up liking it so much he insisted Clint read it. Clint immediately loved it and bought the rights.
Obviously that's pretty inspiring for a small time author chump like me. Who is this writer who lived the dream of getting his book made into a movie by Clint? According to that extra, "It was written by Forrest Carter, who claimed to be a 46-year-old half-Cherokee Indian with no formal education. Carter found fame as an Indian poet and storyteller. Friends convinced him he should put a story on paper."
Interesting. But, wait a minute… is it just me, or did you guys notice something a little odd about that? Yeah – it says he "claimed to be" half-Cherokee. It doesn't say he was. What are you not telling me, DVD extra?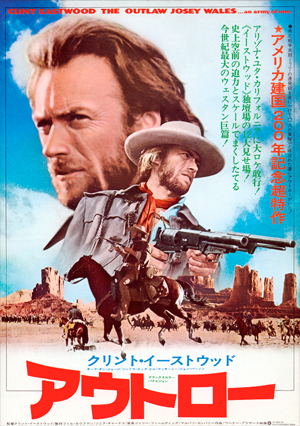 I had to look this guy up. I must've known this before, but I forgot: Forrest Carter is the same guy who wrote The Education of Little Tree, an award winning bestseller from 1976 that was marketed as his memoir. But he was really a guy named Asa Carter. He denied it during his lifetime, but was definitively outed by a cousin in 1991. Not only was the book fictional, but it was written by a former Klansman and writer of a famous George Wallace segregation speech. Worse than that, he later ran against Wallace and accused him of being too liberal on race.
Maybe that's because Wallace was trying to chill out a little to not seem like as much of a nutball. But Carter had always been a more hardcore racist than the infamous segregationist. In Birmingham in the '50s Carter had founded a group of assholes called "Original Ku Klux Klan of the Confederacy." Members of his group abducted and castrated a black man (they were caught, but their sentences were later commuted by a parole board) and attacked Nat King Cole at a concert. Carter later quit the group and shot two of the guys, but not because he turned un-racist. It was over money.
Basically, this is one of the worst pieces of shit ever who wrote the book that inspired THE OUTLAW JOSEY WALES. No wonder it has all this Confederate crap in it. But there's alot of mystery around Carter, since he died in obscurity in '79 and moved alot of people with his literary depictions of Native American life. Some speculate that he could've felt remorse for his life of bigotry, and that's why he distanced himself from his former life and wrote decidedly non-white-Supremacist books like Little Tree and the Geronimo portrait Watch For Me On the Mountain. But he took his pseudonym from Nathan Bedford Forrest, Confederate general and first Grand Wizard of the Ku Klux Klan. And in my opinion you don't name yourself after a guy like that if you're turning your back on a racist past.
So, yeah, fuck that guy.
Wait a minute, is that what Josey meant when he said that Jamie "never turned his back on his folks or his kind"? That "his kind" part seemed a little iffy to me. It's too bad, because otherwise it's a great eulogy that includes the phrase "I got no complaints." That's all most of us can hope for when we pass away, that the people we know will have no complaints about the lives we lived. Whether or not they are "our kind."
Josey is an outlaw because he refused to surrender a lost war, and I guess metaphorically I'm a bit of that too. In an era when even the established veteran film critics have a hard time getting paid, I'm out here stubbornly trying to do it without even giving in to accepted ideas of professionalism, networking and marketing. Some of this probly makes me cool and some of it probly means I'm stupid. Whether or not I ever figure out how to do it right, I won't surrender either, I won't stop writing my stupid movie reviews. I don't know how to stop.
You know what? This will be a great year full of good times and new horizons for all of us. Here's to having adventures without needing to join any ideologically unforgivable commando squads. Just to be clear I am still just Vern or Outlaw Vern, not The Rebel Outlaw Vern. I'm a blue scumbelly through and through.
One other thing real quick… do you guys think it would be cool if this year I insisted on spelling it "ǾǙŦĿǺẄṾḜƦƝ"? Kind of like a safe middleground between unpronouncable-Prince-symbol territory and actual written English? I don't know. Think it over, let me know. Happy 2015 everybody.
UPDATE: I have just been reminded that Forrest Gump was named after the same Klansman/Confederate General as Forrest Carter.