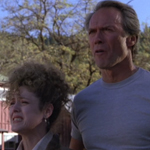 In PINK CADILLAC, Clint Eastwood plays Tommy Nowak, a skip tracer who has to bring in a woman who jumped bail after getting blamed for her stupid husband's stupid prison buddies' counterfeiting scheme. Of course he catches her, but ends up protecting her and falling for her and what not. Do not get this confused with the one where he's a cop who has to escort a mob trial witness from Vegas to Phoenix and falls for her. That's THE GAUNTLET. That one has a bus, not a Cadillac.
I'd say this qualifies as an action comedy. It takes itself seriously, it's not broad like the EVERY WHICH WAY BUT LOOSE movies, but Clint goes further than his usual wry one-liners, because Nowak loves to wear disguises and play characters. In the opening he catches a guy by making him think he won a date with Dolly Parton from a country radio station. Just for this he does a "Crazy Carl Cummings" DJ persona and a briefly-British-accented limo driver. Since he later quibbles with his boss over gas mileage I really wonder how he paid for the limo and costume. I guess he just thinks it's worth the expense to fuck with people. During the drive back to Sacramento he asks the guy what kind of music he wants to listen to, and when he doesn't make a choice, Tommy puts on some Dolly Parton.
Later we see him catching guys while dressed as a rodeo clown and a sleazy Wayne-Newton-esque casino boss with a mustache, a gold lamé suit and a raspy voice.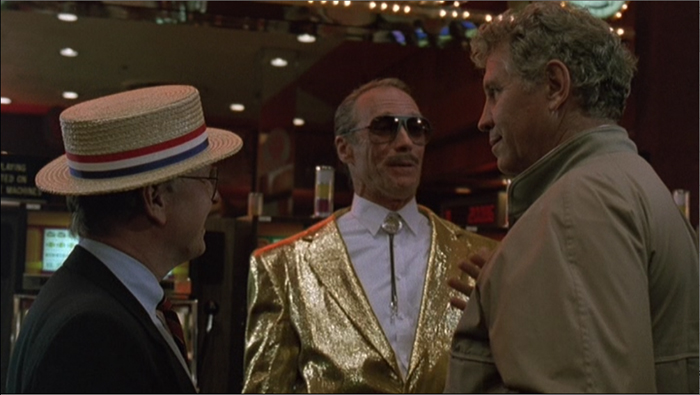 His most elaborate vocalization is as a lispy, mumbling hick character with a wad of chew in his mouth. If only Clint wore a fat suit at some point this would be his Eddie Murphy movie.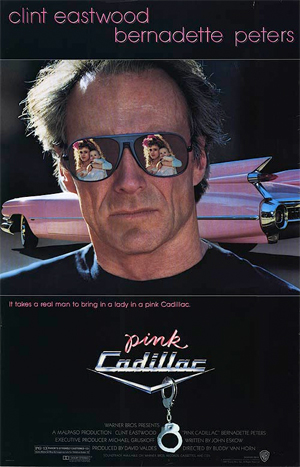 But most of the time Nowak is more like regular Clint. He's grimacing, chewing gum, wearing tight t-shirts, more pumped up than usual. His cynical outer-heart is melted by Lou Ann (Bernadette Peters, VIGILANTE FORCE), a sad woman we meet as she's about to stand up to her loser husband Roy (Timothy Carhart, CANDYMAN 2: FAREWELL TO THE FLESH, BLACK DAWN) because he doesn't care about the baby and ever since returning from his bid for selling stolen VCRs he's always bringing his asshole prison gang buddies to the trailer. When she's the only one indicted for their counterfeiting scheme even the judge (Paul Benjamin, one of Sweet Dick Willie's buddies in DO THE RIGHT THING!) knows it's bullshit. And then they try to post her bail, so she finally says "fuck it," steals Roy's unused pink Cadillac and makes a run for it.
Lou Ann is a layered character. We can root for her as an underdog using her THELMA AND LOUISE girl power, but we also get some laughs at her expense. I love the scene where she's enjoying driving with the top down, blowing bubble gum bubbles, rocking out to her music and waving to a school bus full of kids, thinking she's the shit, and not noticing for a while that a cloud of American currency is blowing out of the back. It seems that's where Roy stashed some money that belongs to his buddies and their gang the Birthright, notorious white supremacists that even Tommy doesn't want to fuck with. When they're not at the bar or the trailer park they're on their compound practicing uzis on their elaborate gun range. And they say that money is "our weapons budget, our communications budget."
On this range they not only have home-made building facades with cutouts of cops and a blown up photo of Lou Ann, but even a police helicopter that they move around using a pulley system. I like the Disneyland-Jungle-Cruise type detail of the jailbreak scene where a mannequin in striped jail uniform is standing on the shoulders of another, trying to climb the wall.
Alex, the psychotic leader of the gang, is played by Michael Des Barres, a character actor who appears in TO SIR WITH LOVE, GHOULIES and UNDER SIEGE. But he's also a singer and songwriter.  He co-wrote the familiar '80s hit "Obsession" by Animotion. Here's his original version recorded for the John G. Avildsen movie A NIGHT IN HEAVEN:
But most importantly he was the lead singer of Power Station after Robert Plant left, and wrote their song "We Fight For Love" that's on COMMANDO.
The Birthright also includes the interesting looking John Dennis Johnston as Waycross, Sven-Ole Thorsen as "Birthright Thug" (I think he has one line) and Bill Moseley (THE DEVIL'S REJECTS) as Darrell, who other than apparently being a total scumbag seems pretty nice. He likes Tommy's fake racist persona, thinks he's a funny guy, and welcomes him to the compound. It's not a huge role, but he gets more screen time than in most of his non-TEXAS CHAINSAW MASSACRE 2 movies he did in the '80s, and gets to do alot of the Chop Top laugh. And like in TCM2 he drives a big redneck truck with some dudes on it chasing somebody, but they're using guns instead of a chainsaw and none of the dudes are a dead body being used as a puppet.
There are some other notable appearances too. I guess this gas station attendant with one line is a cameo by the singer Bryan Adams: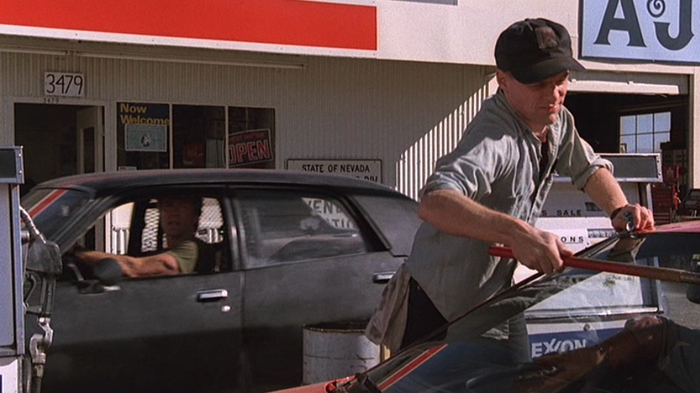 Eastwood regulars Bill McKinney and Geoffrey Lewis show up as, respectively, a bartender and a crazy hippie arms dealer named Ricky Z. Also Frances Fisher (UNFORGIVEN, TRUE CRIME) is Lou Ann's sister who takes care of the baby, and James Cromwell (SPACE COWBOYS) is "Motel Desk Clerk," which is a more significant role than it sounds like. He's a friendly guy running a shitty hotel who parks the Caddy in a barn where chickens shit all over it.
And there's a weird part where Tommy stops in a casino in Reno and this guy is on stage doing a weird Elvis impression: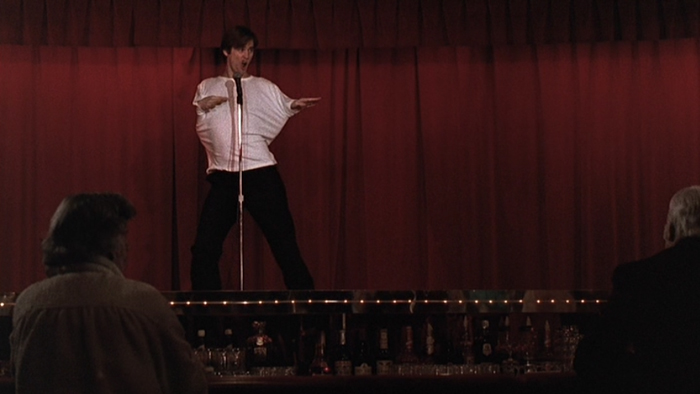 This was a year after Jim Carrey had been in THE DEAD POOL, three years before In Living Color. He'd actually done big parts in ONCE BITTEN and stuff, so it's kind of weird that he has this little less-than-a-minute stage appearance here. The best part about it is the pretentious credit he gets for it: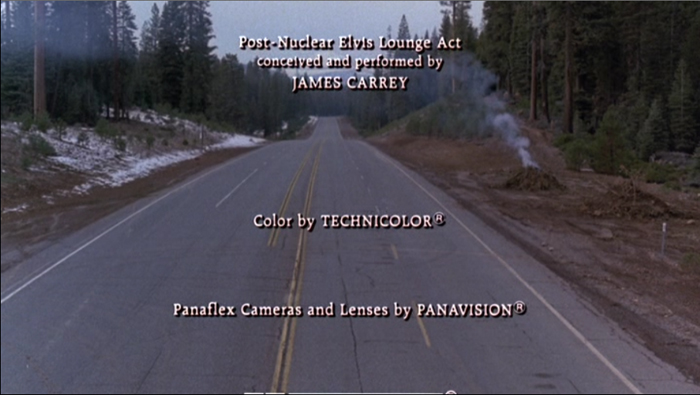 At the time this was made it was different from now – you could just say somebody was a white supremacist, and that meant they were the bad guys. It was shorthand for "they are disgusting horrible people who clearly deserve whatever Clint is gonna give them." We don't even see these guys committing any hate crimes, I think it's pretty much all white people in the movie, but it was assumed that any decent human of any race automatically knew that white supremacists were shitbags. Back then they would not have even been considered for the presidential cabinet or to be "provocateur" media celebrities with major book deals. So they just sat around doing speed and talking angrily about their friend Roy's wife as "the female."
There is one scene where Alex explains his "America For Americans" platform. He calls the Birthright "warriors, ready to seize everything that's been denied them." He makes Waycross read the pamphlet he made, which involves a bunch of racial slurs and "taking our jobs" and then he says "blah blah blah, 'conspiracy of the Jews'… It's not very good," partly because "the printing stinks" and "you got 'Jews' running off into the margin."
Anyway, you basically got a road trip with Tommy and Lou Ann learning to get along and Lou Ann going from trying to escape to trying to be Tommy's partner in catching other bail jumpers, until the Birthright find the baby. Then it becomes a ransom situation with dumbass Roy in the middle of it not necessarily meaning harm to his own baby and not knowing what to do. And Tommy uses his skip tracing techniques to try to track them down.
The titleistical vehicle goes through a whole lot, being stolen back and forth so at one point Tommy and Lou Ann are driving a loaner truck from the hotel. During the climactic chase the Caddy gets fucked up and loses the whole front corner but it keeps going. It looks like a Terminator or a Chucky at the end of their respective movies..
Screenwriter John Eskrow later did AIR AMERICA and THE MASK OF ZORRO. Although Clint didn't direct this one, it's a Malpaso production made with some of his usual guys, like cinematographer Jack N. Green and editor Joel Cox, plus composer Steve Dorff, who had done HONKYTONK MAN and was conductor for EVERY WHICH WAY BUT LOOSE, BRONCO BILLY and ANY WHICH WAY YOU CAN. The director was Clint's former stunt double Buddy Van Horn, his final movie as a director (after ANY WHICH WAY YOU CAN and THE DEAD POOL). He must be retired now (he's 87 years old) but he was still working with Clint this decade, having been stunt coordinator for J. EDGAR.
Coming two movies before UNFORGIVEN, it was near the end of Action Star Clint Eastwood, when he was about to become Serious Oscar Winning Director Clint Eastwood. PINK CADILLAC has a reputation as lesser Eastwood, but I think it's totally solid. I like it more than the similar THE GAUNTLET, and not only because I find Peters more appealing than Locke. It's tough, it's funny, it's a good time.
thanks to RRA for suggesting I watch this one
This entry was posted on Monday, January 2nd, 2017 at 7:30 am and is filed under
Action
,
Comedy/Laffs
,
Reviews
. You can follow any responses to this entry through the
RSS 2.0
feed. You can skip to the end and leave a response. Pinging is currently not allowed.