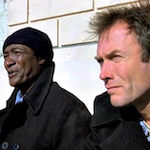 On January 1, 2013 I reviewed the movie TROUBLE WITH THE CURVE, and made up a superstition that it's good luck for movie critics to start a year with a Clint Eastwood review. So then I ended up kicking off 2014 writing about A PERFECT WORLD, 2015 with THE OUTLAW JOSEY WALES, 2016 with KELLY'S HEROES, 2017 with PINK CADILLAC, 2018 with TWO MULES FOR SISTER SARA, 2019 with THE MULE, 2020 with WHITE HUNTER BLACK HEART and 2021 with THE GAUNTLET.
It would be hard to argue that any "good luck" panned out in some of those years, and yet I will stubbornly continue the tradition. ESCAPE FROM ALCATRAZ is from 1979 and it was the last of Clint's five movies directed by Don Siegel, because they had a falling out over which one of them got to produce it. (Siegel's only subsequent movies were ROUGH CUT starring Burt Reynolds and JINXED! starring Bette Midler.)
It's based on the true story of the only maybe successful escape from the notorious island prison. Three guys got out, they may very well have drowned, but they were never found. I remember going on a tour of that place as a kid and hearing the story. Man, prison tours are fucked up.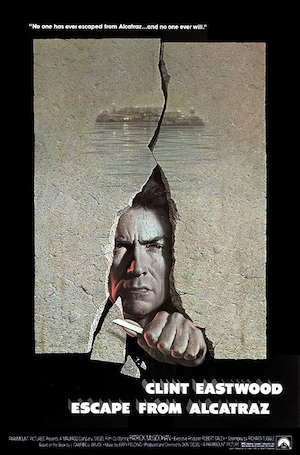 Clint stars as Frank Morris, transferred to "The Rock" after escaping from what sounds like multiple other prisons. It starts with him on a boat, carried over the treacherous waters he'll later try to cross without such luxury. When he arrives, the "bulls" as they call them strip him down and make him walk through the prison naked, but to me the best little detail to capture the inhumanity of prison is when a guard says threateningly "Better button your collar, boy," and he doesn't flip any attitude, he hurriedly complies. To see Clint motherfuckin Eastwood buckle down for something so dumb, it's dispiriting.
The warden (Patrick McGoohan, THE PHANTOM) calls Frank into his office to communicate that this is not like those other horrible prisons, this is way worse. "We don't make good citizens, but we make good prisoners," he brags.
Frank doesn't speak until ten minutes into the movie, when he's in the mess hall and notices they don't have forks. The guy he happens to be sitting across from is Litmus (Frank Ronzio, FEAR CITY), who will end up being important for acquiring contraband, and he also has a funny scene where he convinces a new fish that he's Al Capone. But the best thing about Litmus is his pet mouse, who he even takes into the shower and scrubs with soap. When they first meet Frank notices Litmus doing something with his pasta, looks under the table and sees him feeding the mouse on his knee. Frank looks back up at him and nods slightly. I mean, what can you say about it? Just nod.
The other guy he meets that day in the mess hall is Wolf (Bruce M. Fischer, NIGHT FORCE), a giant guy who of course threatens to do things to Frank that Frank has not consented to. I like the economical way they handle this familiar subplot. I think it goes down in only five scenes: #1, Wolf making eyes at him in the cafeteria. #2, Wolf confronting him in the shower, and Frank stuffing a bar of soap in his mouth. #3, Wolf trying to shank Frank in the yard, so they both get put in the hole. #4, Wolf gets out and threatens Frank again. #5, the rematch.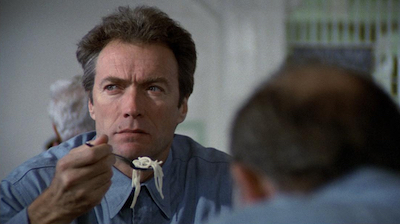 I'm tempted to say the best of those scenes is #1, because I love how it plays out, unremarked upon, during his conversation with Litmus. Wolf is smiling at him, suggestively sucking on noodles and burning a match and shit, and Frank is just looking over there with that trademark Clint "oh, fuck" scowl. But the best is actually #3 because of the smart way he uses a coat to defend against knife attack.
The best friendship in the movie is with English, who runs the prison library. He's played by Paul Benjamin, who I recognized from DO THE RIGHT THING (he plays ML, one of the old shit-talkers that hangs out in front of the red wall along with Sweet Dick Willie and Coconut Sid). When Frank is sent to work at the library there's some tension, but English seems impressed that Frank isn't intimidated by him. Later Frank further proves this by saying a racial slur to his face, so… make of that what you will. But the crucial part is when English tells his story of getting two back-to-back 99 year sentences for killing two guys who attacked him with knives.
"Seems like you could have pleaded self defense," Frank says, confused.
"The dudes were white, man, just like you."
So I say to today's Americans of a certain political bent, don't tell me you don't know what systemic racism is. The star and the director of DIRTY HARRY, of all people, understood it 40+ years ago. And seemed pretty confident the audience would understand it without having to go into detail. It doesn't have to be said that this is reality and this is unfair. Everybody knows it.
Pretty much as soon as Frank arrives he starts looking for an escape plan, and then one day the Anglin brothers, John (Fred Ward in his first major role) and Clarence (Jack Thibeau, who would reunite with Clint in ANY WHICH WAY YOU CAN, SUDDEN IMPACT and CITY HEAT), are sitting in the mess hall when he comes in. They knew each other in the joint in Atlanta, so Frank proposes a plan for them to do along with Frank's nervous neighbor Charley Butts (Larry Hankin, DEATH WARRANT, PAIN & GAIN), who wants out to see his terminally ill mother.
The plan is very fanciful, but not at all exaggerated from the real one. It involves slowly digging out the grates in their walls to get into an unguarded corridor, climbing up to the roof and then over some fences. To hide their digging they constructed and painted fake grate and wall pieces that covered their progress, and to hide when they were out of their cells they sculpted very impressive dummy heads from toilet paper, soap, toothpaste, the dust from the concrete they were chipping and hair clippings from the barbershop. Then when they got to the shore they inflated life vests and a rubber raft made out of stolen rain coats, inspired by an article in Popular Mechanics.
Unsurprisingly Ward is very likable, and has some good banter with his brother and Frank. When you got Clint and Fred on the team you're pretty sure they're gonna escape. It's just such a cool plan, with well constructed suspense as they slowly execute it, keeping watch for each other, almost getting caught. Once they get out of the building they feel so close but so exposed. Every sound is nerve-racking.
Unless I missed it, it's never specified what crime Frank originally went in for. I'm interested in the way a movie like this can show us these convicts, not tell us their backgrounds, and trust us to sympathize with them as humans or as underdogs trying to accomplish something very difficult. If it were made today some people would want it to specify that they were actually innocent or got railroaded or at least didn't kill anybody who didn't deserve it. And in this true story it wouldn't be lying – Morris was an orphan whose first conviction came at the age of 13. He was busted for drugs, stealing cars and, at worst, armed robbery. The Anglins were also life long petty criminals and claimed to have never used a real gun. They did bad things but they were not murderers, and they were clearly failed by the system. They could get some sympathy on that basis.
I personally wouldn't want to vouch for them or invite them over to my place. But sometimes I find it touching to see a movie like this that just starts from a base level of "it's shitty for human beings to be treated this way" instead of feeling it has to first prove the worth of the specific humans.
Another example is Doc (Roberts Blossom, DERANGED), a sensitive guy who spends his days painting and growing flowers because "That's something inside me they can't lock up with their bars and walls." It's devastating when the warden discovers a painting of himself in the cell and bans him from painting. He sends a guard to confiscate everything and even the guard seems to feel bad about it. You can tell he feels horrible saying "I don't know" when Doc asks why.
I don't know, maybe we would feel different about Doc if we knew what crime got him there. But we know for sure that he's locked up and this warden and this system are taking away the one comfort he has in his life. What justice is achieved by that?
I guess English isn't involved in the plan because he injured himself trying to escape before. But there's a great moment where Frank says goodbye to him and he understand what that means and they shake hands. Later, we get a shot of English smiling when he hears the guards freaking out about Frank being gone.
There is some sentimentality for characters who are no longer with them at the end, with tokens of their humanity used to represent them. I love that when Frank is climbing out he sees Litmus's mouse, says, "You're goin too," and puts him in his pocket. It is unknown whether the fictional characters or their real life inspirations survived the swim, but in my opinion the mouse for sure survived and proved the warden wrong by becoming a good citizen.
Being a Malpaso co-production, ESCAPE FROM ALCATRAZ involves a bunch of people Clint worked with often. Bruce Surtees (THE BEGUILED) was cinematographer, it was #11 of editor Ferris Webster's 15 Clint movies in a row, with future Clint editor Joel Cox as an assistant, and Jerry Fielding (THE ENFORCER) did the score. It does not have any jazz in it but there's a brief part with a prison band playing blues. (Clint's character plays accordion, but only to cover up the noise of their digging.)
The script is based on a book by J. Campbell Bruce, adapted by first-timer Richard Tuggle, who was roundly rejected until he tricked Don Siegel's agent into reading it by claiming Siegel had met him at a party and wanted to read it. That worked out pretty well because he also got to write and direct TIGHTROPE starring Clint and direct that Anthony Michael Hall movie OUT OF BOUNDS. His one other credit is with Arnold Schwarzenegger, writing his directorial debut, that one episode of Tales from the Crypt.
This is also notable as the film debut of Danny Glover, seen as an inmate giving Frank some shit about pushing the book cart. He had only been in a reporter on an episode of B.J.and the Bear.
Anyway, I liked this one. A good start to 2022. May we all work together and make a plan to escape this year.