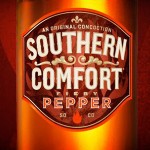 Okay, this group of National Guardsmen (Peter Coyote, Powers Boothe, Keith Carradine, Fred Ward, others) are on one of them training exercises, right? Basically, they gotta go out into the Louisiana swamp with a map, try to locate this one particular place. To practice their navigation skills. Most of them aren't taking the job too seriously, paying more attention to their plans to hook up with some whores when they're done. I mean they're carrying guns, but with blanks, because who are they gonna shoot at anyway. There's no enemy in this exercise.
And then they get to some water, and they realize either they're reading the map wrong or the water has shifted and the chunk of land they're supposed to find is now a chunk of underwater.
They come across somebody's camp site, where there's some flayed animals hanging around, and a couple of canoes. And after some debate they decide, against Peter Coyote's better judgment, to borrow the canoes. But they leave a note.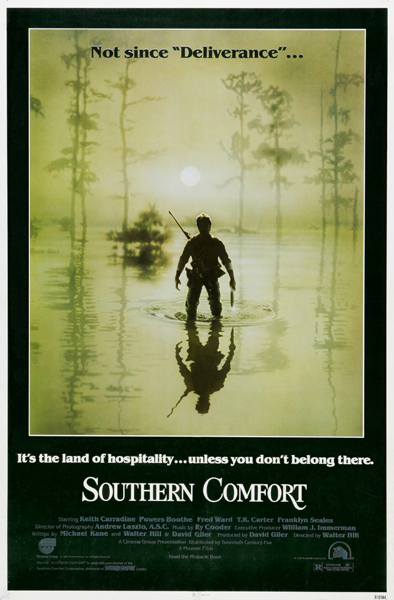 When they're out in the water they look back and see some "indigenous" Cajun dudes on the shore, apparently the owners of the canoes. While they're trying to yell to them to read the note, one of these soldiers decides to be a wiseguy, shoots a bunch of blanks in the Cajuns' direction with a machine gun. Ha ha, very funny.
So then the Cajuns fire back with real bullets, and blow Peter Coyote's damn head off. And you can imagine where the movie would go from there. Directed by Walter Hill, this disturbing swampland war story is, I'm sure, supposed to be about Vietnam. But there is no way to watch it today without thinking about Iraq.
I mean here you got this group of americans, some of them acting like knuckleheads. They come in this place and they don't understand the culture, they sort of look down on them. They don't speak the language or understand the way of life. They borrow people's property without permission, figuring it's not a big deal. And inevitably the people whose land they're intruding on take it the wrong way. They fight back. They set up booby traps. And they know the land better. They know where to hide and how to track them.
Eventually the soldiers get a prisoner (the late great Brion James). Because he's Cajun, they lump him in with the people who killed Peter Coyote, even though they really have no idea if he's connected or not. Some of them treat him badly, punch him in the face, start talking about revenge. One of them starts acting completely insane, runs around with a cross painted on his chest, setting off dynamite. And the others aren't really sure what to say about it. Kind of like, "Uh, boss, are you sure we should be stacking up naked people and taking novelty pictures of them?" Things get out of control in these situations.
And then when the last survivors make it into town, they have no idea who are the "good Cajuns" and who are trying to kill them. That's how it works in Vietnam or Iraq or Louisiana. We're not talking shirts and skins here, it's hard to tell who's who. (Luckily, they don't kill any civilians in the movie. If only reality could be so lucky.)
This is a good movie, but right now it's impossible to separate the story from reality. It's just such a perfect symbol for the inevitable failure of this type of business. It doesn't matter that the soldiers really didn't do anything worse than borrow a canoe without permission and then act like a jackass. A clash is gonna happen. They're barging in where they're not wanted, they don't understand who they are dealing with, and who they are dealing with don't understand them. They are outsiders who are trampling and threatening. And they don't even understand the type of impression they are making. It's not really their fault. It's the situation they've been put in. There's just no winning.
I don't know much about Cajuns but in the case of the soldiers, the movie just has a real ring of truth to it. You just know, from knowing people, that this is how it really is. It's human nature. You throw some guys into a strange land with guns, at least a couple of them are gonna be assholes and gonna ruin it for everybody else. I mean, REALLY fuckin ruin it. That's what happens. That's war. That's southern comfort.