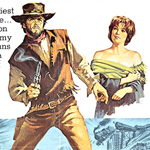 In TWO MULES FOR SISTER SARA, grizzled poncho wearing already-played-The-Man-With-No-Name Clint Eastwood stumbles across a lady about to be gang raped in a Mexican desert. He rescues her with his gun and a stick of dynamite and when she puts her clothes back on it's a damn nun's habit!
She is Sister Sara (Shirley MacLaine) and, although she's headed in the opposite direction of Clint's character Hogan, she ends up getting his protection. The joke of the title was completely over my head until I read about it, but she has one mule and then Hogan is metaphorically the second one. She confesses to him that the French soldiers in the area are looking for her because she was caught raising money for the Mexican army. She hates what these colonialists are doing to the locals.
(Some of the things I've read say that Sister Sara was scripted as Mexican. If MacLaine was supposed to be playing it that way I sure didn't pick up on it.)
Hogan, it turns out, is sort of like Benicio Del Toro in THE LAST JEDI, he doesn't believe in taking sides (he's a civil war vet and thinks that makes him a sucker) but he had agreed to a job blowing up a French garrison because he'd get to keep half of their treasury.
These two seem to be opposites, and Hogan is prone to making comments about his attraction to Sister Sara, both when he's intoxicated (he enjoys the whiskey) and when he's sober (sometimes you run out of whiskey). Usually he'll say something about wishing she wasn't a nun, because hubba hubba or whatever. In our modern times we have learned that this is not appropriate in the workplace and he should know better but within the reality of the movie we know by her smiling and then trying to hide it that thankfully she's flattered by it rather than feeling demeaned and harassed.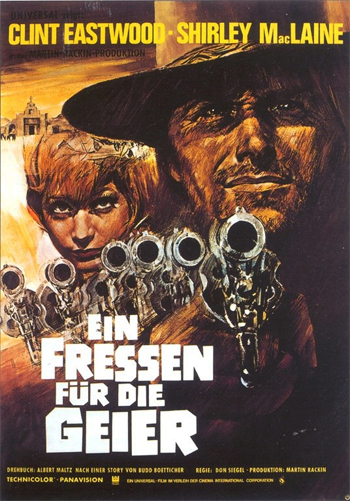 It's rare to see Clint in a two-hander with an actress this formidable. Nothing against Sandra Locke, but she was never coming off of best actress nominations for SOME CAME RUNNING, THE APARTMENT and IRMA LA DOUCE. Clint actually gets second billing! Sara's a fun character because she's got that TRUE GRIT dynamic of a person who seems out of place in this environment but in fact has the attitude and strength to conquer it. Of course Hogan gruffly pushes her to cowboy up. He gets shot through with an arrow, so he gets real drunk under a tree and gives her step-by-step instructions to cauterize the wound and remove the arrow. She doesn't like it, but she does it like a champ (the illusion of it coming out of him is convincing) and I think she already has his respect for staring down the band of Indians who shot him and getting him out of there alive.
She also has to climb a trestle to plant dynamite and then help his drunk and injured ass to shoot the fuse. Man, is that train a miniature? Because it sure is a convincing crash.
Sara also surprises in the opposite direction. We go back and forth about whether she's just a cool nun or whether we should wonder about a nun who sneaks off to have a smoke. It leaves you guessing. The last act is less FISTFUL OF DOLLARS and more WHERE EAGLES DARE – a big plan with the revoluationaries using disguise, trickery and coordination to attack the French garrison. A fun time.
This is Clint and Don Siegel pre-DIRTY HARRY, their second movie together, between COOGAN'S BLUFF and THE BEGUILED. It's kind of a transitional western too, because Clint and Sergio Leone had already reinvented the western with the Dollars Trilogy and now he'd come back and started Malpaso Productions and made the American westerns HANG 'EM HIGH and PAINT YOUR WAGON (if you want to count musicals) and now this and I guess he was like fuck it, I don't care if this is an American-Mexican production, I'm getting Ennio Morricone to do the score this time.
It was written by two guys who had done old school westerns. Budd Boetticher (director of THE TALL T, RIDE LONESOME, COMANCHE STATION, etc.) wrote it for Robert Mitchum and Deborah Kerr and planned to direct. It was rewritten by Albert Maltz (BROKEN ARROW), his first since THE ROBE in 1953 since he'd been blacklisted. Clint was brought on board by Elizabeth Taylor, who would've played Sister Sara if they'd been willing to film it in Spain.
I noticed on the credits that the second unit director was Rene Cardona, who helmed famous Mexican exploitation movies like SANTA CLAUS (the one where Santa fights the Devil), WRESTLING WOMEN VS. THE AZTEC MUMMY, NIGHT OF THE BLOODY APES, THE BATWOMAN and a bunch of the EL SANTO movies. IMDb only gives him four credits under "Second Unit Director or Assistant Director," but 145 under director, so I guess this is a rare treat!
Clint liked camera operator Bruce Surtrees so much he ended up the D.P. of THE BEGUILED, PLAY MISTY FOR ME, DIRTY HARRY, JOE KIDD, HIGH PLAINS DRIFTER, THE OUTLAW JOSEY WALES, ESCAPE FROM ALCATRAZ, FIREFOX, HONKYTONK MAN, SUDDEN IMPACT, TIGHTROPE and PALE RIDER. I bet he was glad he made the trip to Mexico.
I decided to watch this now because I have a tradition of starting every year with a review of a Clint movie. So what advice does this one give us for 2018? Well, for one thing we have two people with very different backgrounds and values coming together as a team, fighting together, helping each other, liking each other. That's positive. That's constructive.
In Hogan we have a disillusioned both-sideser who ends up fighting for what's right. Unfortunately I see no evidence that he did it for anything other than money and Sara. I'm not sure what to make of his part in the civil war. His bad attitude about it would seem to indicate he was on the losing side. But I'm not sure if saying he was a sucker means he no longer believes in that cause, or that he was foolish to believe they could win what they were fighting for. I guess being willing to help Mexicans fight for independence is a step in the right direction after choosing to fight for the enslavement of Africans, though not enough to absolve him.
In Sara we have a woman who not only risks her life for a cause she believes in, but stays true to her code in a harsh environment that challenges it at ever turn. Of course SPOILER SPOILER THIS IS A SPOILER I AM SPOILING A PLOT TWIST IN TWO MULES FOR SISTER SARA FROM THIS POINT ON the truth is that she's faking it, she's not a nun at all. She just thought the disguise would help her in some situations, and it has. But that kinda makes it more interesting because she's a prostitute who finds herself practicing Christian ways that she probly doesn't even believe in, living by a different code as part of her disguise. Walking in somebody else's shoes.
A big question to me is why she insisted on giving a Christian burial to the dead attackers at the beginning. Maybe it was just taking the nun routine far to make it convincing – it worked on me for a while. Or maybe she actually is religious – there's a point when she prays for Hogan and he finds it touching and it seems unlikely she's worried about role playing at that point. But we know she is an idealist. She's doing all this for the revolution, and her conversations with Hogan questioning his cynical worldview have got to be more than just playing nun. So I like to think that she's an example of how to have morals and care about things without needing a church or a religion to tell her to. I feel like right now in the U.S. we have the most blatant example ever of people claiming Christian righteousness while flagrantly demonstrating the opposite values, bending over backwards to torment and crush poor people and refugees, to lie and steal and be as cruel as possible, to destroy nature, to disrupt peace, to makes sure everybody trods down harder on the downtrodden, because if those losers think they get a free ride they got another thing coming (as Jesus used to say).
It's disgusting and we need real Christians to show them the light (or the door), but we also need the non-religious to stake our claim to morals and values, since we clearly have way more of them than those fucking assholes. In Sara's case the righteousness comes from her actions and not from her religious affiliation, which turns out to be just a costume.
Anyway, whatever she's up to with the burials, she's going out of her way to bring dignity to a place where there doesn't seem to be any, respect to the bandits who didn't offer her any. Judge her on this, not her occupation.
Happy 2018 everybody, the year things start to turn around (?). We'll do our best.