Right now Nimrod Antal is a director-of-interest because they got him doing that PREDATORS movie. And I hadn't seen his movies (like KONTROLL and VACANCY) but ARMORED is out on DVD this week so I decided to check it out. (And yes, every movie he's directed so far has a one word title.)
I read somewhere that when Robert Rodriguez saw ARMORED it sealed the deal for Antal doing PREDATORS. I'm not sure what that says, because there's nothing too wrong with ARMORED, but nothing too right, either.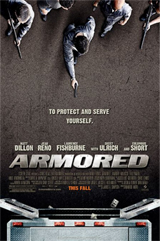 It's a real slim one, just over 80 minutes, and most of the plot was in the trailer. Ty (Columbus Short, SAVE THE LAST DANCE 2) is an Iraq war veteran, his parents have recently died, he's taking care of a teen brother, and close to losing his parents' house. But he works for an armored car company with his godfather (Matt Dillon), who's pressuring him to take part in an inside-job armored car robbery.
So it's got the vague timeliness of a good b-movie: banks foreclosing on houses, stealing from the banks, helping the victims. And it's a good dramatic setup: he doesn't want to do it but if he said no he'd have to rat out his recently deceased father's best friend and lose out on money he sorely needs. I mean, he just doesn't need this shit right now, but now that he knows about the plan he has no choice but to be involved on one side or the other.
And all this is really setting up for a good action idea, sort of DIE HARD in an armored car. After one of the crew (Laurence Morpheus Fishburne) shoots a witness Ty decides he needs to foil the robbery and locks himself in one of the armored cars. Then he spends most of the movie inside, with the other guys on the outside trying to talk to him or banging on the door hinges, trying to bust their way in. That's pretty good. Also there are some pretty good chases and a tense scene when a beat cop (who we know eats at the same burger stand as the thieves – it's a world of laughter, a world of tears) comes to investigate some noises.
So it's a pretty cool movie in many ways, but most of them are theoretical. Unfortunately the execution is pretty mediocre, starting with the bland casting and writing of the hero. He seems like a good enough guy, but not particularly charismatic, not possessing a more than average amount of screen presence. He's not real cool or charming or tough, he doesn't have any funny or memorable lines, I can't even remember a single character quirk or unusual detail of any kind. He's just some dude.
And then he spends a good 10-15 minute chunk in the middle of the movie cowering in the car making scaredy cat faces through the window. If they had already established him as an interesting character who the audience is interested in then this could be a real cool DePalmian type of move where Mr. Antal gets the audience attached to him and then pulls back and says okay, now let's watch from this angle, see how things look different. But no, by this point he has not made much of an impression so instead of a ballsy directorial maneuver it just makes the guy look like a weeny until later in the movie when he starts doing stuff.
The supporting cast is good, but other than Dillon they're all pretty lightly sketched generic characters. Fishburne is PG-13 Mr. Blonde, Skeet Ulrich (yeah, remember Skeet Ulrich?) is actually not bad as the more hesitant member of the crew, and Jean Reno plays that same Jean Reno character that used to be in every other movie back in the days when Jean Reno was in every other movie.
The younger brother (of course named Jimmy – we also would've accepted Timmy) is used as the motive for stealing the money, but they don't seem to have a good relationship at all, and not just because Ty had no idea Jimmy had been skipping school most of the year. The big scene with the two brothers is when Ty comes home to find Jimmy spraypainting a huge mural of an owl on the kitchen wall. He scolds him appropriately but never acknowledges, even to himself, that it's a very impressive, better than professional level painting. To do that with spray cans is an incredible talent. But he doesn't give a shit, he acts like the kid keyed a car or got drunk and threw up on the couch or something.
The owl and the hamburger stand are the only real standout character moments. I like that the movie is quick and to the point, but I think the script needed a little more meat to it, or if not then each of the actors needed to be given a little more room to bring something more to the table (for example they could bring meat to the table). Unfortunately there was no room on the table I guess. It was too small of a table.
The real reason Jimmy is in the movie is not because he's a painter, or because his brother needs money to raise him properly, he's there so there's somebody for the bad guys to kidnap. And I have to say, Matt Dillon is not getting the #1 Godfather mug this year. I'm not sure if he's godfather to both kids or just to Ty, but either way it's a dereliction of the duty. It is his responsibility as godparent to take care of Ty now that he has been orphaned, instead he takes his brother hostage and threatens him. Obviously he knows Ty's dad better than I do, I don't want to speak for the dead, but in my opinion it is very possible that the dad would be upset about this business and disappointed in his friend. Just my two cents.
It should also be noted that their criminal mastermindery is not much better than their godparenting. Unless they had some genius plan that's not mentioned in the movie I don't think they were putting too much thought into how exactly Ty is gonna pay off the house without his company or the police noticing. Hey Ty, I know you've been real depressed ever since you guys got mysteriously robbed by those unknown thieves who were never apprehended and the money was never found, but it looks like your luck is turning around, what with you having paid off your mortgage in crisp clean one hundred dollar bills. I'm proud of you, son. I'm gonna give you a raise.
Admittedly, this is a company that has not yet bothered to put GPS in their fucking armored cars (they mention that's gonna happen on Monday!), so they aren't exactly what you would consider a licensed or competent company. But I still don't think the boss would be stupid enough to not make the connection between Ty's house and the missing loot, and that's because the boss is Fred Ward. And I gotta give Nimrod Antal credit for this one: when Ward is first shown he has a clipboard in front of his face, and then he lowers it to reveal himself. This is a clear sign that Antal not only thinks Fred Ward is cool, but that he knows there are other people who will be happy to see him and he is pandering to those people by including this shot. So he's probly a cool guy. Shoulda put Fred Ward in PREDATORS.
ARMORED is a watchable movie, and I will probly give his other ones a shot. But a real standout movie could be made with this basic structure, and this isn't it.