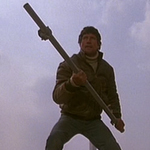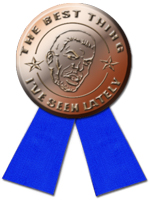 "Computer said you were a smartass."
You know what's great about movies? Any of us who are reading this who are currently alive were born some time after they were invented. They got a head start on us, and no matter how hard we try we'll never catch up with all the good ones that already exist. It's just a beautiful thing to realize that even now there are movies out there as perfectly tuned for me as REMO WILLIAMS: THE ADVENTURE BEGINS that I haven't gotten around to yet. Thank you, Lord. Good work on that one.
One reason it's great: it's an action vehicle for Fred Ward. He's been a great utility player in SOUTHERN COMFORT, UNCOMMON VALOR, TREMORS, etc. but even playing the lead in the great MIAMI BLUES he has to compete with scene-stealing villain Alec Baldwin. Here he's the main attraction from beginning to end. It glorifies him as a fit badass in his 40s, and it shares his dry sense of humor.
We first meet him as a tough but lazy cop (with mustache) sitting in his patrol car eating a burger and drinking coffee, being hassled over the radio about gambling money he owes. When some dude gets chased right past him he doesn't react at first. It doesn't seem like he's even gonna bother to intervene. (read the rest of this shit…)